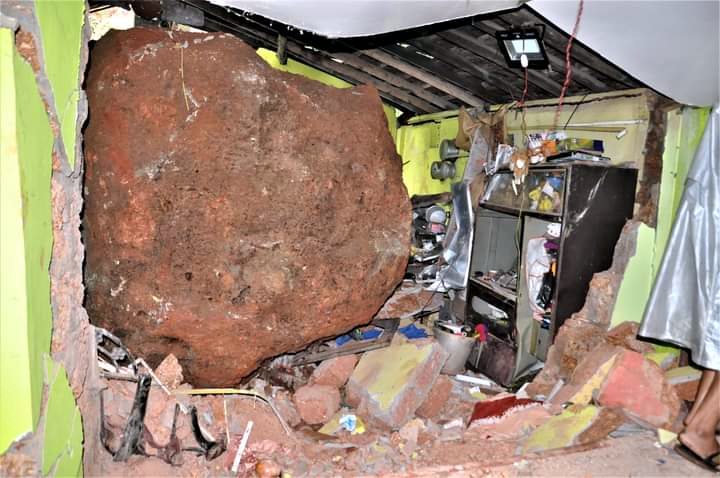 VASCO
A woman from Vaddem was killed, while her son escaped when a huge boulder came crashing down on their house opposite Goa Shipyard Limited in Vaddem-Vasco late Monday night.
According to sources, the incident took place as Anita Borkar (65) was asleep on the floor while her 35-year-old son had been sleeping on the bed.
"The incident occurred at about 11 pm when heavy rains caused a landslide and boulders began falling down. While a number of boulders came sliding down, one huge boulder rolled directly into the line of the house and rammed into the structure. The house could offer no protection and the wall and roof crumbled on impact."
"The debris fell on her, killing her on the spot. The boulder was very large and almost occupied one entire room," said the source.
"The entire house was damaged and with power disrupted, the son who managed to escape tried to save his mother but could not find her anywhere in the dark. People in the neighbourhood also began frantic efforts to rescue the woman, while also alerting the fire services and Mormugao Municipal Council (MMC) ward councillor."
MMC Chairperson Nandadeep Raut also rushed to the site as a fire brigade began operations to clear the boulder by breaking it into smaller pieces. MMC workers were also pressed into service, while a Vasco police team was also assisting in the operations.
"After four hours, fire-fighters along with MMC workers and some locals helped retrieve the body which was buried under the debris.
Police conducted the panchanama and sent the body for an autopsy, before handing it over to family members for final rites which were performed later in the evening.
When contacted, Vasco Fire Station officer Dilip Bicholkar said the fire station had received a call at about 11 pm.
"We rushed to the site and saw a large crowd of people. Fire station officer Frans isco Mendes and our fire-fighters were surprised to see such a huge boulder."
"We utilised machinery to break the huge boulder into pieces. The operation was extremely risky because the severely damaged structure could have collapsed anytime and the operation took around 4 hours," said Bicholkar.
"With the help of MMC workers, seven fire-fighters, three drivers and two officers, we were successful in retrieving the body from under the debris," he added.
__________________________________________________________