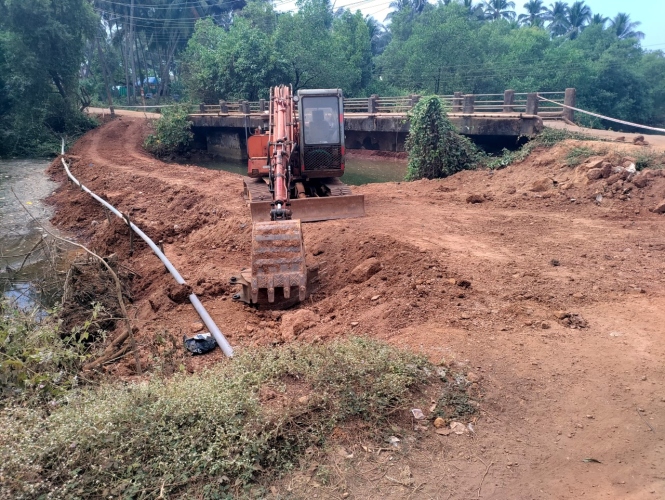 CANACONA
Work on the new 2-span bridge has temporarily been halted on the Parvem-Dhavalkhazan stretch of the Agonda river as the BSNL is yet to remove its cable from the old bridge.
Efforts are now underway to get the BSNL to relocate its telecom cable so that the old bridge can be demolished and construction work can resume on the new bridge.
A demand pending for almost two decades finally materialised when Chief Minister Pramod Sawant in the presence of Deputy Speaker and Canacona MLA Isidore Fernandes laid the foundation stone for the new 2-span culvert bridge.
The contractor began work and on Tuesday completed dumping of mud on both sides of the old bridge.
A water pipeline and BSNL cables had been fixed to the old and narrow pedestrian bridge and while the PWD (water supply) officials temporarily shifted the pipeline, BSNL officials are yet to remove the telecom cables.
As a result, the old bridge could not be demolished even though heavy machinery had been stationed at the site and work has been temporarily halted since the last two days.
Sources said the Canacona MLA Isidore intervened in the matter and BSNL officials reportedly agreed to relocate the cable soon, so that the contractor could demolish the old bridge.
Fernandes and social worker Nilesh Pagi inspected the site on Thursday in the presence of the contractor.