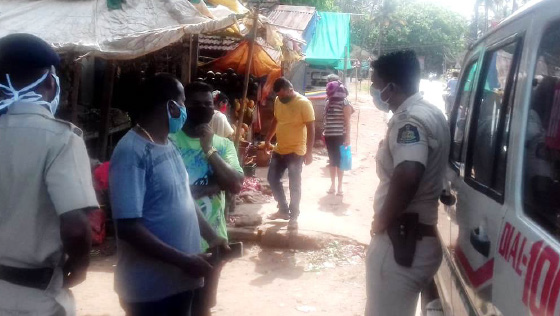 the goan I network
MARGAO
Colva witnessed an uproar on Tuesday after a group of local residents, including some panch members, closed a couple of vegetable stalls in the market area in the wake
of coronavirus scare in the
village.
Around four to five vegetable stalls operating in the village were shut down by the villagers following a coronavirus scare. The residents called the Colva police and demanded that the vendors and others working at the stalls were tested for Covid.
The vendors and their workers were later taken to the Primary Health Centre, Cansaulim.
Colva panch Menino Fernandes told the media that the residents forced the closure of the vegetable stalls following a Covid scare in the village. "The residents have taken this step of closing the vegetable stalls as a matter of abundant precaution. We have brought the Colva police in order to set in motion the due process of law to rule out Covid," he said, adding that the residents will not allow reopening of the vegetable stalls unless the people running these obtain the certificates stating they are negative.