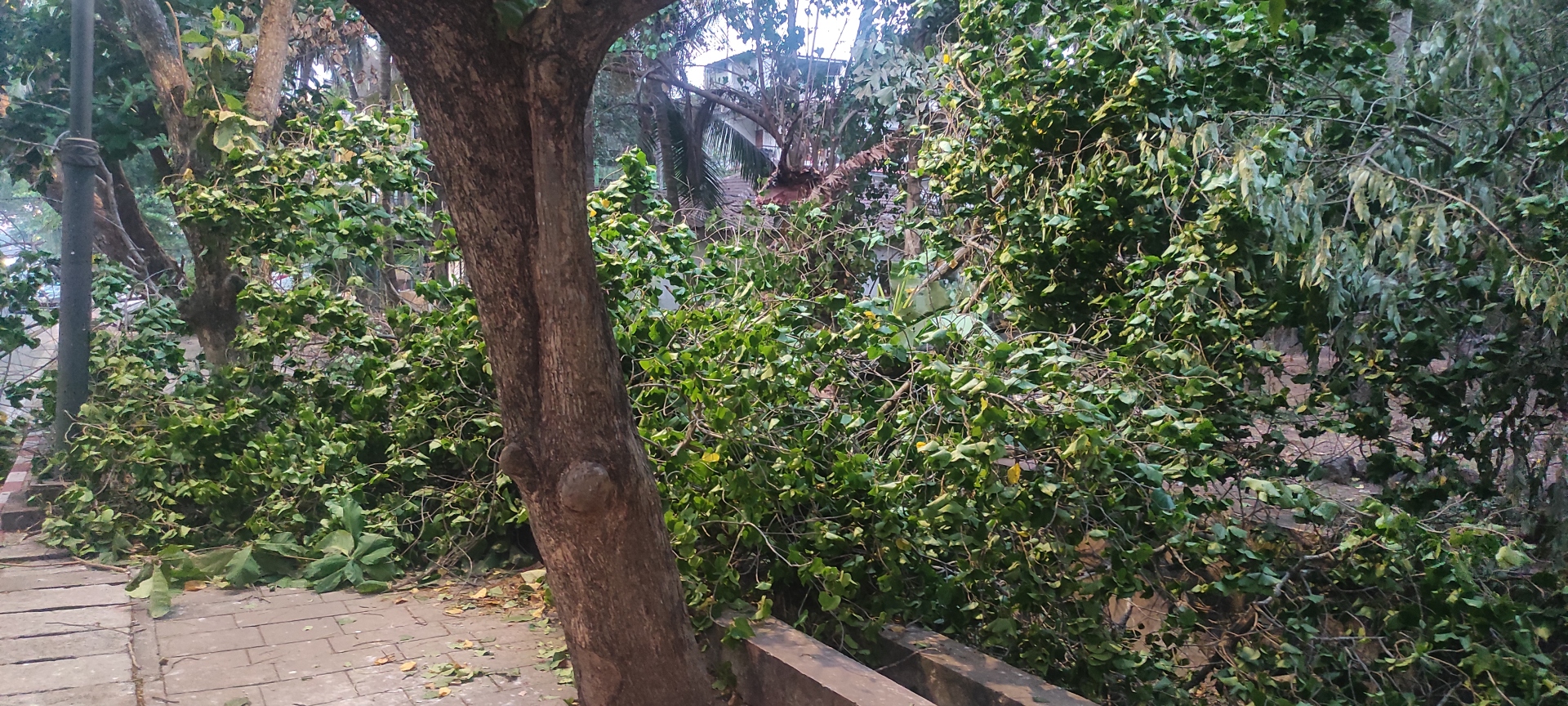 All these years we had a nice circle which we used to call Dona Paula circle although some people preferred to say NIO circle as a prominent national institute exists at this site. Whatever it may be now I am a bit pessimistic saying this circle which used to be a landmark will soon be only an eyesore.
A serene oasis in the past, it now has a number of installations and more keep coming up. Already existing in this area are a Police outpost station, a CCP Godown for garbage and religious structures (one is near the NIO compound wall). Close at hand are a shop hiring vehicles and on the other side new market type build up has already taken shape on the hill side. Even a plant nursery has come up here. Dozens of vehicles and cars frequent this area because of all this rampant and I planned commercialisation. Worst of all a section of this circle has been made a bus stand of sorts with 3 buses seen standing at any time.
There has been no clear vision for this circle over the years. Should it be artistic, commercial, or what? There was artistic but impractical tiles put around the circle and already people are fed up with this titling work as traffic negotiating this circle has increased massively and the tiling is inconvenient and irritating. The CCP and Smart City organisation have already been approached to modify this tiling work which was approved by them only earlier.
An three inches diameter armoured power cable is now supplying power directly from the mini substation to a nearby10-storey tall building in order to meet their power needs for their motors to pump sufficient water. This cable has caused much disruption and difficulty for locals and is solely for the benefit of this particular building. All this while nearby neighbours struggle with their power needs and their requests are rejected.
Now, another problem residents of this area are facing is the destruction of a vacant plot that exists just off the circle and opposite to Nelson bar and restaurant. The owner is not interested to build anything as road widening plans have made it impossible for him to build anything meaningful.
This plot is being used by unscrupulous elements including CCP and private trucks to dump all kind of debris and mud in this plot creating massive dust pollution. Even worse fires are set and smoke is causing respiratory issues for neighbouring residents. A nearby building was not even allowed to have a window adjacent to this plot. At least they have been spared seeing the formation of this 'mini sonsodo'!
The government is least bothered to see what is going on. The residents and the Corporator of this area are regretfully watching as this circle which was once a dream of the people is slowly becoming a nightmare.