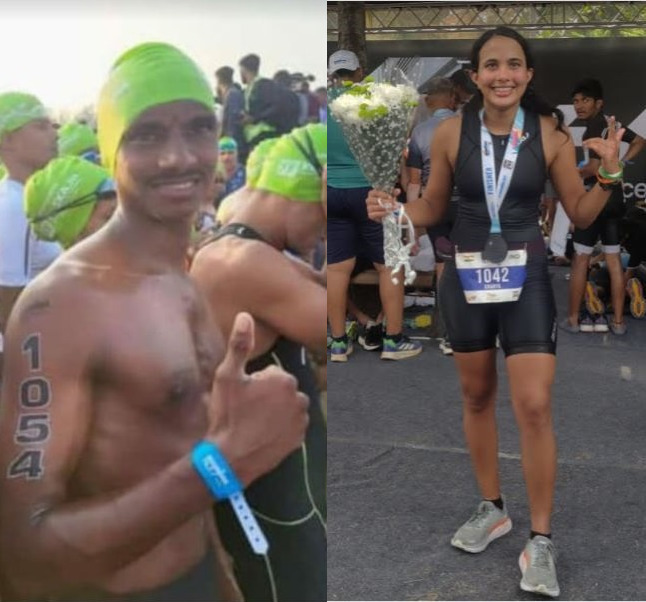 Photo Credits: The Goan
PANAJI
Akash Agarwadekar, a lifeguard with Drishti Marine, and Ananya Mukherjee, a postgraduate student of Goa University, were the fastest Goa-based triathletes at the recently concluded Ironman 70.3 Goa race.
As many as 67 Goa-based triathletes participated in the event, where they had to complete a tough 113-km course (1.9km sea swim + 90kms cycling + 21 km running) within eight and half hours. While Akash (26) clocked a very quick 5 hours and 17 minutes to finish fourth in the 25-30 age group, Ananya (21) clocked 6 hours and 37 minutes to finish second in the 18-24 age group. Other podium finishers from Goa include Fatima Desa (50) who finished first in the 50-54 women's age category with a timing of 7 hours and 19 minutes and Allan Abreo (64) who came third in the men's 60-64 age category with a timing of 8:04 hours.
Says Akash, "My target was to come in the top 10, but I missed that narrowly. I am grateful to my company Drishti Marine and my many well-wishers for their wholehearted support."
Says Ananya, "I am very elated after training for so many months and reaching all my targets." Ananya is grateful to her running and cycling coach, Agnel Desa and mentor Nisha Madgavkar for their guidance and support.
Similar views were expressed by Fatima Desa, a Panaji-based businesswoman, who said, "I feel absolutely elated that all my months of hard work and preparation have paid off." Fatima is all praise for her coaches. "Without the support and guidance of my swimming coach, Indrajeet Khadilkar and running and cycling coach Agnelo Desa I could not have achieved this."
While Allan Abreo (64), a Margao-based retired college principal, said, "Completing the Ironman race was the major focus. I am thrilled. The podium finish is a bonus." Allan also was all praise for his running and cycling coach Agnelo Desa and swimming coach, Indrajeet Khadilkar.
Brief results of Goa-based triathletes at Ironman 70.3 Goa race: Five fastest men - Akash Agarwadekar, 5:17 hrs, Yogesh Mahale, 6:02:02, Girish Pawaskar, 6:10:15, Damodar Verlekar, 6:10:23, Siddeya Shirodkar, 6:29:40; Five fastest women - Ananya Mukherjee, 6:37:12 hrs, Fatima Desa, 7:19:01, Annie Jose, 7:22:41, Althea Fernandes, 7:53:32, Liza Santimano, 8:04:18; Fastest men's relay teams - Drishti Marine (Hari Velip, Avinash Gaonkar, Akash Fulkar), 4:48:08 hrs, Team ATS Cops (Javed Shaikh, Sachin Gaonkar, Amardeep Popkar), 5:29:04, Team ATS Goa Police (Sushant Rane, K Murthy, Divesh Kerkar), 5:48:04; Fastest women's relay teams - Team Brigade Fitswaggers (Shefali Coulekar, Nehali Chodnekar, Prutha Chandwani), 7:50:12 hrs, Team Brigade Trixy Chicks (Maitreyi Ashok, Radhika and Nisha Madgavkar), 8:00:48.