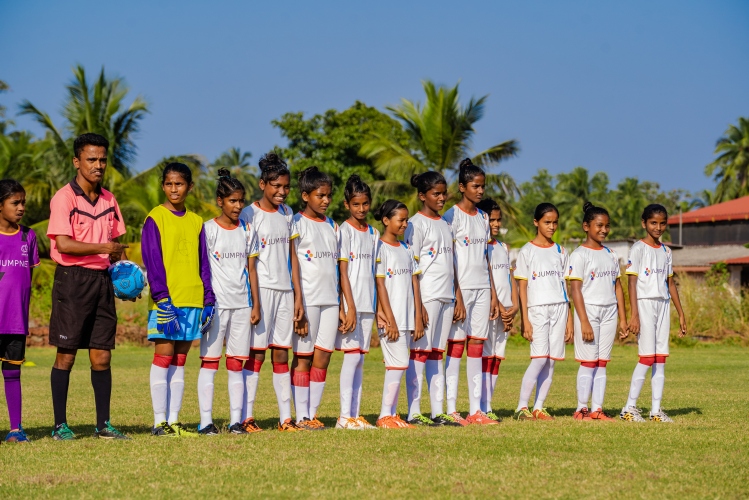 Photo Credits: Forca Goa Foundation
PANAJI
In the last season of the Little Gaurs League (LGL), Goa's biggest football league for children in Goa, a new category was introduced exclusively for girls in the U-12 age category. Through the league, one team consistently stood out for its competitive spirit, sportsmanship and team spirit - the El Shaddai girls team from Vasco.
El Shaddai Charitable Trust works with orphans and children in need. To encourage children to be more confident and instil in them a sense of purpose, the organisation set up the El Shaddai Sports and Cultural Club which encourages young ones to participate in sports activities and competitions across the state.
"When Forca Goa Foundation approached us to register the girls' team for the LGL, we were ecstatic," Camilo D'Souza, the coach at El Shaddai, said. "The girls at El Shaddai love to play football and are committed to improving their game. When Forca Goa Foundation approached us, we seized the opportunity and registered our team without any hesitation."
He explained that such opportunities at the amateur level help players develop their football skills and to build character and discipline while also portraying the importance of teamwork.
Hailing from Karnataka, Pushpanjali Huddar, captain of the El Shaddai girls' football team has been under the care of El Shaddai since 2014 and developed her love for soccer. "I love to play football, especially as a forward as I get to score goals and win. It is quite thrilling to me," she explained. "I have been practising with my team for two years now. They are like my family now and I love playing with them."
Pushpanjali shared her experience at LGL. "I had a great time at LGL and was awarded as the top goalscorer. We finished third in the last edition but we want to come back stronger next year," she said.
Team manager of the club, who is also the physical education teacher of the school, Flobert Monteiro noticed a drastic transformation in the players during the league. "After playing at the Little Gaur League matches, the girls seemed happier and more confident. They showed more interest in football as well as other outdoor activities, " he said.
Ishita Godinho, Community Development and Communications Manager at Forca Goa Foundation, believes that sports play a big role in positively developing children and their communities. "Using football as a tool, the foundation aims to empower children as well as our coaches. Through sports, children can be fit, healthy and active at all times and also gain social values such as teamwork, discipline and communication skills," she explained. "It motivates children to aim for higher standards of achievement as well as teaches them how to deal with disappointment or loss," said Ishita.
According to Ishita, Forca Goa foundation's strength lies in organising competition and football-based learning. Identifying communities with little to no access to football, the foundation and its team is trying to start programmes in these areas.
"We have grassroots coaches who take sessions for children, educating them on the basics of football. Customising sessions based on the needs of the communities, the foundation emphasises on resolving issues around waste management and clean-ups along with the young athletes," Ishita said.
Forca Goa Foundation also holds community coaching workshops for individuals who are interested in building a football culture in their community. It hopes that sports enthusiasts across the State take up the initiative which will aid in creating a robust football ecosystem which encourages young girls and boys from diverse backgrounds to take to the sport and enjoy the joys of the beautiful game.
El Shaddai Girls Squad: Pushpanjali Huddar, Pushpanjali Sharma, Nafiza Jamdar, Rakshita Patil, Rima Chowdhury, Suhani Shrivastav, Shruti Gosavi, Fatima Sheikh; Coach: Camilo D'Souza; Team Manager: Flobert Monteiro.