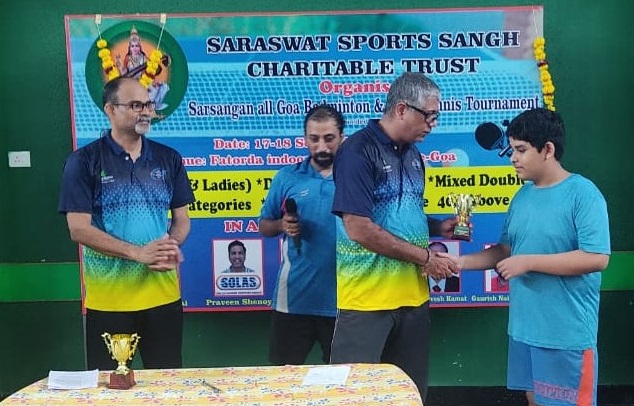 Photo Credits: The Goan
MARGAO
Pushkar Virginkar paddled his way to glory in the Men's Singles (open category) at the Sarsangan Table Tennis Tournament, organised by Saraswat Sports Sangh Charitable Trust, at the SAG Indoor Sports Hall at Fatorda, Margao.
Pushkar got the better of Shivdatt Kenkre in the finals, winning in straight sets 11-3, 11-4, 11-8. Deep Bhende had to battle out in three sets to beat Prathamesh Bhade to clinch the third place, winning 11-8, 13-11, 11-9. Gaurav Sinai Borkar, Arnav Phaldessai, Rudresh Kamat and Viraj Puranik were beaten in the quarterfinals.
Gourish Burye, partnering Ajit Ghatkar, emerged champions in the Men's Doubles Open category, by beating Anish Khandeparkar and Kushal Khandeparkar in the finals 11-3, 11-9, 11-3. Deep Bhende and Dhruv Bhende clinched the third place, edging out Arnav Phaldessai and Viraj Puranik. The teams of Pranav Biche & Rudresh Kamat, Pushkar Virginkar & Rudraksh Nadkarni, Dattaprasad Kudchadkar & Guruprasad Namshikar, Siddhant Lawande & Mangirish Angle reached the quarterfinals.
The team of Vinay Sakhardande and Aarya Divekar won the championship title in the Mixed Doubles Open category, coming from a set down to beat Rudraksh Nadkarni and Saanvi Kamat 11-13, 11-1, 11-2, 12-10. Gourish Burye and Punam Dalvi won the third place beating Kaushik Dhond and Aneka Sangaonkar 11-1, 8-11, 11-5, 11-4.
Fourteen-year-old Pushkar Virginkar, who won the Men's Singles in Open category won the Best up-and-coming player trophy.