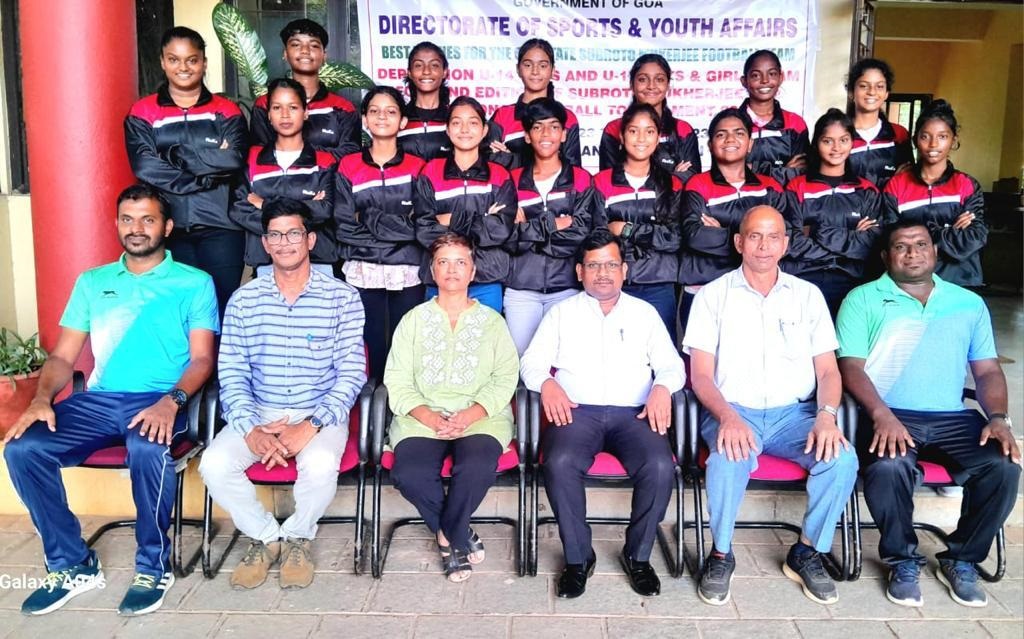 Photo Credits: The Goan
PANAJI
Rosary Higher Secondary School, Navelim, who emerged as the winners of the State Junior Girls' Subroto Mukerjee football tournament, will represent Goa at the International Subroto Mukerjee football tournament to be played in Delhi from September 19 to 26.
The photo above shows the team with the officials of the Directorate of Sports and Youth Affairs, from left, Mikhail Gonsalves, PE teacher, Pandurang Naik, scheme in-charge, Jennifer Gonsalves e Ferrao, dy director sports, Arvind Khutkar, director sports, John Fernandes, asst director of director sports. Vhelian Rebello, coach. The team: Melriya Fernandes, Lizean Fernandes, Mevally Gomes, Lisha Gomes, Fatima Braganza, Sonam Ahirwar, Velmika Fernandes Velony Fernandes, Pearl Sequeira, Riya Patre, Shaundelle Gomes, Velanky Dias Jolin Fernandes, Sherry Fernandes, Valanka Fernandes. Drusilla Rodrigues will accompany the team as manager.
Naik elected Kho Kho Association president
Sunil Krishnanath Naik was elected as the president of All Goa Kho Kho Association for a four-year term till 2027. The association's annual general body meeting to elect a new council of working executive committee was held recently in Margao.
The newly elected council: President - Sunil Krishnanath Naik, Vice President - Khemlo Sawant, Gunesh Gopinath Dessai, General Secretary - Sanjay Paik Velip, Joint Secretary - Prasad Vassudeo Chodankar, Aditya Bhikroo Velip, Treasurer - Amey Gokuldas Shirodker and Executive Committee Members - Nitin Dharma Naik, Prashant A P Konkar, Sandeep Purso Velip, Nandesh N Gaonkar and Vijay S Bhosale.
Beach soccer coaching camp from Sept 22
The Goa State team will participate in the Beach Soccer Tournament at the 37th National Games to be held in Goa from October 26. An open trial and coaching camp will be held from September 22 at 2 pm at Miramar Beach. Interested players may report to the head coach Bruno Coutinho at the venue.
Sao Jose de Areal prevail
MARGAO: Sao Jose de Areal downed USC Seraulim 2-0 to enter the semi-finals of the St Joseph Festival inter-village football tournament, at Dramapur football ground, on Monday. After a barren first half, Sao Jose de Areal took the lead through Standly in the 44th minute. Areal doubled their lead in the 55th minute through Monty Valadares, Seraulim tried hard to equalise but Areal's defence line stood like a rock.
Curtorim Gym edge past Ambelim SC
Curtorim Gymkhana edged past Ambelim SC 4-3 to enter the quarter-finals of the OL of Fatima Cup inter-village football tournament, at Dicarpale football ground, on Monday.
Neliston Silvera opened the score-line for Curtorim in the 25th minute. Mackdon Fernandes netted a brace in the 36th and 40th minutes. Later in the 50th minute, Joy Hilario netted the fourth goal for Curtorim. Ambelim then netted through Cletus Pinto, Jevino D'Silva and Samson Dias in the 54th, 56th and 60th minutes respectively. Joy Hilario of Curtorim was awarded the man of the match.