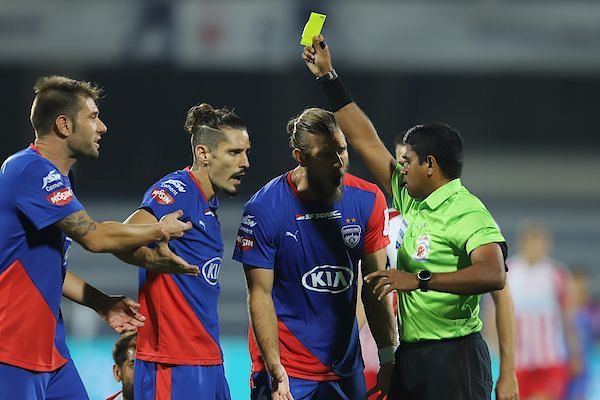 Photo Credits: ISL
MARGAO
Goan football referee Tejas Nagvenkar is on cloud nine after winning the All India Football Federation's Award for the Best Referee 2020-21.
"It's a big milestone for me. This award is the proof that all the hard work that I was doing over a couple of years has paid off dividends," Fifa referee Tejas Nagvenkar told 'The Goan'.
This is the first time Nagvenkar has received the prestigious award from India's football governing body. Nagvenkar passed the National Referee in 2010 and four years later he cleared the Fifa Referee and figured in the AFC elite list in 2015. He officiated in the 2020-21 ISL final in Goa.
"I got to know of the AIFF Referee of the Year on Tuesday. Honestly, I have still not come to terms with the fact that I am this year's best referee. I am overwhelmed to win the award," Nagvenkar said.
Nagvenkar said refereeing teaches you to handle success and failure. "I will speak to my uncle Gokuldas Nagvenkar and parents and my mentor. They gave me the courage to soldier on," Nagvekar, who idolises former Italian referee Pierluigi Collina, said.
"There was always a desire to achieve this. I would like to thank All India Football Federation, Indian Super League, AFC and Goa Football Association for helping me achieve this milestone," Nagvenkar concluded.