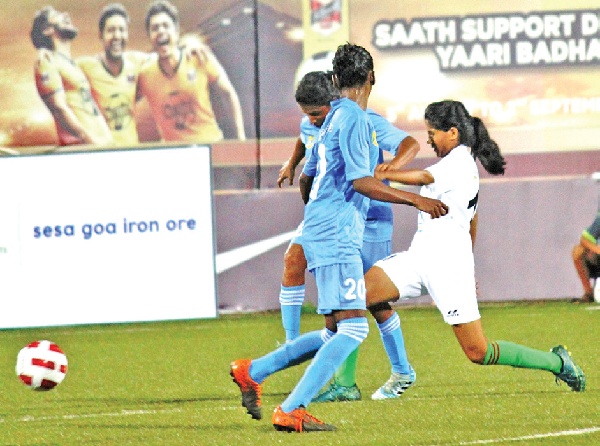 Photo Credits: The Goan/File photo
MARGAO
The Goa Football Association (GFA) has named 30 probables for the State team in preparation for the 26th Senior Women National Championship 2021 to be held in Kerala.
The probables will be trained by coach Juliet Miranda. Arnaldo D'Costa, vice-chairman of Women's football, will be the manager of the team. The preparatory camp will commence on November 1 at Dramapur ground. The national championship will be held across three venues, and five stadia from November 25-December 9 in Kerala.
Goa probables: Goalkeepers – Joslina Maria D'Souza (FC Goa), Rima Gadekar (Sirvodem PSA, Dubai Sports Club), Anette D'Costa (Futebol YFA), Amisha Shetgaonkar (Young Boys of Tonca Sports Club); Defenders - Scindia Sauandatikar (Sirvodem), Linda Calada (Sirvodem), Ansiva Vaz (FC Goa), Janice Gomes (UCT), Remediana Noronha (UCT), Nusrata Kartivale (Compassion FC), Royena Fernandes (Futebol YFA), Chetna Tirodkar (Sirvodem), Rhea Pires (UCT), Elika D'Souza (Compassion FC); Midfielders – Velanie Fernandes (FC Goa), Stessi Cardozo (UCT), Sushmita Jhadav (FC Goa), Jossel Mascarenhas (Futebol YFA), Jolinda Ferrao (UCT), Vailanka D'Souza (FC Goa), Flani Costa (UCT), Akshata Patil, Ancella Baretto, Nevilla Colaco (all Sirvodem); Forwards - Namita Govekar (FC Goa), Arpita Shirodkar (FC Goa), Jeromina Colaco (Sirvodem), Joyvi Fernandes (FC Goa); Officials – Juliet Miranda (coach), Arnaldo D'Costa (manager).