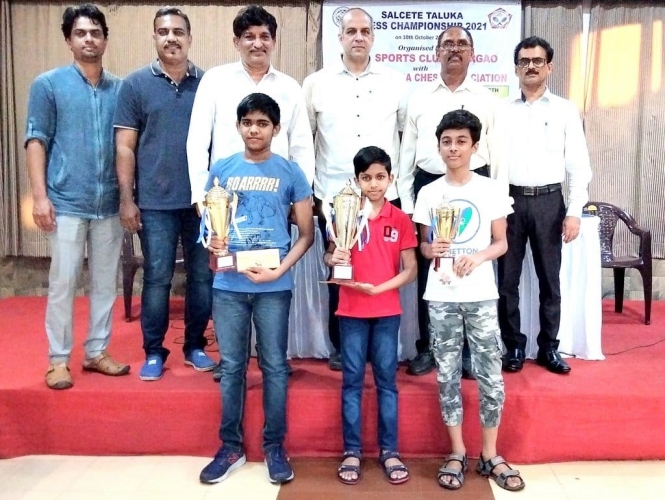 MARGAO
Chess prodigy Ethan Vaz emerged the champion at the Salcete Taluka Open Chess Championship 2021.
Ten-year old Ethan (Elo 1284) got the better of second seed Reuben Colaco (Elo 1441) at the top board in the final round, to clinch the title with 6.5 points of possible 7. Earlier in the tournament, Ethan caused the upset of top seed Aryan Shamrao Raikar (Elo 1469), amongst others, and remained undefeated throughout the tournament to clinch the prestigious champion's trophy and a cash prize of Rs 2,000.
Reuben secured the first runner-up trophy and a cash prize of Rs 1,500, while Vivaan Ballikar bagged the third place trophy and a cash prize of Rs 1,100 after defeating Aryan on the second board.
"I'm happy that over-the-board tournaments are back after a long break. This victory is special, because it is my first Championship Title of an Open Tournament, competing with strong chess players across all age categories," expressed Ethan, who has been riding on a spectacular wave of medal-winning performances at international chess tournaments.
A total of 76 players including 31 FIDE rated players participated in the 7-round Swiss-system tournament that was conducted over-the-board, and jointly organised by BPS Sports Club and Salcete Taluka Chess Association (STCA).
Other award winners are - 4th to 10th place: Aayush Shirodkar, Atharv Katkar, Kavish Borkar, Aryan Shamrao Raikar, Sairaj Dilip Vernekar, Alex Sequeira, Tanad Anil Bandodkar.
Age group category: Tejas Verenkar & Ankit Shetty (U15 Boys), Hemangi Pednekar & Ashwini Mhatre (U15 Girls), Vicente Fernandes & Edrick Vaz (U13 Boys), Sani Gawas & Arya Dabholkar (U13 Girls), Sajan Shreyas & Sarvang Pagi (U11 Boys), Rachel Pereira & Saeeja Desai (U11 Girls), Satyam Phal & Shubh Borkar (U9 Boys), Diya Sawal & Jensina Sequeira (U9 Girls), Aarav Prabhu Gaonkar & Aryan Naik (U7 Boys), Skyla Rodrigues & Muriel Fernandes (U7 Girls).
Best Veteran: Prakash Insulkar and Best Woman: Veena Gomes.