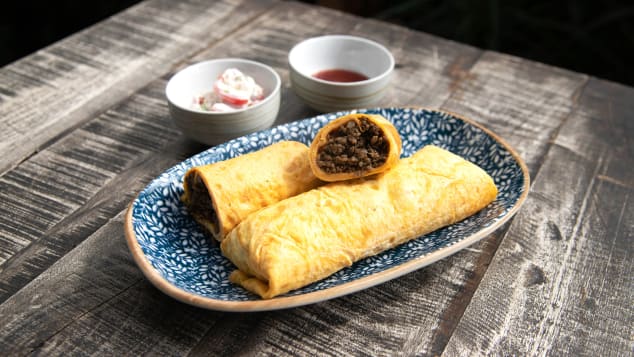 Mexico: Capirotada
When you think of authentic Mexican cuisine, there are many things that come to mind: rice, beans and tortillas, to name a few. Now, you can add capirotada to the list.
Capirotada is a Mexican dessert that's similar to bread pudding. It's made from bread drenched in syrup and layered among nuts, cheese, fruit and sometimes sprinkles.
"If you are into salty, sweet, soft, crunchy, spongy mixed all together with a dash of spice, this is for you," said Mely Martinez, creator of the blog Mexico in My Kitchen. "Yes, this concoction sounds really weird, but it is an explosion of flavors in your mouth."
Martinez was born and raised in Tampico, Mexico. She serves this dish for dessert every Easter.
To make Martinez's traditional capirotada, layers of sliced white bread are baked with butter and then dipped in syrup made from piloncillo (an unrefined type of sugar), cinnamon and cloves. The bread is placed in a ovenproof dish between layers of cotija cheese, roasted peanuts and raisins. It's baked and then topped with bananas and sprinkles.
Capirotada is usually served at room temperature on Easter Sunday, but many serve it throughout Holy Week.
Brought to Mexico by the Spaniards, capirotada became popular in Mexico because it's easy to make and uses ingredients people have on hand. It was originally a savory dish using beef broth, but evolved into today's sweet version using syrup, according to Martinez. Some believe the bread represents the body of Christ and the syrup represents his blood.
Singapore: Beef murtabak
The cuisine in Singapore is truly a mélange of cultures: Chinese, Malay, Indian, Eurasian and Peranakan. Pinpointing dishes authentic to Singapore might seem like an impossible feat, but that's exactly the endeavor chef Damian D'Silva has chosen.
"If I don't do anything to preserve the cuisine of our heritage, one day it will all disappear," said D'Silva, the head chef at Restaurant Kin in Singapore. He has been cooking heritage cuisine professionally for more than 20 years.
"The cuisine is very unique. You can have one dish in Singapore, but you have five different ways of preparing it," he said. "And no one is wrong because every ethnicity puts in their own story and ingredients."
Beef murtabak is an egg crepe wrapped around ground beef. The beef is marinated in curry powder, then cooked with an onion and garlic paste and spices (star anise, cinnamon and nutmeg). The dish is served with fresh lime, chili sauce and raita.
"The aromatics are the one that lifts the entire dish and bring it to another level," D'Silva said.
D'Silva has tried to find the origin of the dish. But like many Singaporean dishes, it goes so far back that nobody knows where it started.
Nigeria: Jolloff rice
Loud, large and plentiful -- that's how Lola Osinkolu, who's behind the blog Chef Lola's Kitchen, describes Easter in Nigeria.
Osinkolu, who was born and raised in Nigeria, said after church Easter Sunday morning, her family would go home and start cooking.
"We cook, cook and cook. We would cook for hours."
The dish that was the star of show: Nigerian jollof rice.
Osinkolu compares the tomato-based rice dish -- which likely originated in Senegal and spread to West African countries -- to jambalaya. It's a party staple in Nigeria.
"It's spicy and delicious," she said.
Jollof contains long-grain rice and Nigerian-style curry powder for seasoning, and there are many ways to cook the dish that involve endless permutations of meat, spices, chiles, onions and vegetables.