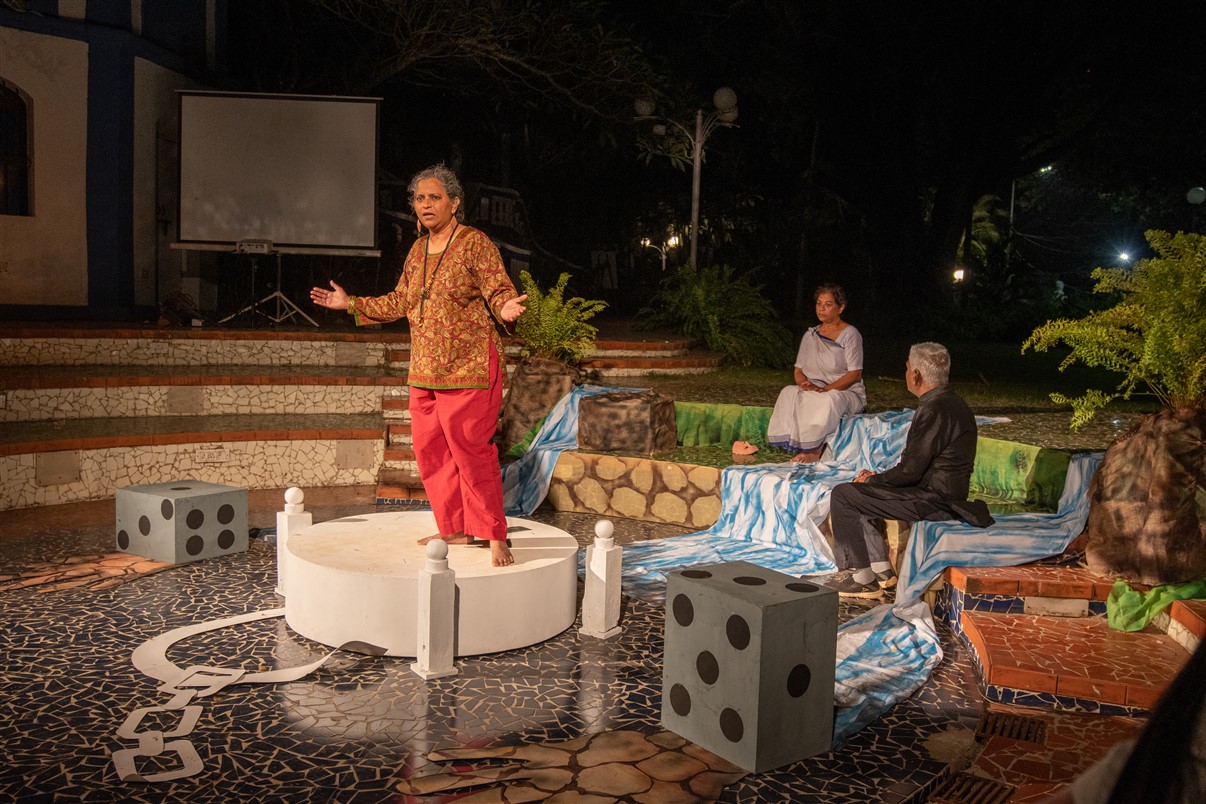 World Theatre Day was celebrated at Sunaparanta Goa Centre for the Arts and Abhivyaktee-Panaji by exploring a local issue and reflecting this through various theatre forms of the world. Abhivyaktee artfully incorporated the oldest ritualistic theatre form of Goa, Perni Jagor, bringing to life the character of Aadimaya as a representation of river Mhadei. Director and designer Dr Saish Deshpande conceived the story, weaving it seamlessly reflecting the path of the Mhadei, culminating in a dynamic representation of women empowerment through a selection of eight monologues sourced from a diverse range of theatrical productions worldwide.
These included the western realistic play A Doll's House, the Greek tragic drama Medea, modern Indian theatre 'Shantata! Court Chalu Aahe', modern Goan theatre Suring, classical Indian theatre Madhyam Vyayog, and lyrical play 'Pratima Ek Geet' and also a Goan adaption of Athol Fugard's classic 'The Road to Mecca' adapted as 'Yatra'. All these monologues were by women characters who chartered their own course in life and decided their future, which was an underlying idea which also expressed that river Mhadei should also tread her own path, and have the freedom to choose her own direction.
A production-oriented workshop brought together women performers from Goa; monologues were chosen, designed and devised in the given space of Sunaparanta amphitheatre. Gradually through discussions and improvisations, the performers created connecting scenes and a structured script designed to convey a powerful message to the audience.
The performers were Prashanti Talpankar, Anuja Purohit, Yashila Lobo, Laxmi Mahatme-Satordekar, Genevieve Rodrigues, Sobita Kudtarkar, Gauri Kamat, Prerna Palekar and Dr Ramita Gurav. Raghuvir Govekar presented monologues. The performance concluded with a famous epilogue from Andha Yug, which was narrated by him. The monologues were presented in their original styles, so four indigenous Goan theatre styles were incorporated – Kalo, Perni Jagar, Zomnivele Khell and Tiatr as well as Greek classical, Indian classical and modern Indian proscenium styles. The performers did a remarkable job of portraying their characters and effectively conveyed Mhadei's message to the audience. The experiment was successful.
Shambhavi Deshpande read out the message on the first day, with a formal introduction by Leandre D'Souza. The celebration had a truly diverse feel, as all genres and cultures were represented, giving it the look and feel of a world theatre. The World Theatre Day celebration performance this year included indigenous theatre forms, highlighting the value of going global through local by presenting local issues and styles in the true spirit of the event.