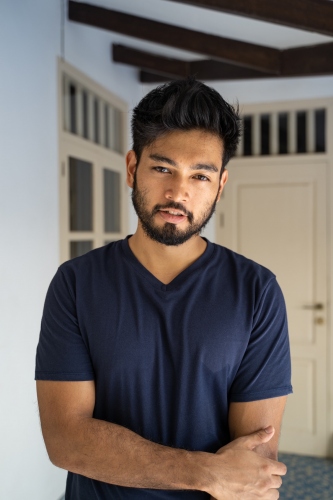 Miles Takeo Lobo, from Parra, a sleepy village in north Goa, made international headlines at the beginning of 2021 when he won two prestigious awards for Best Director.
The Gemstone "Remote Film Contest", organised by Alphaboat and Toho Cinema in Japan, that gave us Godzilla, awarded Miles, the Best Director award for his gritty film, 'Negotiator'. The festival was aimed at scouting new creators and actors in the film and entertainment fields worldwide. The contest, announced during the 2020 lockdown, had one major rule - everything from acting to editing had to be produced in a remote environment and the film could not exceed 140 seconds, including the end credits.
Among the judges, the rising star director, Michihito Fujii, whose film, "The Journalist", received the Best Film, Best Director and Best Screenplay award at the 43rd Japan Academy Award 2019, personally selected Miles's film, "Negotiator," securing the Goa team the Directors Choice Award.
"In a festival full of zoom films, Miles created a proper cinematic experience on a very high level. I was surprised to learn that he not only directed but also wrote and acted in the film. If he managed to do this much alone, I can't imagine what he would be capable of with a big budget," he commented.
The most recent award came from "The Strasberg Film Festival," which is held annually at the world-famous Lee Strasberg Theatre and Film Institute in New York. This Institute, where Miles trained for two years, has been the alma mater to major Hollywood stars such as Alec Baldwin, Scarlett Johansson, Chris Evans (Captain America) right up to Lady Gaga and Marilyn Monroe.
Among the talented artists, from all over the world, who participated in the contest, Miles bagged the award for Best Director. His movie "Negotiator" was also nominated for Best Screenplay, Best Actor as well as The Best of Fest.
Despite the awards 'Negotiator' won for direction, Miles wants to be recognized as an actor first. "The driving motivation for making 'Negotiator' was to provide myself with a platform to showcase my acting potential. It's now an inside joke when my team hears someone mention me as a director. This film provided me with an opportunity to give myself a decent role in a film genre that I am a fan of. It freed me from the struggles of auditioning and type-casting." Miles further adds, "I'm not a one-man show, although the awards seem to suggest that," chuckles Miles. "I could not have done any of this without the help and support of my team at KE productions. Kevin Alvares and Leroy DeCosta function as the brains behind the camera and I couldn't have asked for a better duo."
Miles next project is "Dog Fighter". This project sees Miles and his team at KE Production House collaborate with Goa's up and coming brother and sister music duo Merak! The two artists Belinda and Brandon Mendes provide the vocals and score, respectively.
"This experimental film that sees Goa as a setting for a gritty action thriller was shot during last year's lockdown. This is an experiment to see what an international standard action movie based in Goa would look like. The team will release the concept on Instagram and YouTube. Based on how positive a response we get, we would really like to meet the right people who could help us take this idea further. It's taken a bit more time to release as we couldn't find an editor to help us out causing us to do it ourselves, but it should be up on our page next month," Miles announced.
To stay up to date with the excitement at KE Production House, follow them on Instagram: ke_production_house, youtube: KE Production.
To watch the award-winning film, Negotiator, scan the QR code with your smartphone or click the link - https://www.youtube.com/watch?v=jPSqf20V6yI&t=1s