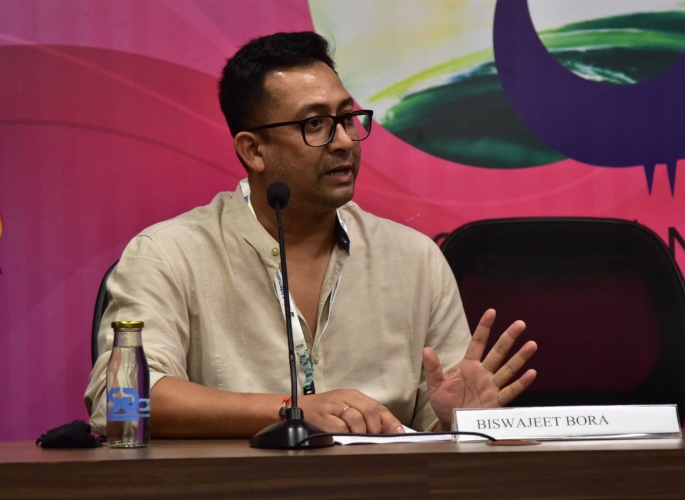 Education is a powerful tool with immense potential to change the world, but what do we do if people do not realize it? Boomba Ride, an IFFI 52 film in the Feature Film Category of Indian Panorama section is a movie which offers an arrestingly natural portrayal of the contradictions underlying the inefficiencies in the education system, especially in some rural pockets of the nation.
Explaining the fount of inspiration behind the film, director Biswajeet Bora, "Through this film, I wanted to give a message to society as a whole, as to how education can play a huge role in transforming the lives of people in rural areas. I wanted to tell you that schools in poor states, as poor as shown in the film, exist in rural Assam even today. Though the government has been extending all possible help, the people there, even the teachers, are not ready to take it seriously."
Bora was accompanied by his wife and costume designer of the film, Lopamudra Gogoi Bora, actor Hiranya Pegu from Assam's Mishing community and Troy, son of the director-costume designer duo.
A seriocomic film, in other words a queer admixture of comedy on matters of grave importance, Boomba Ride is the story of the young boy Boomba, who is the only student at a primary school in Assam, located near the banks of the Brahmaputra River. The school teachers struggle to keep it afloat, Boomba being the only student in the school, and is reluctant to attend school. What adds the tragicomical touch of suspense to the story is that the teachers are motivated to sustain the school, only in the hope of continuing to benefit from the spoils they extract from government schemes like the mid-day meal scheme.
But a time comes when the school is on the verge of collapse. With his wisdom, Boomba saves his school, making all of them realise what education can do to a society.
"The film was shot in Bormukoli village in Golaghat district in Assam where Mishing is the language for communication. We handpicked some people from there and trained them."