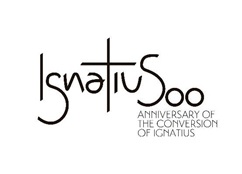 On May 20, 2021, the Society of Jesus (SJ) and the Ignatian family began the celebrations of the 'Ignatian Year' which concludes on the Feast Day of St Ignatius of Loyola on July 31, 2022.
The year-long, worldwide celebrations earmark the 500 years of St Ignatius of Loyola's conversion following the battle of Pamplona in Spain and 400 years of his canonization along with St Francis Xavier, the co-founder of the Society of Jesus.
The transformation of Ignatius from a wayward youth and soldier to someone who accepted Jesus and dedicated his remaining life to work for God and His greater glory is acknowledged by the church as a precious gift, especially the Ignatian Spirituality – that calls us to follow the Spirit of God in all of life's circumstances and never be satisfied with the bare minimum. This ideal has inspired countless many around the world.
The Universal Team of the big 500 has set the theme as, "To see all things new in Christ".
The 500 Logo
The 500 logo bears the name of the Founder of the Society of Jesus (SJ) in Latin – 'Ignatius', and the cross at the centre highlights the classic emblem – HIS.
The S doubles for FIVE, of 500 and connects Ignatius' signature with the modern new design.
Thus, to the world, begins a new era in the Ignatian way of spiritual life.
The Jesuits reason - celebrating 500 years of Ignatian conversion is not about the past, but present and future and is highlighted as an opportunity for continual conversion and renewal.
Conversion of the valiant Knight
Ignatius, the Jesuit founder was born in Azpeitia - Loyola, in Basque - Spain, well known in the region as a vanity filled ambitious worldly knight.
The turning point of his conversion happened while he was serving the King of Navarre during a battle at Pamplona against the mighty French army.
The battle of Pamplona was a part of the war between France and the Habsburg from 1521 to 1526. The most important position was Pamplona, capital of Navarre. When the town rose up, with the assistance of the French army, the Spanish governor cornered wanted to surrender. Loyola – a stubborn Basque soldier who had more than a decade of military experience opposed this, arguing that the garrison should attempt to hold onto the fortress.
On May 20, 1521, after a six-hour bombardment, a cannonball severely wounded Ignatius as he patrolled the ramparts. It passed through his legs, causing a fracture to his right leg and damaging his left. For Ignatius, it was a major failure and a change of plans in what he envisioned for his future full of riches and worldly exploits.
Ignatius spent months recuperating in the family castle at Loyola. It was during this time that he underwent his radical conversion which led Ignatius to have bigger dreams, no longer centred on himself, but on God. It was about helping souls. It was a dream of going out into the world through Jesus, humble and poor.
The experience transformed Ignatius of Loyola forever and gave rise to spirituality and a form of education that has shaped many to date.
It helped Ignatius to see all things new in Christ.
During the long hours of convalescence, Ignatius' sister-in-law, Magdalena de Araoz, choose to bring him texts to read which would help him encounter the living God. These books were the 'Lives of Saints 'and the 'Life of Christ' as opposed to his usual choice of fiction. The many hours of reading and reflection gave rise to deep spiritual experiences. This view of life profoundly moved and attracted Ignatius. Ignatius noticed his reaction to what he read that gave rise to feelings of lasting joy and peace.
One night Ignatius clearly saw before him the likeness of our Lady with the Child Jesus, he was filled with sheer happiness, which lasted many hours. He got positive feelings from this vision. It helped him to be conscious of his past and a total revulsion from his previous life.
Now, he felt the touch of God and realized God's desire for him and for a new direction to his life. After much introspection, he resolved to imitate, the austerities of the saints in order to do penance for his sins.
Once Ignatius recovered and regained his health, he left the family home in Loyola for Manresa and also left behind the life of a worldly knight. He left his glorious military career and along with it his dreams and ambitions to seek the world and life within the world – he began a new journey, for religious life, to seek Jesus Christ. It was the first time he learned about discernment.
St Ignatius developed a way of decision making and discernment from his own experiences.
What is discernment?
Discernment involves prayer, facts and feelings about several choices which ultimately lead to a choice about what is best for an individual, he began daydreaming about his future and noticed interior facts. The facts enlivened his heart and he realized it came from God. When Ignatius realized how God leads a person, he developed a set of guidelines for individuals wanting to make decisions about God's calling.
He called these guidelines the 'Rules for the Discernment of Spirits'.
Discernment with the assistance of God helps especially when one is choosing a path of life or occupation based on one's gifts and talents, to select a field in education and to choose what is best for us.
The experiences of Ignatius educate us in decision making given the reason that we often suffer or go through difficult times as we make decisions in haste or we do not take the decision before God and offer it to him. We then undergo all types of consequences when we turn away to oblige with God's plans for us.
The Examen
Discernment is the core of Ignatian Spirituality. Ignatius wrote a set of Christian meditations, contemplations and prayers which are called the 'Spiritual Exercises'. They were composed with the intention of accompanying people in their own experiences of prayerful encounters with God.
The Examen is a method to review our lives in the presence of God and is evolved by Ignatius. The examen helps us to see God's hand at work in our life. It is a method of reviewing your day with God's presence. It is a time set aside for thankful reflection.
It has five steps: 1) Become aware of God's presence, 2) Review the day with gratitude, 3) Pay attention to your emotions, 4) Face your shortcoming and 5) Look forward to the day to come.
The Magis
Ignatius believed in doing more, or "Magis", the popular Jesuit doctrine which means doing more for Christ and for others. The fundamental idea is that when we try to do more, better and greater for God it isn't for ourselves but for others.
Ignatius later moved to France to study at the University of Paris, wherein in 1534, he founded the 'Companions of Jesus', which later became known as, 'Society of Jesus' (SJ).
Most of his priestly life was spent in a small room in Rome, directing the newly founded society. Thus, the complete transformation from a nobleman focused on worldly success and fame to being the founder of the largest Catholic religious order began.
As the first Superior General of the Jesuit order, Ignatius dedicated himself and his society to education, missionary work and wherever there was a great need of service, especially the sick and downtrodden.
Ignatius died on July 31, 1556, in Rome. He was beatified on July 27, 1609, by Pope Paul V and canonized on March 12, 1622, by Pope Gregory XV.
Today, St Ignatius remains an inspiration for many. Ignatius struggled to discover the meaning of his life and after finding God, realized that each individual is unique and born with a purpose. He also preached that in Christ you can find inspiration as you struggle to find life meaningful.
Ignatius never expected or planned to change himself from a soldier to a saint.
Ignatian Message for the Modern Era
In the modern era, and a world ravaged by the pandemic, Ignatius offers us a challenge when we are going through unexpected days of quarantine, illness, loss and uncertainties. It is a challenge to discern how to spend our time and which spirit to follow to achieve God's loving desires for us.
When a cannonball hits us; when we experience an unexpected moment in our life like Ignatius, we can learn of the graces of God, embracing God's invitation to let ourselves be guided by Him, to find our purpose in what comes next and harness our cannonball moments into a force of good.
We must remember that God is with us even though the cannonballs may strike us.
For this Ignatian Year, we can ask for the grace to, 'see all things new in Christ'.
Today, the world looks forward in hope, recognizing the privilege of being a part of something greater than ourselves, all for the greater glory of God - Ad Majorem Dei Gloriam.
The Jesuits feel honoured to have St Ignatius as their patron who gave the motto: Ad Majorem Dei Gloriam (All for the greater glory of God.).
(The writer is a teacher at the computer section of Loyola High School, Margao)