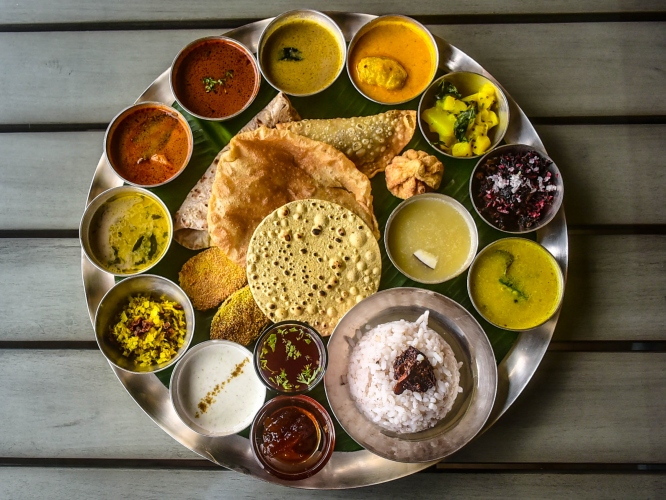 Chaturthi Taat is a representation of the meals prepared by the Saraswat Brahmins during the holy festival of Ganesh Chaturthi.
Saraswat cuisine is the cuisine of the Saraswat Brahmins from the Konkan region on the western coast of India. The cuisine originally hails from Goa. Goan Saraswat cuisine is known throughout the western coast of the nation. Each variation has its unique flavour and makes use of different vegetables and fruits available in the region. The cuisine uses a lot of coconut, coconut oil, tamarind and curry leaves
Satvik Brahmin (sub-sect of Saraswat Brahmins) cuisine is similar to Jain cuisine, which is a strictly vegetarian cuisine that does not use vegetables that are plucked from underground, like onions, potatoes, garlic.
Dishes known as Savalem ranapp (No Onion/Garlic) are prepared among the Bhats (Priests), Orthodox Goud Saraswat Brahmins and Chitrapur Saraswat Brahmins. This is followed by most Konkani families on the Holy days, and festivals like Ganesh Chaturthi follow this style of cooking too.
A typical meal would consist of Sheeth, Roass or varann, Bhaji, tonnak, Loannchem, papodd, and toi or sol kadhi.
Enjoy the exquisite vegetarian thali, at the Café Azul from September 9 to 19, 2021.
The Chaturthi Taat Menu at Café Azul from September 9 to 19, 2021: Vegetable Khatkhatem, Chawli Tondak, Ambade Uddamethi, Moongachi Gathi, Dal Varan, Batata chi Bhaji, Vadiya chi kishmoor, Saar, Tamadi Bhaji, Rice (Goan Red Rice), Batata Kelanchi Fodi, Cucumber Karam, Mango Chutney, Mangane, Sol Kadi, Poori & Chapati, Modak, Neori. Please inform the F&B associate if you have any food intolerances or allergies.