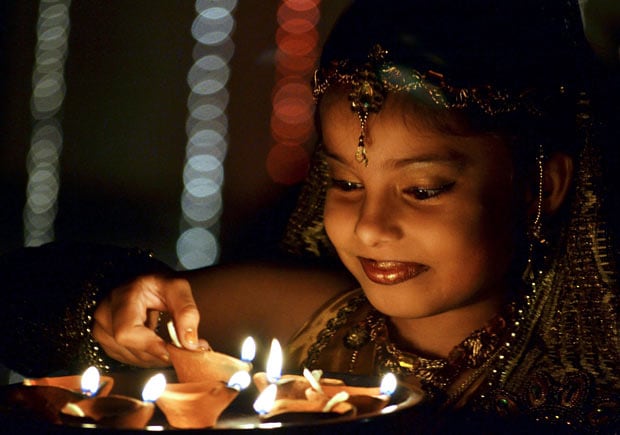 BY FR APOLLO CARDOZO S J
Diwali, the festival of lights, is the biggest and the most awaited festival by the Hindu community, celebrated from the 13th day of the dark half of the lunar month Ashvina to the second day of the light half of Kartika. The name Diwali is derived from the Sanskrit term "dipavali", meaning "row of lights."
In northern India, Diwali is celebrated by lighting rows of clay lamps in honour of King Ram's return to Ayodhya after he defeated Ravana. In southern India, it is celebrated in remembrance of Lord Krishna defeating the demon Narakasura, while in western India it marks the day Lord Vishnu, the Preserver who sent the demon king Bali to the neither world.
A FIVE-DAY FESTIVAL
Diwali is a five-day festival and each day has its significance. The first day is called 'Dhanteras.' On this day, Hindus clean and decorate their homes and worship Lakshmi. It is an appropriate day to buy gold, silver and utensils.
The second day is called 'Naraka Chaturdashi' or 'Choti Diwali'. Narakasura is burnt at early dawn. Women apply aromatic oils before bathing. They wear new clothes, offer puja and light diyas, draw rangolis and paduka (footsteps) at the entrance of their homes, in the doorways and courtyards of homes and burst crackers.
The third day is called 'Badi Diwali' (big Diwali). Lakshmi Puja is performed on this day. Tiny oil diyas, candles and electric lights are placed around the house. Families exchange gifts and gather together to burst crackers.
The fourth day is called 'Govardhan Puja' or 'Padva'. The day is of importance to the merchant and business community as on this day they open fresh accounts for the New Year and offer prayers. Friends and relatives visit each other and share gifts and best wishes for the season.
The fifth day is called 'Bhau Beej' or 'Bhai Dooj', a day dedicated to celebrating sisters. Sisters invite their brothers home on this day for a lavish meal and perform a 'tilak' ceremony. They also pray for their brother's long and happy life while the brothers give gifts to their sisters.
DIWALI IN GOA
Diwali, the festival of lights, called 'Narak Chaturdasi' in Goa, is a one-day festival. Bhaubija and the New Year day are also celebrated as part of Diwali festival. As per the legend, demon Narakasura ruled Goa in ancient times, who kidnapped girls and terrorised the villages.
People prayed to Lord Krishna to save them from this demon. A great battle took place between the demon and the Lord Krishna. Krishna shot his Sudarshan Chakra, cut off the demon's head and slit his tongue, thus freeing the people of this terror.
With the death of Narakasura, peace returned to the villages and they celebrated it by lighting houses with pontis and hung akash divas above their houses.
People make small or large effigies of Narakasura of straw and paper, some filled with fireworks, parade them in the streets accompanied by taunts and insults and burn them in prominent places before dawn.
Narakasura competitions are also held in major cities of Goa. Houses are decorated with bright lights and colourful rangolis on the floor. The following morning, on 'Lakshmi Puja', womenfolk prepare a mixture called 'utnem', made of sandalwood, scented oils and other fragrant ingredients before bathing.
Family members then offer prayers to Goddess Lakshmi, visit local temples and exchange sweets with loved ones. Flat rice fov (pohe) and its varieties such dudantle fov, rosantle fov, caloilele and batat fov is the main item for Diwali delicacies in Goa.
Every house is decorated with diyas and akashdeeps are hung at the windows of every house and an explosion of fireworks and fire crackers are seen everywhere, so it is known as the festival of lights.
(The writer is former director of Thomas Stephens Konknni Kendr at Porvorim)