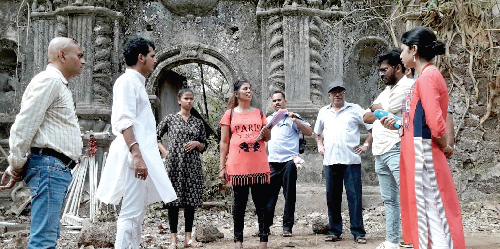 the goan I network
old goa
Efforts by Chimbel locals to get the "protected monument status" for the ruins of the convent and the church of Our Lady of Mount Carmel got a shot in the arm, as officials of the Archives and Archaeology department conducted preliminary inspection of the site on Thursday.
Present at the inspection were exploration officer Nalini Naik, exploration assistant Deepika Bhomkar, historian Prajal Sakhardande and several locals led by Ana Gracias and Brian Gonsalves.
Speaking to The Goan, Sakhardande informed that the church is a landmark of Chimbel and the whole state as it was the first one built by the Goan Carmelites.
"The foundation stone for the church was laid in 1747 and it was completed in 1749," said Sakhardande, while adding that it has many other firsts as well.
"The first Santa Casa de Misericordia, the first Provedoria and the first mental asylum were located here," he informed.
"The facade of the church is beautiful and unique in art and architecture. It has a lotus pendant. It is a huge complex with lots of cells, cellars, rooms and walls," Sakhardande added.
He further appealed to the archaeology department and the government to save it by declaring it as a protected monument.
"No builder or politician can touch it. It is a landmark site and an important heritage monument, which is the property of the people of Chimbel and Goa," he opined.
"It has to be listed as protected monument by the Archaeology department and I have spoken to the Director of Archaeology department Blossom Madeira. Today, an inspection was conducted by the archaeology department and a report will be prepared. The issue has to be taken to its logical conclusion by declaring the site as a protected monument," he added.