Considering the fact that moving from one place to another becomes torture for a person who is sick, ailing or disabled, Bennet D'cunha of Ezy Mov, has launched wheelchair-accessible e-rickshaws in Goa with the wholehearted support of the State government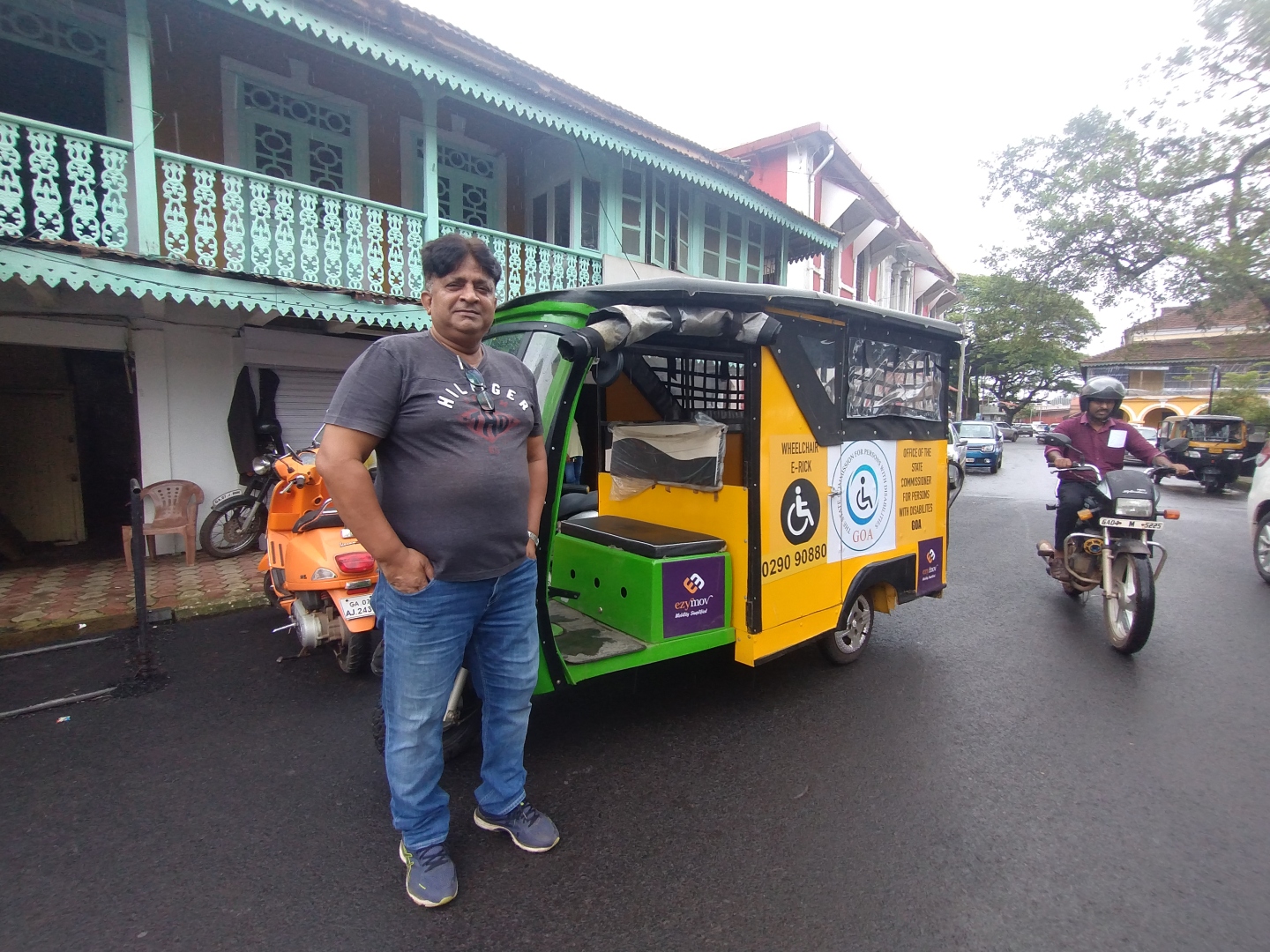 A rolling stone never gathers moss. So is life, which needs to flow energetically. Ezy Mov has done exactly the same – helping special and needy people move easily. Launched in May, the wheelchair-accessible e-rickshaws moving in the cities in Goa have become the 'apple of the eye' for the senior citizens, the sick and the PwDs (persons with disabilities) as they are now, a source for their easy movement. The brainchild of Bennet D'cunha, the concept has already clicked in New Mumbai and Mumbai, and now in Goa. Goa has become the first such State to launch wheelchair-accessible e-rickshaws with the support of the government. The PwDs, senior citizens, sick and differently-abled people can avail this facility for travelling to work/office, school, hospitals, social gatherings, parks or clubs or even to visit someone's home.
"It's been eight years that I have been working on this project. I founded Ezy Mov with a mission to make disabled move independently, with or without escort in a wheelchair-accessible e-auto rickshaw that allows two escorts along with a wheelchair to travel at the same time," said Bennet who was employed before becoming an entrepreneur. These e-rickshaws cost less than Rs 3 lakh each, there is no road tax and it's a one-time registration.
Currently, Goa has five such vehicles moving on the roads of Panaji, Porvorim, Taleigao, Dona Paula and GMC area. There is one in South Goa for those disabled living in Margao, Colva, Benaulim and Navelim. "We plan to introduce one in Mapusa in August," quips Bennet who charges Rs 50 for the first five km, and Rs 10 per km for further travel. He has his own charging station and uses the GTDC parking to park the rickshaws.
The client can give a call on the Goa helpline number (9029090880) for booking the rickshaw one day in advance. Instant services are hard to provide as the rickshaws keep moving all day. The rickshaws pick up the disabled person from his/her home. The rickshaw has a wheelchair too, if the person does not own one. The person sitting in the wheelchair can be easily put in the rickshaw that has a ramp to climb. The wheelchair is then locked so that it stays in place. There is seating arrangement for the escort too.
"Accessible transport in Goa is a big problem for wheelchair users. Ezymov Solutions is a pioneer in accessible transport in India. We have been closely associated with them for the last five years and we are very grateful to them for launching electric accessible rickshaws in Goa as it is affordable by the low and middle class of society thereby increasing mobility of wheelchair users in that category," says Avelino de Sa, president, DRAG (Disability Rights Association of Goa) who has welcomed the entry of Ezy Mov in the State.
Bennet is thankful to Guruprasad Pawaskar, the State Commissioner for Persons with Disabilities for encouraging Ezy Mov's entry in Goa. "Goa is the first State where the government is promoting this venture. It is heart-warming to see the government act in a compassionate way to facilitate the disabled persons move freely and with less hassles anywhere in the State," shared Bennet who recalls how the concept was introduced in Goa during the Purple Fest where he could offer 300 plus rides in five autos to PwDs.
"We had a very good response and hence we thought of launching Ezy Mov officially in Goa few months after the Purple Fest, thanks to Guruprasad Pawaskar who personally took interest in the project and was instrumental in bringing us here," stated Bennet who is hopeful of introducing wheelchair taxis too in Goa in September-October this year.
Wheelchair taxis need a larger investment and extra expenditure on modification of the vehicle, briefs Bennet. These taxis are a bit expensive and are targeted at the upper-middle-class segment that can afford to pay Rs 400 for the first four km travel. Ezy Mov has 20 such taxis in Mumbai to pick up high-end clients from airport and railway stations and drop them to their destinations. Hoping that the concept would click in Goa too, the company is planning to start two such taxis, one each in North Goa and South Goa.
These taxis are modified out of Tata or Maruti vehicles. The modification is outsourced. There are modification outlets in Mumbai, Bengaluru and Delhi. One can also purchase a modified e-rickshaw or a taxi for personal use. An organisation, institution, NGO or corporate can also purchase them from us for their employees, inmates, clients or just as a social obligation.
Another important point is wheelchair-accessible e-rickshaws or taxis are a welcome in a tourist State like Goa, as many tourists who are physically disabled do not have an appropriate, disabled-friendly mode of transport during their stay here. The government can promote accessible tourism in Goa with the help of making disabled-friendly vehicles easily available. As of now, Bennet has five-six bookings from European vacationers who are PwDs and want to spend time holidaying in Goa during December. "These are cream tourists who want accessible transport during their stay here, and they booked their tickets only after our confirmation of making them available e-rickshaws and taxis. There is a business potential here which the government should tap to promote Goa as disabled-friendly State for tourists," concludes Bennet.