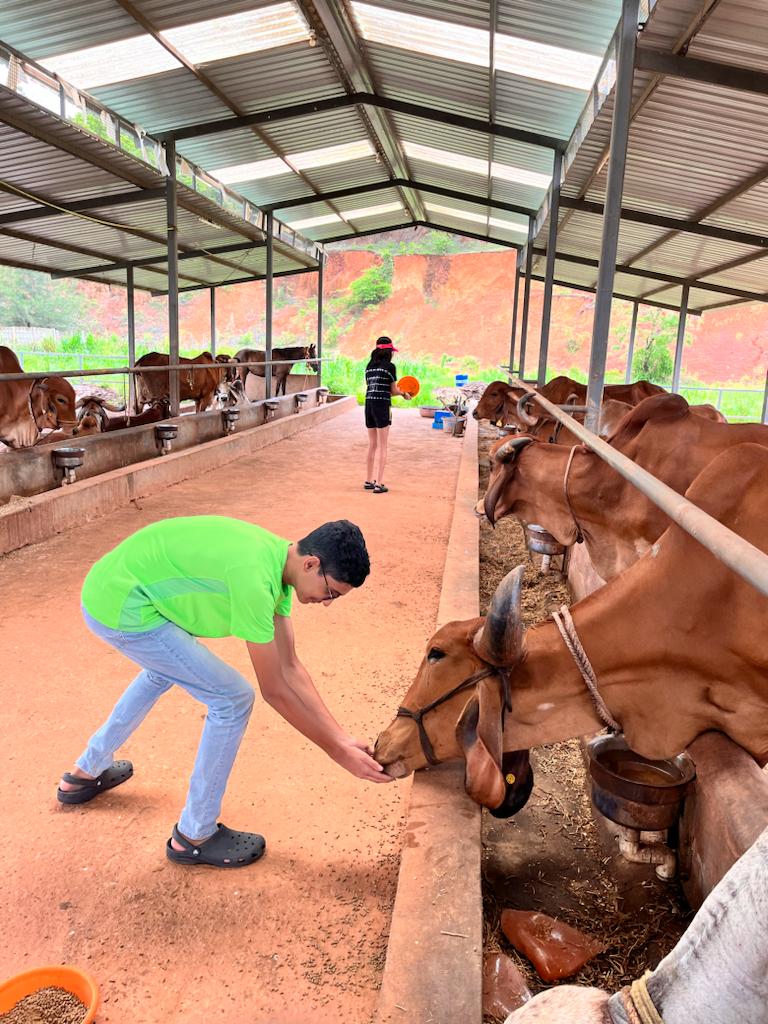 Goa's youth are now turning towards organic farming. There is demand for organically grown fruits and vegetables from health conscious people and catering to their needs is software engineer Chaitanya Malik and his archaeologist wife Sawani Shetye Malik. At their green pasture Dr Malik's Farm in Hasapur-Pernem, the couple is engaged in organic farming, making it a way of life for many like them in and around Goa. Leaving behind their bright careers, both have devoted their lives to farming and one may wonder is farming a lucrative business.
Dr Malik's Farm is nestled in Chandel Panchayat near Manohar International Airport. It seems to be is the perfect natural setting for inviting nature lovers to enjoy the hinterlands and explore agro-tourism. Apart from growing fruits, vegetables and producing milk at the farm, the Maliks follow eco-tourism model too. The farm offers educative, infotainment tour to visitors charging Rs 750 per person. This includes fresh farm food. Children are charged Rs 500 per head. For school study picnics, there's concession and per child is charges Rs 100. Events like birthdays also are celebrated and the charges vary depending upon what is required.
"We grow vegetables, fruits and produce A2 milk from Gir cows," shares Chaitanya Malik who believed that dairy farming is an important aspect of farming.
Chaitanya recalls starting with just three indigenous breed 'desi' cows from Gir Gujarat. The nutritional value of A2 milk production is a known fact and A2 milk was soon in demand. Eventually, the number of cows increased. Another interesting feature here is the concept of satellite farming.
Sawani Shetye Malik briefs on this, "We produces 100 litres per day on an average with the support of few other farmers. We call them satellite farmers, and help them with the know-how. They are youngsters in Goa and Maharashtra who follow our SOP."
She shares, "Our vet on board goes on rounds for checking, guides them on the hygiene process and the food intake of the cow. We check for the quality, the milk and buy back from them. We help them in purchasing the desi cow. It's a farmer community model that we are focussing on. We deliver in Mapusa, Panaji, Porvorim, Taleigao, Dona Paula and Kadamba plateau. Usually our customers buy one litre every alternate day. We have different routes. We started with three customers in 2016 and now have 150. We deliver milk to their doorsteps charging Rs 120 per litre."
Apart from milk, Dr Malik's Farm also manufactures ghee. The batches are rolled out once or twice a month, depending upon the pre-orders. The ghee is delivered by courier to four-five states outside Goa. Their prime consumers of ghee are from Maharashtra, Karnataka and Delhi. They also make cow dung cakes (sheni), chemical-free dhoop sticks, panchagavya, gomutra ark, ghanvati, soap, shampoo, toothpowder, hair oil, massage oil and phenyl.
The Maliks follow short term, mid-term and long term module to regain their investment in agriculture. In the short term, they grow vegetables which give return in two-three months. Leafy vegetables consumed in Goa including tambdi bhaji, palak, mulo are grown. To get maximum output with minimum use of land, vertical farming method is applied for growing vegetables. There is good harvest once in three months. It's easier, looks nice too – Konkandudhi, pumpkin, karela, tendli, vaal, ghosali growing on the poles. Bhendi, mirchi, lettuce, bottle gourd, yam, spices like cinnamon, turmeric, ginger apart from fruits like bananas, mango, avocado and soursop is produced too.
The mid-term model comprises of fruits which are harvested once or twice a year or sometimes once in two years - pinnaples, peru, papaya etc.
The third is long-term farming – teak, mango, coconut, spices, flowers like suranga, ovala, kailaspati which are huge shade giving trees that provide nectar for butterflies.
The Maliks tried making Ubatan (face and body scrub) for Diwali. Finding a good response, they have begun to make it year round. Their passion for organic is growing, coupled with the sincere wish to offer something healthy to the public at a reasonable price. Many visit his farm to enjoy the weather, ambience and to be close to nature. The greenery around is the perfect location for relaxing in the lap of nature. With a sprawling land at hand, they successfully tried to tap agro-tourism potential. Those living in the concrete jungles long to spend time with springs, waterfalls, nature, animals and trees.
Today the Maliks express happiness that they chose the right path at the right time. Organic is the way of life today. Public health is suffering due to the overuse of pesticides and chemical fertilisers that go into our foods. People are now health-conscious and want to stay away from pesticide loaded food. Eating healthy, organic fruits, vegetables and A2 milk instead of the regular A1, would save much amount spent on treating diseases. Their mantra to farmer community in Goa is 'Go Organic!'