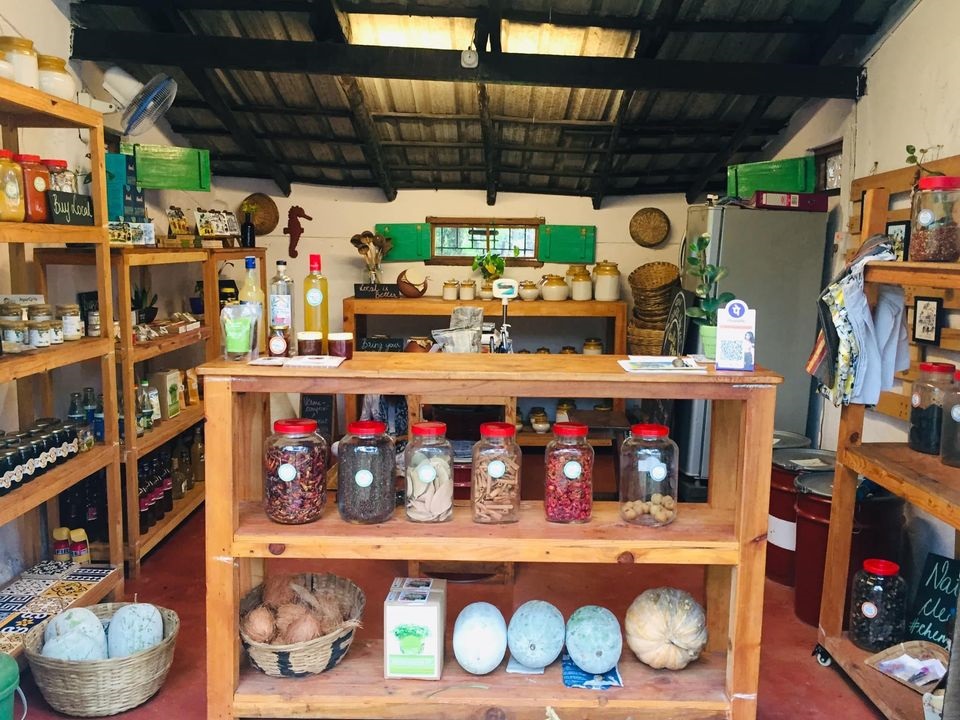 The Goan Farmers Market is a concept based on selling locally grown fresh and organic produce – a concept that was so common in Goa until some years. These small markets in the yesteryears sold authentic local produce that included fresh vegetables, seasonal fruits, dry fish, coconuts oil, solaa (kokum) and chinch (tamarind), turmeric, black pepper, powdered spices, pickles, salted raw mangoes, jams, vinegars, coconut jaggery, raw cashew nuts, wild forest berries and bamboo shoots etc.
The name may sound like a market, however it is now turned into a permanent store at Navelim in South Goa where fresh local vegetables and fruits are available for health-conscious Goans. 'The Goan Farmers Market' is a one-stop store where people from across the State visit.
"Apart from fruits and vegetables, we also have stocks of homemade products, grains and spices," says Chiara Viegas e Tulkar, co-founder of the theme.
The list of items on her shelves is endless. Local organic vegetables, fruits, grains, spices and other homemade products are made available to the customers.
"We also sell honey, coconut oil, ghee, rice, vinegar, homemade pickles, jams, squashes, terracotta pots, and other sustainable products. We work on the bulk concept, like the old posros (grocery shops) where nothing ever was pre-packed in plastic," shares Chiara who packs as per the customer's requirement using brown paper envelopes/newspaper bags and who also encourages customers to bring their own containers.
The store is filled with a warm and welcoming atmosphere, and its shelves are stocked with a variety of locally cultivated organic Goan products. These include non-alcoholic homemade wines, farm eggs, guava perad, snacks like laddoos and cookies, plants, saplings, pottery, ceramics, coconut ladles, handmade soaps, rice and legumes, spices, lemon ginger cordial, and more.
The store also offers a variety of sustainable and eco-friendly products, such as soap nuts (ritha), bio enzymes, natural cleaning products, compostable sanitary pads, and upcycled bags. This helps to encourage customers to make more sustainable choices in their homes.
Associating with a farm in Sanguem, Chiara also sells freshly harvested coconut toddy and coconut neero on a weekly basis. She hosts a farmers market once a month and conducts workshops on gardening, composting etc.
"The next market day is October 1 and we look forward to seeing you in Navelim," says a cheerful Chiara who has been successful in bridging the gap between the local vendor and the buyer.
Today, people across the world have become more health conscious. Staying fit is the mantra of the day. One important factor to fitness and health – a healthy diet and having this mind Goan Farmers Market was born. It is the brainchild of the Viegas sisters Chiara, Sheena, Anne and Ian Menezes, Sheena's husband. The idea cropped up over lunch one day when the family was discussing how difficult it was to source local fruits and vegetables.
"Even local women don't necessarily sell locally grown or gavathi fruits and vegetables. So we decided to do something about it. And that's how we started," states Chiara.
Through their idea, the family has successfully provided a platform for local farmers to sell their produce directly to consumers. In a way it promotes local Goan produce. Farmers usually have middlemen buying the produce from them and selling it at higher rates in the local and city markets. With the middlemen giving the farmers low returns on their produce, the farmers are unable to make ends meet.
"Farmers should reap the fruits of their labour. Thus encouraging more farmers into cultivation rather than selling their land for development was also our aim when we started in 2016. Hopefully we have succeeded to some extent in our motive," explains Chiara who encourages people to buy local, eat local.
When people come to the market, they meet the people who grow their food. They can get tips on how to grow their own kitchen gardens, make their own compost or even seek help when starting out their own farms which has actually happened.
A customer bought a passion fruit tree few years ago and it is already giving yeild. "The fruit is so delicious," he said.
"The place has a Goan look and feel and one just feels at home," said another customer who had dropped in to buy 'gavathi tantayaa' (local eggs) which are very small in size but very tasty and nutritious.
Customers like the ambience of the store. They are happy about the pricing too, which they feel is reasonable. Sharing her experience, a woman commented that the cashew neero and coconut toddy were nice.
"They also have kambucha, Goan ukdo rice and madache god. The other day I took a clay pot for making my fish curry," she said. The store is open from Monday to Saturday.