RUVUMA-TANZANIA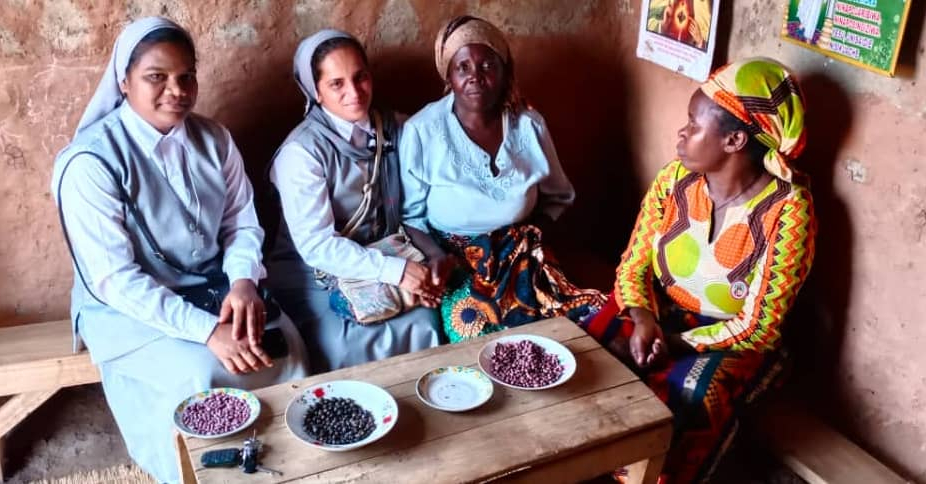 Background as a nun:
I joined Franciscan sisters of St Mary of the Angels in 2004 and my Congregation is an international one. We have our missionary activities in Europe, South America, Africa and many states of India. In brief, we are known as FSMA Sisters.
Present location, designation and responsibility:
I feel privileged to be a part of our FSMA Tanzanian mission. I came to Tanzania in 2016. In Tanzania, I am in Ruvuma region in a place called Songea, which is to the extreme south of Tanzania bordering Mozambique and Malawi. Initially, I was the headmistress of one of our village schools and later, I was the Novice mistress. We have indigenous girls joining the Congregation and have sisters as well. At present, I am the Mission Coordinator, along with two more sisters, coordinating our missionary activities.
Challenges in your mission:
The greatest challenge that we face is that the faith of the people is shallow and they need a lot of guidance for moral life. The families are not stable. It is a pity to see innocent children suffering, when there is no proper family life.
Some of the joys in your mission:
The greatest joy is living a life of inculturation. I have become broad-minded and open. People here are welcoming. The contentment that I feel on a daily basis in encountering Christ in His people is wonderful.
Scope for Goan priests and nuns in Tanzania:
We need many young girls to join religious life and continue to walk in the footsteps of Christ, proclaiming the kingdom to the ends of the world. It's a beautiful mission for all priests and religious who desire to think beyond borders and who desire to make simple sacrifices for the kingdom of God.
FR LANCY HERALD D'SILVA CSC
ADELAIDE-AUSTRALIA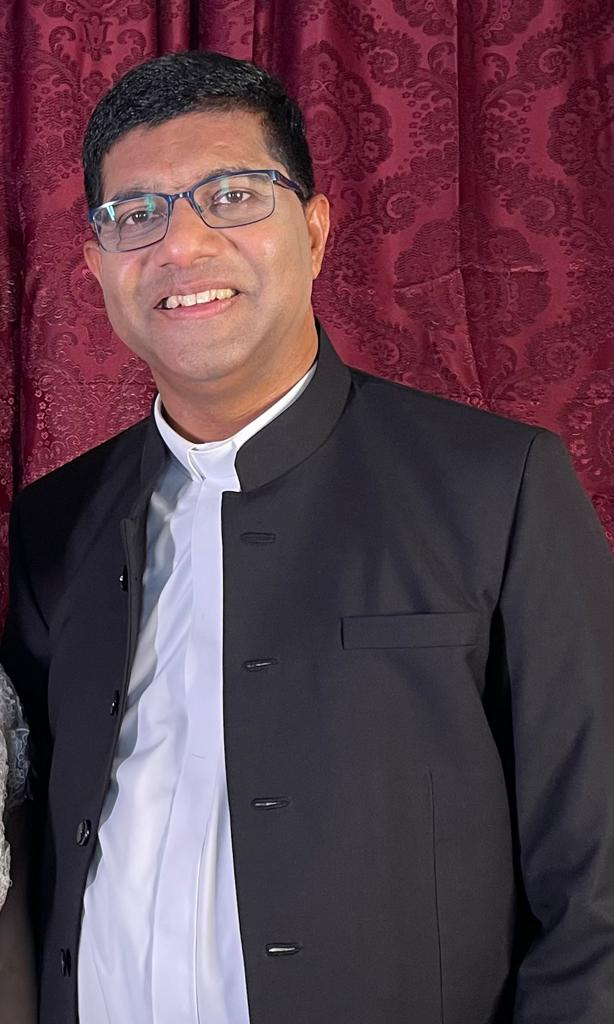 Background as a priest:
I belong to the Congregation of Holy Cross (Holy Cross Fathers). I am now a priest for 20 years served in different parishes like Goa, Pune and Mumbai. I was instrumental in starting or laying the foundation for First Holy Cross Seminary in Nuvem-Goa. I had also served in Florida, USA.
Present location, designation and responsibility:
Presently I am the parish priest of sacred heart Parish, Hindmarsh-Findon, Adelaide.
Challenges in your mission:
As a secular country, faith is really a great challenge however it always depends on how you handle it. I am glad to invite and involve people in various activities of the parish. Invite children during the school days for the Eucharistic celebration.
Some of the joys in your mission:
It's always a joy for me to serve the people, even if I have to sacrifice my own home country. I have a very vibrant community in my parish who are always supportive. I am really happy to serve and be with my people. I always enjoy being with my Goan families and don't miss any Goan dishes.
FR SALVADOR FERNANDES, MSFS
QUEENSLAND-AUSTRALIA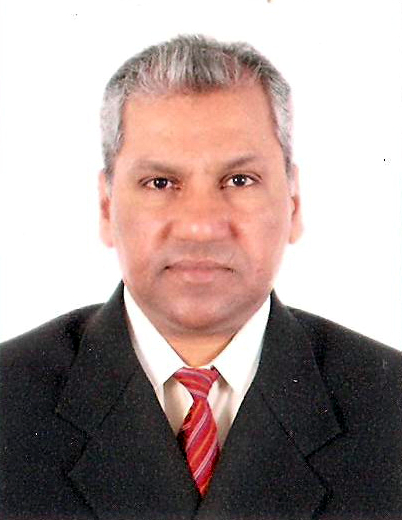 Background as a priest:
I belong to the Missionary Congregation Of St Francis De Sales (MSFS), also known as Fransalians. The MSFS religious communities are in Fatorpa, Siolim, Bastora, Aldona and assist in the churches on call in the Archdiocese of Goa.
Present location, designation and responsibility:
I am located in the Diocese of Toowoomba in Queensland. I supply work to the parishes in the Diocese of Toowoomba. My role is to help in the churches where there is no priest or the priest incharge is on holidays.
Challenges in your mission:
To make people attend mass and church services in greater numbers as before.
Some of the joys in your mission:
To love the people under my pastoral care and it pays.
Scope for Goan priests in your area:
Not much in the place where I am in the Diocese of Toowoomba, Queensland, as the Australian Church makes use of lay-led liturgies on Sundays and other days where needed.
FR ELDRIDGE D'SOUZA OFM CAP
NEWTON-AUSTRALIA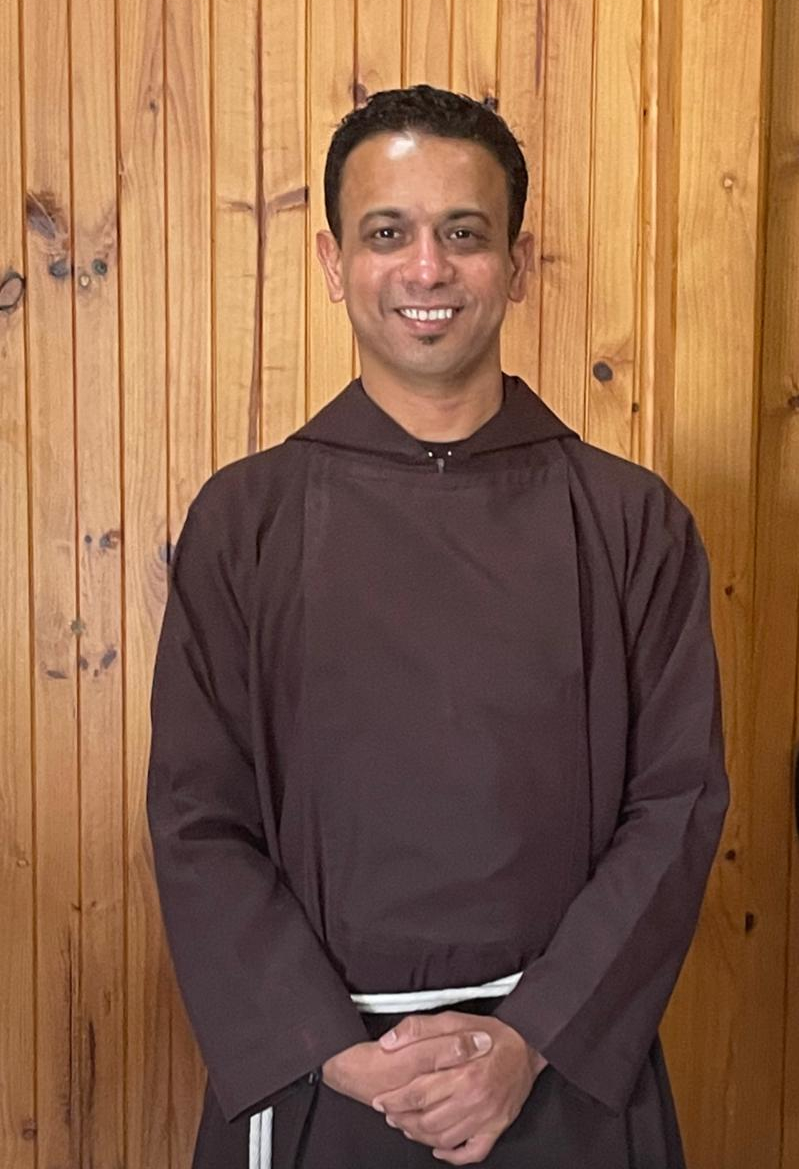 Background as a priest:
I am a member of the Order of Friars Minor Capuchins and previously served in the St Anthony Friary at Monte de Guirim.
Present location, designation and responsibility:
Parish priest at the St Francis of Assisi Parish Newton and Guardian of St Francis Friary Tree Newton, South Australia.
Challenges in your mission:
To infuse in as many persons as possible the desire to live our Faith and not be disappointed if it does not happen or people don't correspond.
Some of the joys in your mission:
Seeing a positive change happening in our society with regards to faith and service.
Scope for Goan priests in your area:
There is scope but one needs to be adaptive to the challenges here and be flexible to function in any given role or in any given capacity.
FR JOVITO FERDINO D'SOUZA SJ
SOUTHALL-UK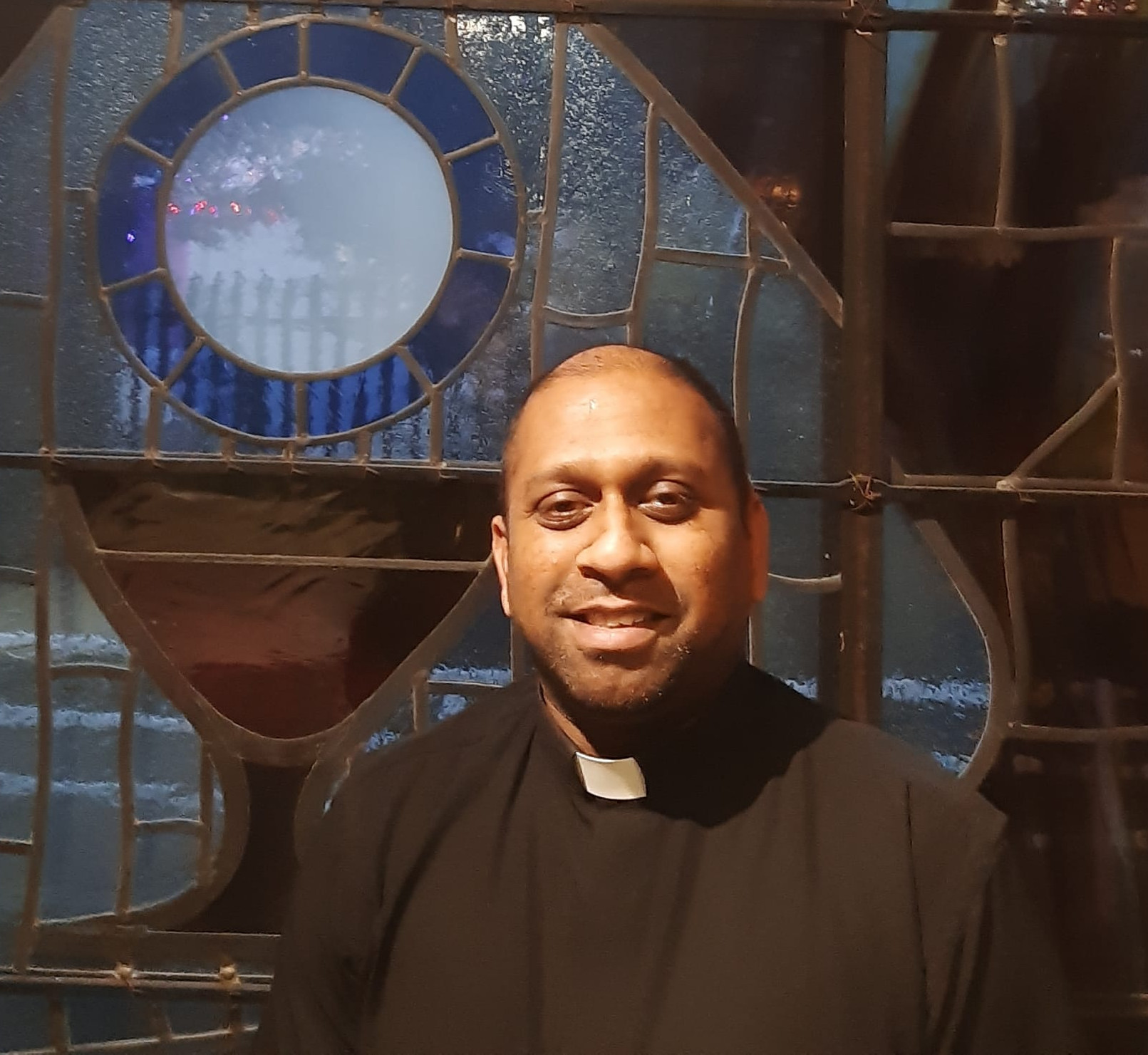 Background as a priest:
I am a member of the Goa Province of the Society of Jesus (Jesuits). I was ordained a priest by Archbishop Filipe Neri Ferrao on January 2, 2016 at the Basilica of Bom Jesus. In June 2016, I served as the Pre-Novitiate Director Miramar and vocation promoter for the Jesuits.
I also served as Executive Secretary-cum-Treasurer in the Diocesan Office of the Promotion of Vocations (DOPV), involving vocation promoters of all the religious congregations, consecrated life, diocese and two laypersons.
In 2019, I was sent to serve the Xavier Retreat House, Baga as the Director. However, within a year, I was asked to serve the St Anselm's Catholic Church, Southall, UK. It was the time when the whole world was battling the pandemic. The lockdowns and further restrictions made it even harder for me to get my visa work sorted. Finally, I entered the UK on April 17, 2021.
Present location, designation and responsibility:
I took charge as the Parish Priest on May 14 2022 from Fr Gerard Mitchell SJ. The St Anselm's Catholic Church Southall parish came under the care of the Jesuits in the British Province of the Society of Jesus in 2001. The present Provincial Fr Damian Howard SJ of the British Province during his maiden visit to Goa in 2019, met my Provincial Fr Roland Coelho SJ and requested if a Jesuit of Goa Province could come and work in the British Province at Southall.
Challenges, joys in your mission:
St Anselm's Parish, Southall, is a diverse Catholic community, with 65% of Goan population, it's also multi-cultural. In West London, which seeks to witness its faith in an area of some deprivation and considerable cultural and religious diversity. Apart from a wide variety of Christian churches, within the bounds of the parish are around 10 Sikh gurdwaras, four mosques, three Hindu temples, and a Buddhist vihara, not to mention many more informal places of worship.
In addition to all the normal pastoral needs of a large, thriving Catholic community – liturgy and prayer, catechesis and instruction, pastoral visiting and support – St Anselm's needs to attend to the special demands of life in such a pluralist environment. The various church-related activities help the parishioners and the wider community to be rooted in faith, care for the environment and work for justice and reconciliation.
We have a vibrant youth ministry where the youngsters get involved not just in Church activities, moreover very active in voicing their views and opinions on what is happening in society.
Scope for Goan priests, nuns in your area:
In my opinion, not just as a Goan priest but just as a priest, people do look up to you for advice and guidance. A person who is authentic and carries everyone together.
SR ROSALINA REBELLO
PARAÚNA GOIÁS-BRAZIL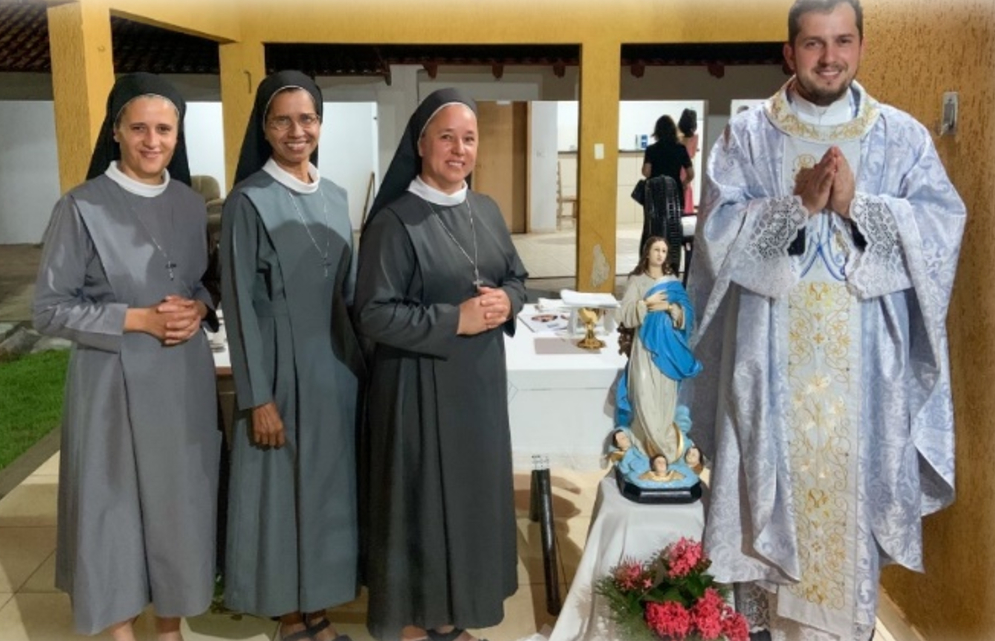 Background as a nun:
I am from Curtorim and completed my SSC in St Rita's High School, Maina-Curtorim. Then, I joined the convent of Ursuline Sisters of Mary Immaculate. For almost 25 years, I worked as a teacher in various schools in Goa and India. Since the last 14 years, I am in Brasil working in the field of pastoral work and evangelisation.
The Ursulines of Mary Immaculate Piacenza Rome work in Italy, India, South America, Africa, UK and Ireland. In Goa, we have three communities in Maina-Curtorim, Loutolim and Desterro-Vasco. Our sisters are involved in the education ministry, medical, socio-pastoral ministry in India and abroad.
Present location, designation and responsibility:
At present, I reside in the city of Paraúna Goiás in the midwest of Brazil. It is a village. People from the interior have migrated in search of work. The residents are very simple and hard-working.
We are a community of three sisters involved in Catechesis for all ages and socio-pastoral work, children's ministry, pastoral care of the elderly movement and mothers who pray for their children.
Challenges in your mission:
The biggest challenge is the new, structuring pastoral work that has been neglected in the parish due to a lack of priests and religious. So, it is a challenge for us to reach out to the excluded and marginalised of the society, seeking to rescue them with love, by giving a listening ear and timely encouragement.
Some of the joys in your mission:
The joy of being welcomed as a missionary through the warmth of the people who surround us with affection and attention. I find joy and happiness working with these people, they are welcoming people.
Scope for Goan priests, nuns in your area:
We are a few and the challenges are very huge in this part of the country. One of the first great challenges is to evangelise people that until today is in the context of the lowest human development index in Brazil.
Evangelisation happens by the hands of those who pray and the feet of those who proclaim.
The Brazilian Mission was born in 1985 when the pioneers, Sr Paola Tiramani, Sr Carmela Sotgiu and Sr Marisa Mundackal arrived at Ponta Grossa, Paranà. Mother Stefania Murelli was the Superior General.
Our sisters started the mission of educating and forming the children with a lot of love and attention in the Creche in Ponta Grossa. They have also involved themselves in the pastoral needs of the people around.
We sisters are working in three dioceses of Brazil. Our presence is made visible through the education and pastoral services that we render to the people of the place.
Our sisters offer a significant service to the people through pastoral care and parish activities where we focus mainly on the poor, the marginalised, the women and children.
FR PATRICK D'SOUZA SFX
LONDON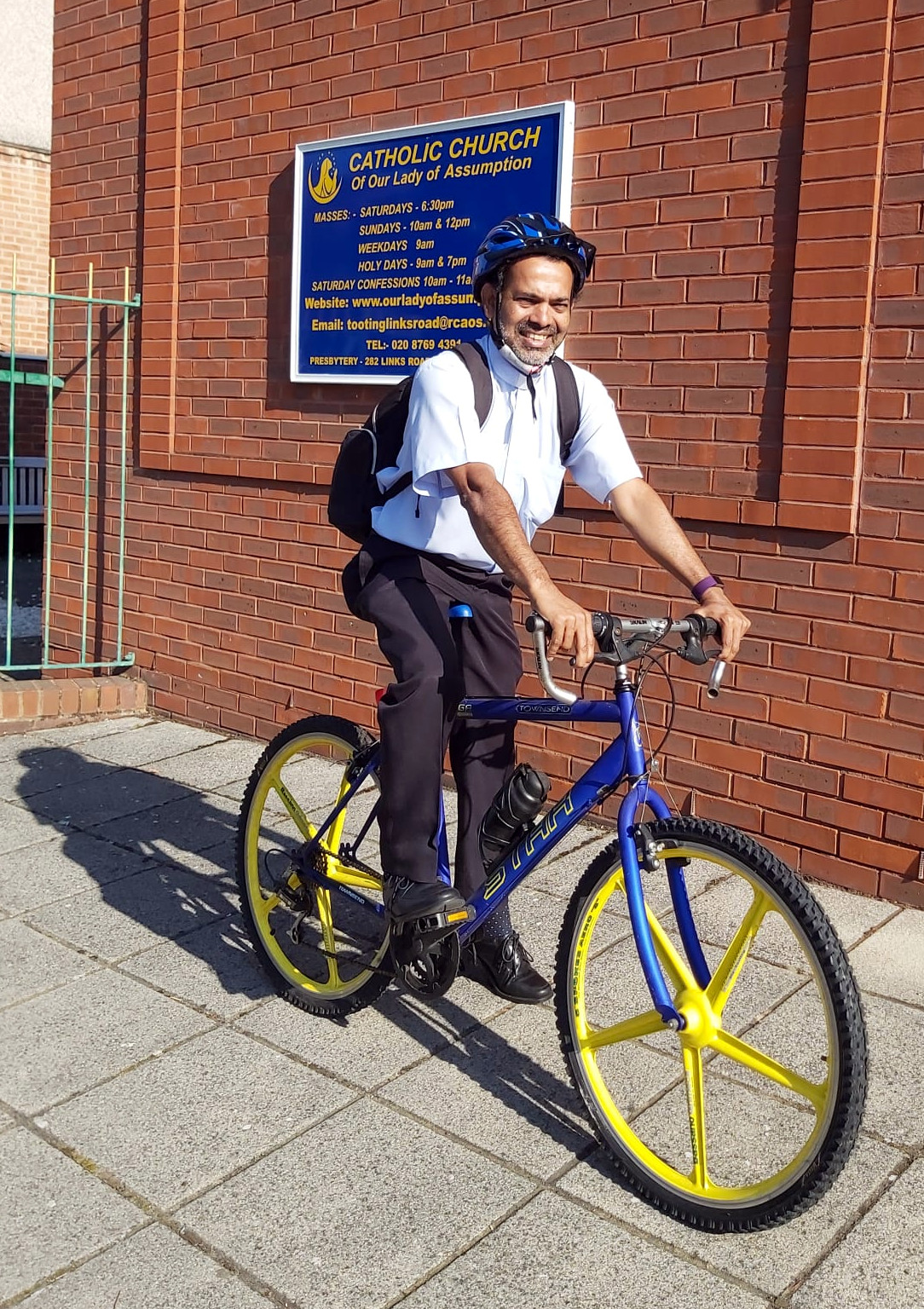 Background as a priest:
I belong to the Society of the Missionaries of St Francis Xavier (Pilar Fathers).
Present location, designation and responsibility:
As of now, I am based in London. Our Local house is Mitcham Local house. Mitcham Local house has two communities, one in Mitcham and the other at Swindon.
I am the Goan Chaplain in London working in the dioceses of Southwark, Westminster and Brentwood, also catering to our Goan Catholics in the other parts of the UK. The Goan chaplain is to take care of the spiritual and other needs of the Goans under our care.
There are tens of thousands of Goans in the UK. Everywhere I go, I come across several people whom I have never met. Some of our Goans I come across do not even know that Goan Chaplaincy and the Goan chaplain exists. So, sometimes I have to introduce myself to the congregation.
Challenges in your mission:
I visit our Goan families and most of these visits are for counselling. Most of our Goan families are doing well – financially. But sometimes, it is at the cost of a strained relationship between the spouses and between parents and children. And this has been the biggest challenge for the chaplains in the UK. Alongside this, I would say that we also try our best to animate our youth to adhere to our faith and morals. Quite often, we are not able to do enough to achieve the desired goal. The Goan chaplain in Swindon, Fr Lucas, along with Fr Francis and Fr Mark have done considerable progress in this regard.
Some of the joys in your mission:
I live in our community with Fr Jerry and Fr Stephen at Mitcham (South London) in the London Borough of Merton. I celebrate Konkani Masses every weekend in different parishes in Southwark and Westminster dioceses where many of our Goan faithful live. It is a great joy to meet hundreds of them every month. I meet many who live in these places for years and also those who are new to the country.
After the Mass, we usually meet outside the church or in some places we meet in the church hall for a cup of tea/coffee and Bingo (Housie). It is at this time people share the stories of their life. The elderly express their joy in being able to participate in Mass in Konkani their 'Mai Bhas'. Some of them also have their stories about feeling lonely and neglected. They also share their unhappiness seeing their children and grandchildren not living the values our ancestors taught us.
Middle-aged people are happy to share their success stories in their profession and their life. Some of them share their worries about the upbringing of their children. Some share their relationship issues and marriage problems. Amid all this, all of us Goans should be proud of our community to see that so many Goans are active in the life of the Church. The Goan community does bring life and joy to the Catholic Church in the UK.
Scope for Goan priests, nuns in your area:
Goan priests have a big responsibility to take care of our Goans here in the UK. Ongoing care of the family is of utmost importance. Guidance to young couples is necessary. Many couples in their middle age also require this. The youth ministry needs to be looked into, to guide our young people in Christian and moral values. As Goa is known for vocations to priesthood and religious life, we need to activate this divine call in the hearts of our youngsters in the UK.