Having conducted the Senior Citizen's Day earlier this month, The Goan Association (UK) has organised a pilgrimage on September 25 for the Goan diaspora in the UK.
The Senior Citizen's Day conducted at the Community Hub (Ex-Asian Centre) on September 9 consisted of bingo, raffles, music and dance, snacks and lunch.
"Our senior citizens were happy that we organised this event as they are lonely at home and this gives them the opportunity to meet up with their own friends and even families. We had a minute's silence for the departed Queen Elizabeth II at the event," said GOA UK's PR and Social Director Bella Fernandes.
Besides Bella Fernandes, GOA UK President Ravi Vaz and Finance Director Richard Fernandes were also present at the event.
"Richard Fernandes came up with the idea of the Senior Citizen's Day and it will be a GOA UK's legacy event on a regular basis in future," she added.
Later on September 25, the GOA UK will conduct an annual pilgrimage led by Fr Patrick D'Souza at The Friars in Aylesford.
The pilgrimage will consist of a Confession, Rosary with Procession, Mass and Benediction, followed by lunch. The music and choir will be by Inacio Joao.
"This is an annual pilgrimage by GOA UK and we have had bishops and priests heading them in the past. Fr Patrick is a Goan priest who runs a Goan chaplaincy in Mitcham, South London and supports all Goan religious events and feast celebrations."
"We also have Fr Lucas, who is based in Swindon, who is also a great support to the GOA UK and our Goan community," said Fernandes.
"There will also be prayers for the departed Queen during this pilgrimage."
She informed that the Pilgrimage is conducted at the same place every year with subsidised travel and lunch.
"GOA UK bears all the extra costs to help the Goan community as it is quite expensive for the average family of four to attend such events. We have coaches to transport participants from every corner of London and also from Swindon."
"This pilgrimage is a lovely occasion to pray and bring everyone together under one roof, regardless of religion, caste or creed. We get non-Christians to join us too, which makes it very special. We get Goan chefs to do the catering, so we support them in our own way," added Fernandes.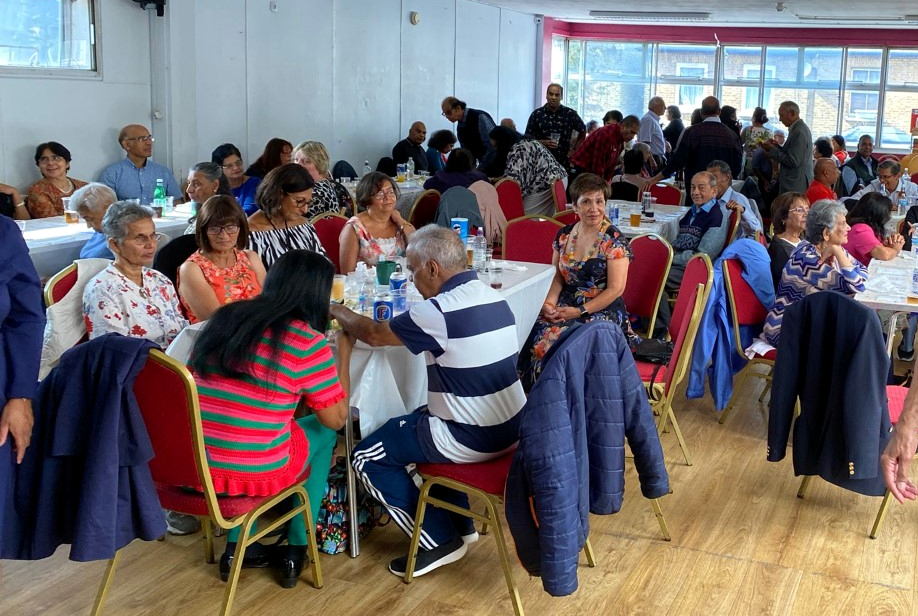 Senior citizens participate in the Senior Citizen's event.