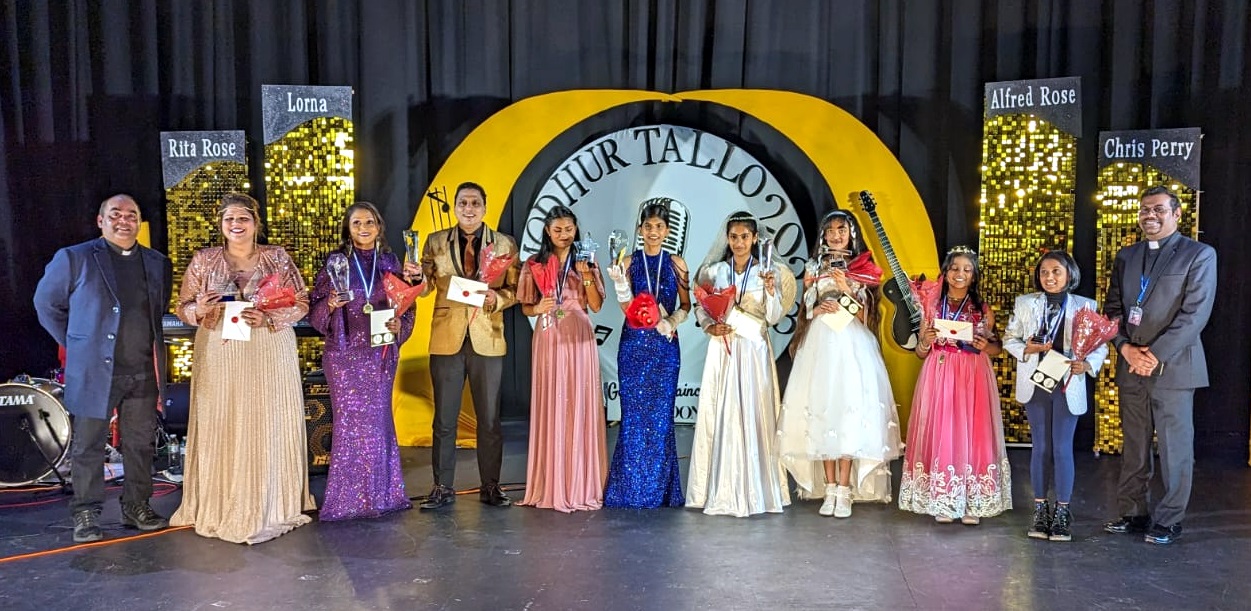 THE GOAN NETWORK | LONDON
'Modhur Tallo', the first-ever Konkani solo singing contest in the United Kingdom, was organised by the Goan Chaplaincy, Swindon in the Deanery Hall on May 14, to kindle a community spirit and generate love, especially among the younger generation for Goan culture and heritage through the medium of Konkani language.
In all, 18 participants vied for the top places in the three categories: senior, teenager and junior.
The finals began with a short prayer by Fr Lucas Rodrigues, the parish priest of St Peter's Church and Goan Chaplain, followed by Tommy Alfonso, a famous Tiatr personality and compere of the evening, belting out a specially-composed opening song that encapsulated all the ingredients and the work that went into the making of 'Modhur Tallo'.
In the senior category, Divino Almeida won first place, while the second and third prizes were awarded to Gabline D'Costa and Elsie Falcao respectively.
In the teenager category, Shanika Carvalho won first place, with the second and third prizes awarded to Delisha Vaz and Nasha Jazalyn Cortez, respectively.
In the junior group, Saloni Fernandes won the first prize, while Leanne Nikisha Fernandes and Genaia Fernandes were awarded the second and third prizes, respectively.
Besides the prizes, all who made it to the finals after a gruelling audition test to screen the finalists were presented participation medals and certificates by Fr Mark Furtado.
The capacity crowd was treated to a high standard of lively singing with the repertoire traversing different genres of music and covering wide-ranging topics, which was interspersed with high-octane comedy skits by the comedy duo of Comedian Agostinho Temudo and Janet. Each singer was introduced through a previously recorded video clip, before coming onto the stage.
Another famous singer, Inacio Palmeira, opened the second half of the evening with his own composition of 'Modhur Tallo'.
Famous musicians accompanied the singers on stage and they included Frampton D'Sa (keyboards), Assumption Nunes (drums), Aidan Temudo (trumpet), Joel Fernandes (Bass) and Ralph Alvares (guitar).
Sound for the event was provided by Vane Machado and Abel Nunes, while the stage décor was done by Nashwyn Arts. John Soares designed the posters and all printing materials for the event.
Later, while addressing the gathering, Fr Lucas said the aim of organising such competitions was to kindle a community spirit and generate love, especially among the younger generation for Goan culture and heritage through the medium of the Konkani language.
"Our rich cultural inheritance can only be transmitted if we cherish it and strive to transmit it in various ways to the new generation by keeping it alive through cultural activities," said Fr Lucas.
He narrated how the idea of the singing competition germinated over dinner among the priests and acknowledged and thanked his Assistant Parish Priest Fr Mark Furtado for the meticulous work in organising the function.
Various Goan Chaplaincy teams worked to present an evening of entertainment to the packed hall.