Thousands of Goans in South England and across the world make it a point to keep aside two hours every week to listen to Europe's first Konkani FM radio show 'Konkani Uloi London Fuloi'.
This Konkani radio show is presented by RJ Roque Vaz and his wife Bihula, an enthusiastic Konkani-loving Goan couple, since the past five years.
It all started when Roque began broadcasting a two-hour Bollywood FM show on Hindi songs at a popular community radio station Awaaz 99.8 FM in Southampton.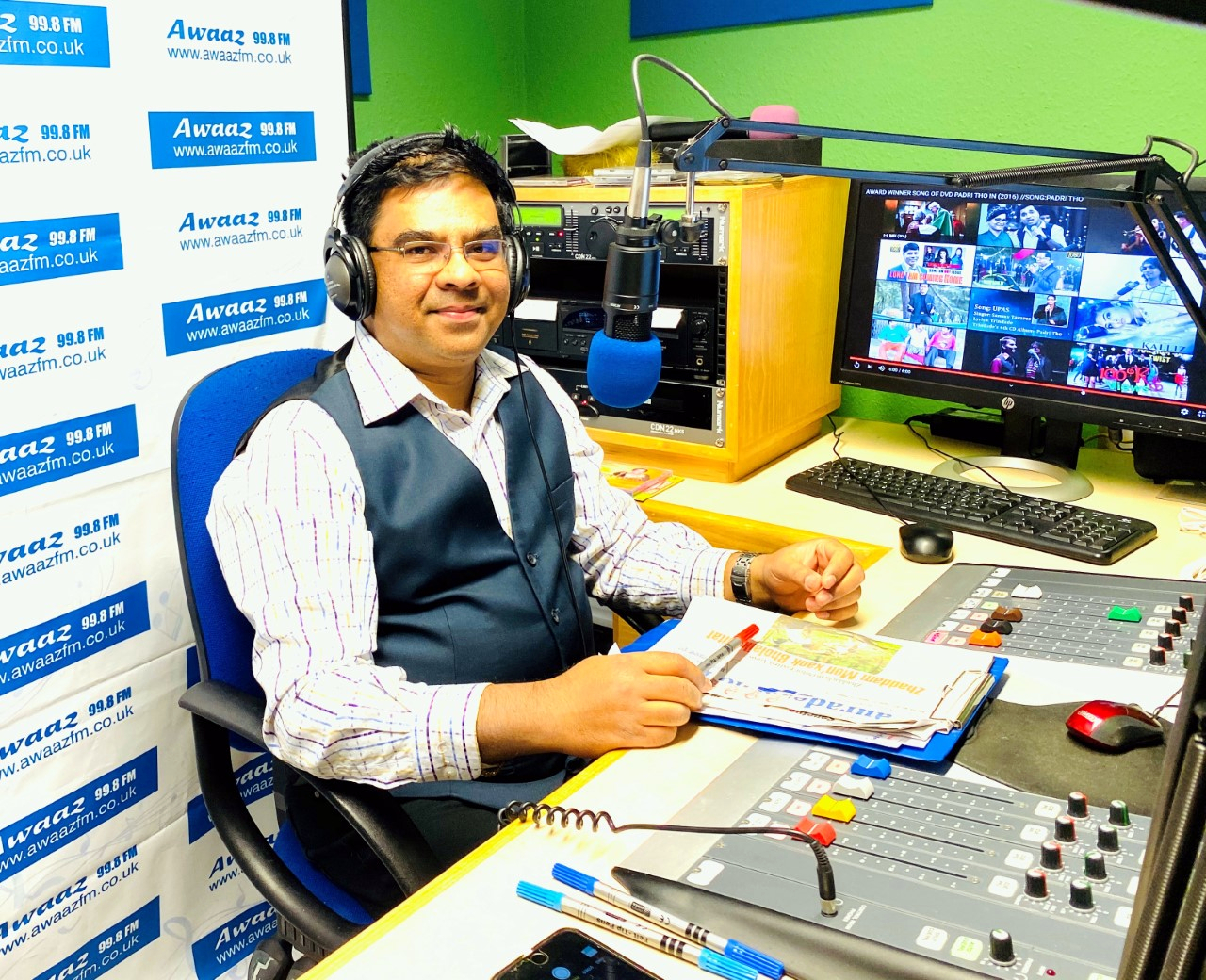 RJ Roque Vaz at his radio studio in Southampton.
"Southampton is the port-of-call for thousands of Goans who work in cruise and cargo ships. Ali Beg, radio station director and project manager, once asked me, "Why don't you start a radio show in your own native language?"," recalled Roque.
"I enthusiastically grabbed the opportunity and immediately began preparations to launch Europe's first Konkani FM radio show."
Things sailed smoothly and finally on November 2, 2018, Roque along with Bihula, as creative director, began broadcasting a two-hour weekly Konkani show 'Konkani Uloi London Fuloi'. The show was also broadcast live on Facebook.
REACH AND RANGE
Awaaz 99.8 FM covers the entire Southampton and neighbouring regions in South England. The station is also available across various radio apps like the Radio UK App and on www.awaazfm.co.uk for listeners across the world.
"The radio station has a 24-hour broadcasting studio, which also hosts other programmes in various languages like Hindi, Malayalam, Punjabi, Urdu, Arabic, Filipino and Italian," said Roque.
The Konkani show, presented every Friday from 6 pm to 8 pm (British Time), includes old, classic and new Konkani songs, recitation of poems, reading of articles and talks about current issues, local, national and international. The entire show is hosted in Konkani. Co-presenter Bihula Vaz adds an element of humour and quick wit during the show.
RECOGNITION
"The overall response has been great, with thousands of followers on the official Facebook page. Renowned Konkani writers and poets contribute content to the show and famous actors and actresses from the Konkani stage actively participate in the show," says Roque.
"We have Konkani fans from around the globe, especially from UK, Canada, America, Switzerland, Australia, the Gulf like Saudi Arabia, Kuwait and UAE. Our research indicates that Konkani-speaking persons in over 50 countries keenly watch and listen to our audio-visual broadcast on Facebook via various community groups."
"'Konkani Uloi London Fuloi' has become a household name in many Konkani-loving households. Even though the show is just two hours every week, the team works behind the scenes throughout the week, communicating with various participants and it is an absolute voluntary effort."
"The presenters receive no remuneration of any kind and no payment is given to any contributors. The support and help from Bihula and all participants, especially Ali Beg, and the love and admiration from a worldwide audience are the key factors for the success of the show, which will complete five years later this year."
Both Roque and Bihula were felicitated by the Mayor of Southampton for their respective roles regarding the Konkani show at one of Awaaz FM's annual social gatherings.
RELOCATION
Roque and Bihula first met as classmates at Holy Spirit Institute, Margao, when the late Fr Caetano Da Costa, an accomplished Konkani playwright and Konkani promoter, was the school principal.
Roque, who hails from Fatorda and studied at Chowgule College, Margao, was a teacher with a Master's in Sociology, while Bihula, an ex-student of Carmel College, Nuvem, qualified as a nurse from the Institute of Nursing Education, Panaji.
About 15 years ago, they left their respective jobs in Mumbai and emigrated to UK via the Work Permit Route on Indian Passports.
"Our first residence was in Paignton-Devon, part of the famous tourist destination called the English Riviera in South-West England. After the tragic loss of our first and only child, we decided to move to Southampton in 2009," said Roque.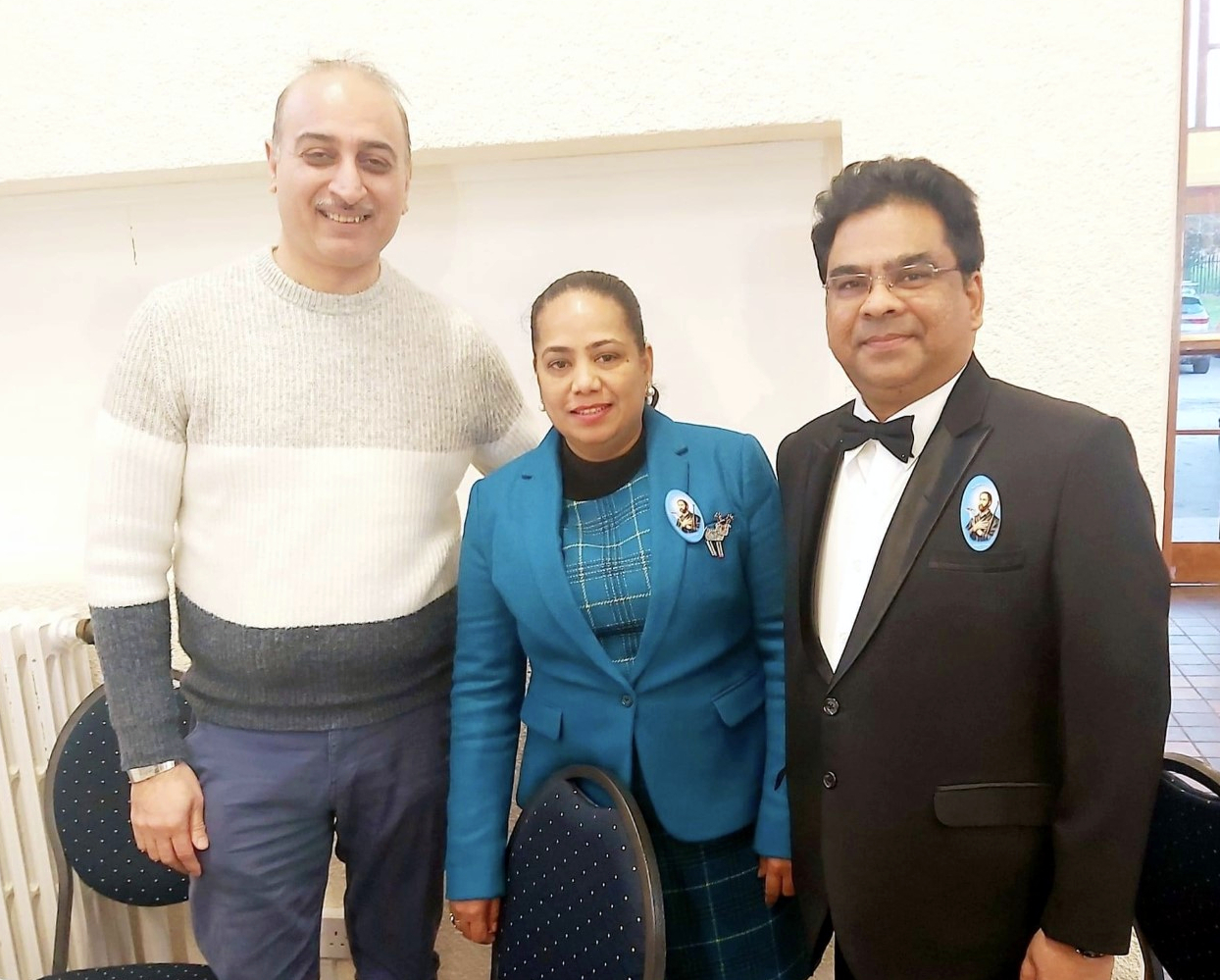 RJ Roque Vaz and his wife Bihula along with Radio station director Ali Beg.
In Southampton, Roque acquired further qualifications in education. Besides being a professional interpreter in courts, Roque is into event management, advises people how to constitute community groups and helps organise various social and community events.
Bihula is an emergency nurse who works for the National Health Service in Southampton. She also works for the community as a volunteer across the UK in her free time.
In 2010, Roque along with a group of Goans established the Golden Goa Association, Southampton, which has organised around 50 Goan community events in Southampton. It is during his community work that Roque befriended other like-minded community organisers like Ali Beg, which eventually led to the Konkani radio show.
In his leisure time, Roque participates actively at his local church in Shirley-Southampton in diverse roles and devotes his time and energy to various community projects not just in Southampton but throughout the UK.