My maternal great-grandfather Bernard da Costa from Ararim, Saligão successfully won a contract to run the British Officer's Mess in Bushire/Bushehr, an entrepreneurial effort of no mean proportion and one that required an army of chefs, stewards and butlers recruited from his hometown in Saligão, Goa.
By all accounts, it kept him gainfully employed and he hired cooks and butlers from Ararim to help him run the mess. Unfortunately, there are no surviving photos or documentation from that period.
My maternal grandfather Dr Albert Francis Winnington da Costa-Joshi FRCS, DTM, LM&S, VD, IMS (s/o Bernard da Costa & Rosalinda Cordeiro) was born on January 13, 1889. After him, four children Sylvie, Melita, Benny and Euclid were born.
What we do know is that Bernard would come on vacation back to a second home in Bairo Alto, Saligão, where his children completed their schooling next door at Mater Dei School. While his father Bernard was away working in Persia, Albert continued his higher education as a boarder at Collegio de Santo Antonio, a boarding school situated on the top of the hillock at Monte de Guirim. This august institution was handed over to the Franciscan Capuchin Friars in 1941.
By 1909, Bernard wound up his business and returned to his home in Bairo Alto, Saligão. Quite tragically in 1910, he suffered a fatal cardiac arrest (?) and died before Dr D'Mello from across the road could come. His wife Rosalind also passed away within a year in Saligão, leaving their five children (Albert, Sylvia, Melita, Bernard and Euclid) orphans. At this time, Albert was in his final year of Medicine at Grant Medical College, Bombay.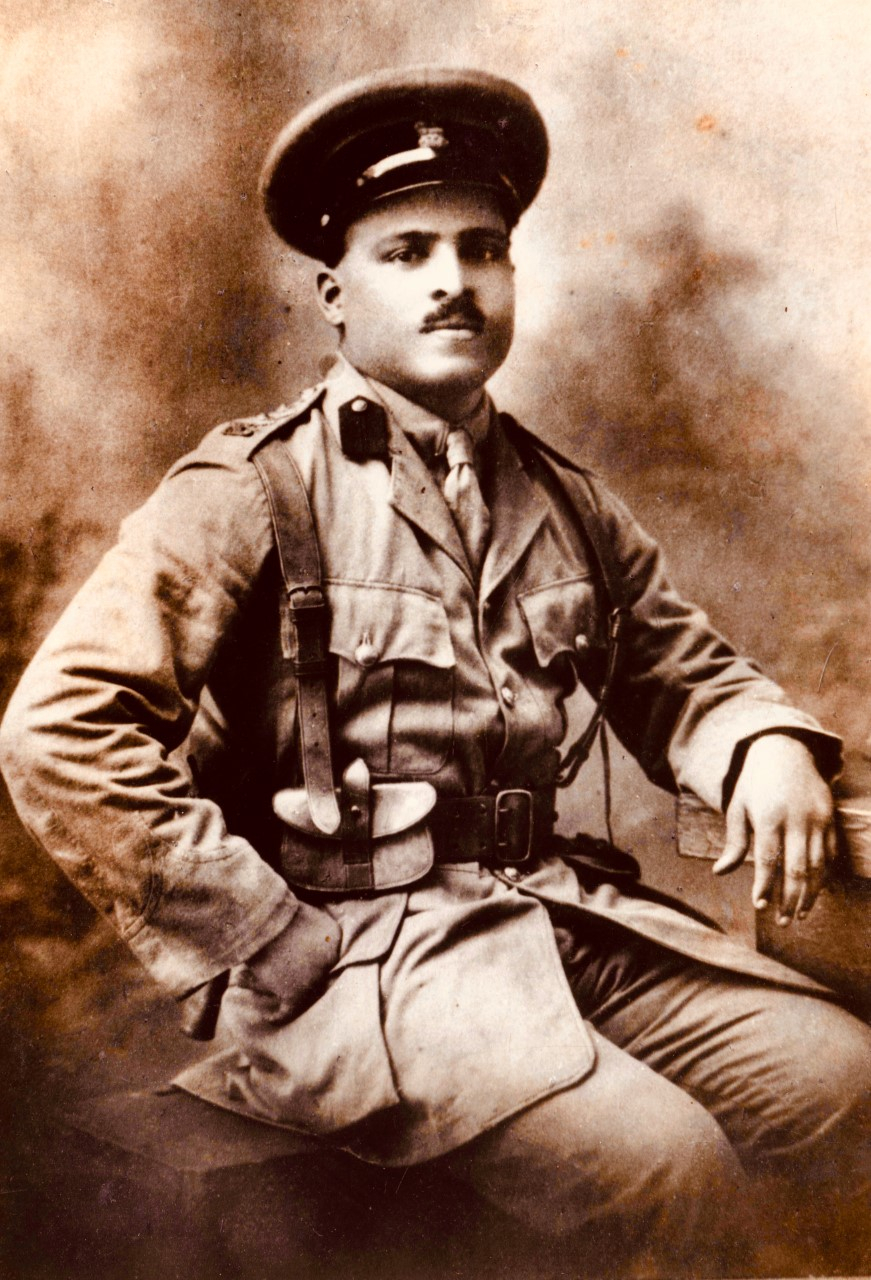 Major Albert da Costa in WWI fatigues.
Nagpur was the HQ of the Bengal-Nagpur (BNR) and the Great Indian Peninsular (GIP) railways - and many Goans found gainful employment in the Railways. The Goan community grew to a significant size and established a vibrant Catholic Institute near St Francis de Sales Cathedral on Kamptee Road in Mohan Nagar, Nagpur, which was the focal point of Goan events from the 1930s onwards.
Albert's maternal aunt Angela Cordeiro married Cajetan Nazareth (originally from Uccasaim) who lived in Cosy Nook, Mohan Nagar, Nagpur. This aunt stepped in to look after the four younger children as Albert moved to Bombay to pursue his studies at St Xavier's Bombay and later at Grant Medical College, Bombay where he was awarded the Licentiate in Medicine and Surgery (L.M. & S) degree in 1910. He qualified as a Doctor of Tropical Medicine (DTM) from Calcutta in 1923. He then got a commission in the British Medical Corp as a King's Commissioned Officer in the Indian Army and his salary was about Rs 900 per month (a very handsome salary in those days, by comparison, a servant's salary was a couple of rupees and a chicken cost a couple of anna paisa). With his earnings, he paid for the higher education of his siblings and even picked up the wedding expenses of his two sisters before settling down himself in 1923. Quite remarkably after his eldest daughter Yvette was born, he studied for and was awarded the coveted degree of Fellow of the Royal College of Surgeons (FRCS), Edinburgh in 1927.
Rudolfo Louis Gonsalves of Ararim, Saligão was the third child of Jose Avelino Gonsalves and Ana Severina Claudiana de Sequeira (d/o Ignacio Zeferino de Sequeira and Anna do Rosario), in a family of seven children.
Rudolfo was a qualified accountant who along with his eldest brother Pedro Alcantara José Plotino Gonsalves went to work for Anglo-Persian Oil Company (APOC) in Abadan sometime in the early 1920s. The brothers also were instrumental in helping many others from Saligão gain employment in Persia.
Quite by coincidence, a certain Antonio Jose Phillipo Mascarenhas (s/o Caetano Francisco Hermenegildo Mascarenhas and Maria Guilhermina de Noronha) originally from Porvorim was also working in APOC. He befriended Rudolfo and proposed the hand of his eldest daughter Adelaide Mafalda Estrelita Mascarenhas (eldest d/o Antonio Mascarenhas and Raquelinha Anna Felicia Gomes) in marriage.
Since Rudolfo was unable to come to Goa, the nuptial ceremony took place by proxy. Adelaide was given a photo of her husband and put on a ship to Abadan, chaperoned by a family who happened to be travelling on the same ship. It had been pre-arranged that Rudolfo would wear a specific piece of clothing (red tie?) as a definite sign of identification.
On arrival in Abadan, there was no sign of Rudolfo and the family had a connecting train (or bus?) to catch and were reluctantly forced to leave Adelaide stranded on the dock. Poor Adelaide! Left all alone in a strange land where she neither spoke the language nor knew anyone. Before long, Rudolfo showed up but Adelaide insisted on seeing his tie before she went anywhere with him. Rudolf sheepishly produced the item, saying that in his rush, he forgot to wear it. From then on, the sailing was a lot smoother.
My father Osmond Avelino Gonsalves (1920-1994) recalls spending the first five or seven years in Persia before the family relocated back to Poona, where Rudolfo built the family home "Villa Maria", designed by his brother-in-law, renowned Civil engineer and architect W X Mascarenhas, who not only was the first Indian Principal of the College of Engineering, Poona but also the chief engineer of the National Defence Academy in Khadakwasla and Sachivalaya Government Offices at Nariman Point, Bombay.
The writer is an engineer who retired in Silicon Valley. His interests include blogging, gardening, nature photography and travelling