Chicalim SDH felicitates three 'good samaritans' for selfless service to humanity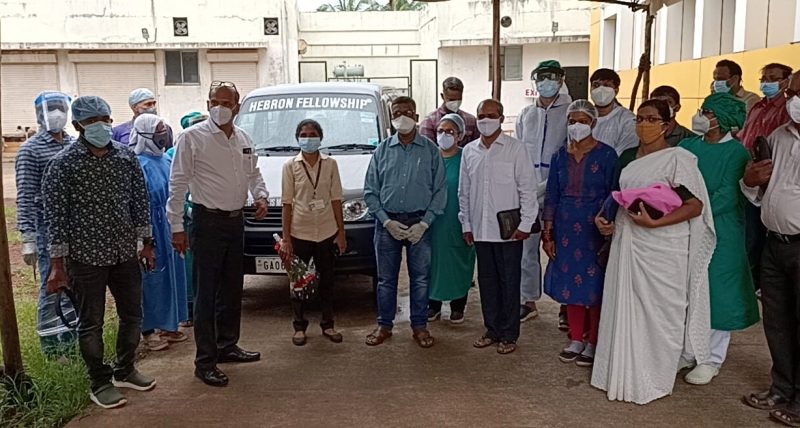 VASCO
At a time when Covid was rising and causing panic in Mormugao taluka, a doctor almost single-handedly managed the Mangor containment zone and even drove an ambulance during emergencies, while a retired GSL staffer offered free services to Chicalim Sub District Hospital and a man also donated a new ambulance to the hospital.
The three unsung Covid warriors -- ENT Consultant Dr Vivek Pillai, retired GSL employee Vijay Kudalkar and Brother Daniel of Hebron Fellowship -- were felicitated by Chicalim SDH Health officer Dr Rajendra Borkar in the presence of the entire hospital staff, in recognition of their selfless services during the Covid pandemic.
"These three persons helped the hospital to handle Covid cases when cases began in Mangor and spread all over Goa and at a time when most people were scared."
"Though the entire staff and doctors at the hospital have given their best, these three persons never came to limelight, were never paid nor did they seek publicity for their service and stood rock solid behind the curtains helping us fight Covid infection," acknowledged Dr Borkar.
DR VIVEK PILLAI
Describing ENT Consultant Dr Vivek Pillai as their one-man army, Dr Borkar said Dr Pillai had played many roles and worked as a medical officer.
"He single-handedly catered to the Mangor Containment Zone and managed OPDs there without fear. Besides, he has been our trainer, guide and has even driven the ambulance in emergency cases between Chicalim SDH and Mangor containment zone."
"He has even handled swabs of people to check them for Covid-19. He is on a bond for one year with the Chicalim SDH and is not a regular doctor of Directorate of Health Services but yet his services despite being on bond is commendable and he leads by example," said Dr Borkar.
VIJAY KUDALKAR
After retiring from GSL, Vijay Kudalkar (63) offered his services to the Chicalim SDH by helping fill registration forms of patients.
"After he began working selflessly to register the name of patients arriving at the hospital, he has never taken a day off and never skipped work and neither are we paying him anything," said Dr Borkar.
"While we were faced by the Covid pandemic after cases were detected in Mangor and cases began spreading fast, Kudalkar did not back out despite several co-morbid conditions and continued to help in registration of Covid patients."
"He and his wife were infected with Covid-19, but that did not stop him and after recovering from the infection, he resumed his services to the hospital."
"He continues to volunteer his services and did not take even one day's break even when our own staff went on leave. He arrives at 8.45 am sharp and leaves only after registrations are over," said Dr Borkar.
BROTHER DANIEL
Dr Borkar said Brother Daniel of Hebron Fellowship unconditionally donated a brand new ambulance to the Chicalim SDH.
"He only said 'use as you want and reach out to everyone' and he was more than happy to give the ambulance to us. Using the brand new ambulance during the monsoons was of great help."
"The Chicalim SDH used the ambulance free of cost for around 5 months and till the time we called him to return the ambulance, he never questioned us even once," said Dr Borkar.