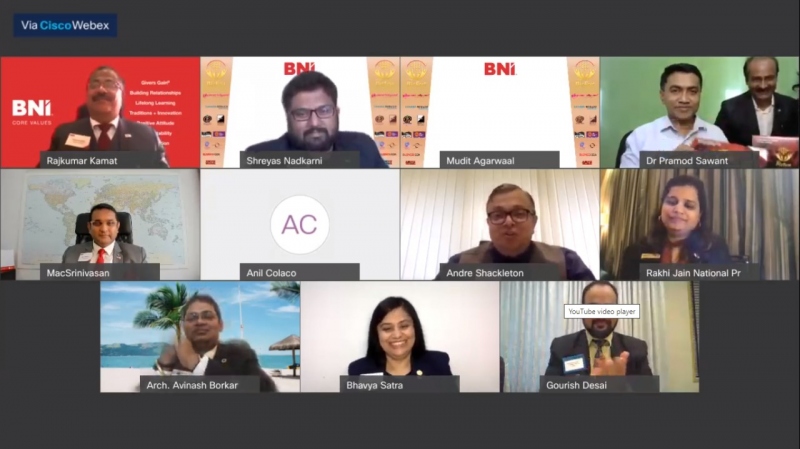 PANAJI
BNI Goa, in association with BNI Mathagram hosted a three-day extravaganza named Goa Biz Expo wherein four regions have collaborated to make this expo of 100 plus exhibitors a grand success. The chief minister of Goa Dr Pramod Sawant was present for the inaugural ceremony along with Rajkumar Kamat, executive director BNI Goa Region, Mac Srinivasan, Global Markets president BNI and Rakhi Jain, national president JCI.
While inaugurating the expo and releasing the exhibition directory on this occasion, Dr Pramod Sawant expressed his pleasure at this unique concept of virtual expo and hoped that BNI would partner with the government in implementation of various initiatives in different sectors.
Rajkumar Kamat, executive director BNI Goa Region spoke on this occasion, stating that BNI Goa registered over 80 % of its 2019 business during the pandemic year of 2020 and that the membership base of BNI Goa also grew by 20 % in 2020.
Dr Jagat Shah, founder and chief mentor, Global Network and Vibrant Markets spoke on a post pandemic business model for MSME's. Bharat Daga, executive director of BNI and global trainer spoke on how to communicate and build business relationships. John Mathani, EX VP of Warner Brothers talked about business opportunities for MSME in the entertainment industry while Manish Sharma, CEO at JFM Consulting Ltd gave a talk on the topic 'India's way forward towards self-reliance'. Murli Srinivasan, former global master trainer and national director BNI India, spoke about 'Taking your business to the next level' and Nitin Kunkolienkar, president of MAIT addressed on the topic 'MSME from Legacy to Future' while Amit Kumar, founder and CEO, MSMEx spoke on the topic 'Impacting Growth of MSMEs through effective financial planning'.
The event closed with the valedictory and awards night in the presence of Graham Weihmiller, chairman and CEO, BNI Global as the chief guest and Sulakshana Sawant, president of All Goa Women SHG Association.