Will be distributed to all centres in the State 24 hours prior to the vaccination day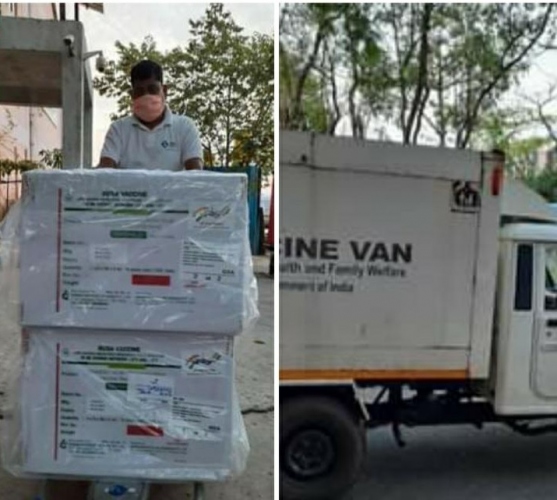 PANAJI
Chief Minister Pramod Sawant informed that Goa has received 2,350 vials with 10 doses each, totaling 23,500 shots of Covid-19 vaccine 'Covishied' on Wednesday morning ahead of the nationwide drive for vaccination.
"We have received 23,500 doses of the vaccine and we have stored them in a proper place to maintain the cold chain system. The doses will be distributed to all centres 24 hours prior to vaccination day. The first vaccination will be given as per appointment to frontline health workers and this will start from January 16 at seven of the eight notified hospitals in the state," CM Sawant said.
The first consignment of Covid-19 vaccine arrived in Goa at around 6.30 am. The two boxes containing Covid-19 vaccine landed at Dabolim airport and were handed over immediately to the officials of the Health Department.
'Covishield' developed by the Serum Institute of India (SII) was recently granted emergency use approval. SII will provide the first 100 million doses of the vaccine at a special price tag of Rs 200 per dose, excluding the taxes, as per the Union Government's request.
"People should not create chaos. Within a short span of time, we will complete the vaccination in the state starting with 18,000-odd health workers followed by senior citizens," CM Sawant has appealed.
Sources from Directorate of Health Services disclosed that around 700 people will be vaccinated in the first session on January 16, 100 at each of the seven sites. The sites include Goa Medical College and Hospital in Bambolim, North Goa District Hospital in Mapusa, Hospicio Hospital in Margao, Sub-District Hospital in Ponda, Sub-District Hospital in Chicalim and two private hospitals including Manipal Hospital in Dona Paula and Healthway Hospital at Old Goa, as per the directions of the Union Ministry of Health and Family Welfare. The Health Department has said that it is preparing for a 10 per cent wastage.
A week ago, CM Sawant had announced that Goa is prepared to tee with a robust cold-chain transportation system across the government and private medical sector to ensure that the vaccines are transported safely.
By now, the government has successfully conducted two dry runs of the vaccination process at four different locations. Sawant had assured that the cold chain system has been operationalized right up to the level of each primary health centre.