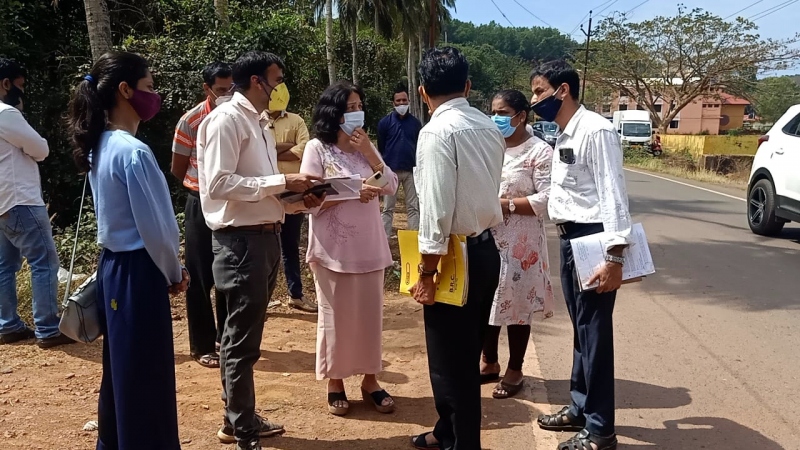 VASCO
Cortalim MLA Alina Saldanha has emphasised the need to lay the JICA pipeline from Upasnagar right up to Thana in Cortalim, to solve water problems in Cortalim and Sancoale.
Saldanha was speaking to reporters after inspecting the extension work of the water pipeline under the JICA scheme in Cortalim.
PWD Assistant Engineer Eknath Paste, Technical Assistant Mohan Naik, Assistant Engineer (JICA project) Subodh Shirodkar and KRCL officials Amit Kumar Yadav (Sr Section Engineer) and Abhay Dhuri (Junior Engineer) were present along with Cortalim Sarpanch Senia Pereira for the joint inspection.
Saldanha told reporters that the 300 mm D.I. JICA water pipeline has been presently laid from Upasnagar up to O.L.P.S High School at Cortalim.
"The pipeline needs to be laid up to Thana in Cortalim, but due to the presence of KRCL Railway Under Bridge along the route, work on the pipeline came to a halt."
"I had written to KRCL for their NOC so that the balance work on the pipeline is done and the pipeline is extended up to Thana. KRC engineers have inspected the site and accordingly, will place their report before the higher authority for grant of the necessary NOC for the work," said Saldanha.
"Laying of this water pipeline will go a long way to solve water problems in Cortalim and Sancoale and therefore, it is essential that laying off the JICA water pipeline is completed at the earliest," said Saldanha.