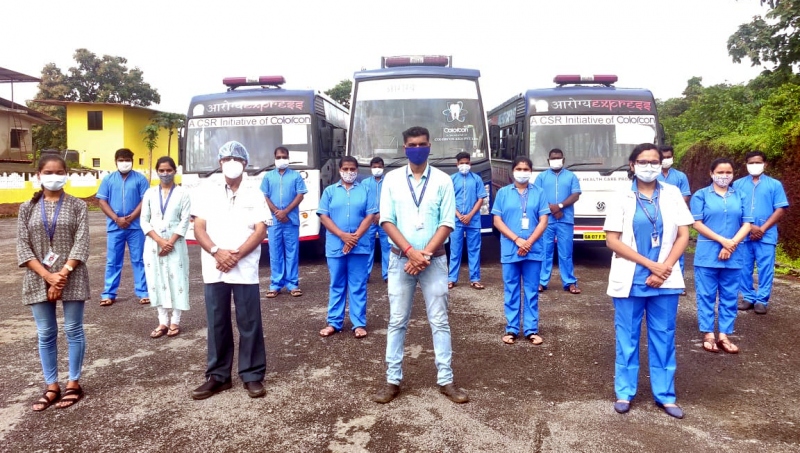 SANGUEM
The Arogya Express has been offering free medical services to hundreds of people in remote villages of Sanguem and Quepem talukas since the last five years.
In the last few months, the Arogya Express has also visited these remote areas to create awareness on Covid-related symptoms and the need to get vaccinated.
Around 1,000 people in these remote villages, which lacks a regular transport facility, have been largely dependent on the Arogya Express for their medical needs which is available to them at their doorstep free of cost.
The Arogya Express Project Executive Varad Naik said there are two fully-equipped medical vans and a dental van that proceed to different parts of Sanguem and Quepem as per a schedule which is informed to villagers well in advance.
"During visits to villages, the team led by a doctor, nurse and the project coordinator conduct general health camps. In a month, about 22-24 such camps are held in different parts of these remote villages in Sanguem and Quepem."
"In addition to general health camps, the team also conducts regular camps in ophthalmic, oral cancer detection, blood checks, mass density check and camps for women on various aspects relating to women health," said Naik.
The Arogya Express is managed and run by the Voluntary Health Association of Goa (VHAG), an NGO based in Panaji and is a project fully sponsored by a pharmaceutical company based in Verna.
Despite the state-wide curfew imposed by the Government in May, the Arogya Express team visited villages to distribute medicines to villagers under their treatment.
"We prepare a detailed schedule with the name of patients in every village and visit them on a scheduled day to distribute medicines as advised by the doctor," said Naik.
Said a villager Manoday Phadte: "Regular visits by the Arogya Express has helped villagers, particularly the elder and poor sections of society since all medicines prescribed by the Arogya Express team are provided free to villagers at regular intervals till the patient recovers from the illness."