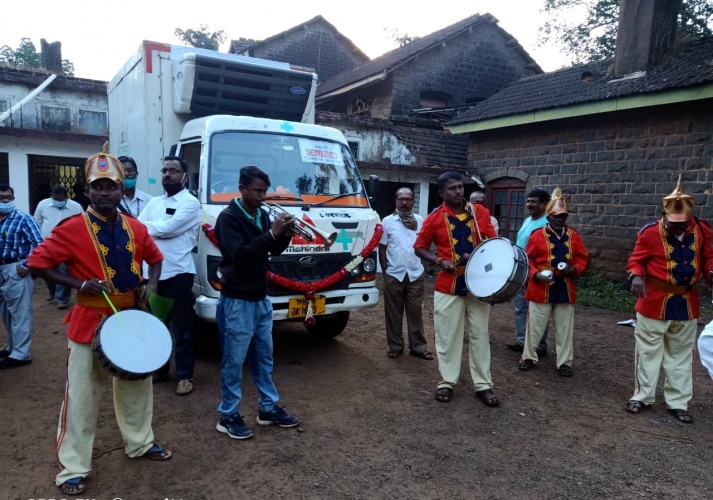 Photo Credits: Louis Rodrigues
BELAGAVI
While weddings or religious ceremonies are some reasons for celebration, efforts to eradicate Covid amid the Covid pandemic is also cause for jubilation.
Residents in the historic Vaccine Depot locality woke up to the tune of a brass band in the wee hours of Wednesday, when a vehicle carrying the Covishield vaccine for Covid-19 arrived at the Belagavi division from Pune at 5.30 am.
The vehicle entered at the Karnataka border in style, reaching Kognolli check post at around 3 am, with a Kolhapur police escorting the vehicle till the Maharashtra border.
The Belagavi district police then took over and escorted the vehicle to the District Health Office (DHO) in Tilakwadi.
Officials then extended a warm welcome to the vehicle with a brass band, while also offering Pooja and Arati.
Belagavi Deputy Commissioner M G Hiremath, District Health Officer (DHO) Dr Shashikant Munyal, Dr Tukkar and other medical officers received the life-saving consignment of 1.47 lakh doses of Covishield in 13 ice boxes, which were later shifted to the coolers.
A visibly pleased Hiremath said the vaccination drive would commence at 12 centres from January 16 in the first phase.
"As many as 180 well-prepared vaccination centres have been set up across the district. The doses of the vaccines will be provided step by step at these centres. A list of 37,000 Covid warriors/frontline workers has been prepared and they will be vaccinated in the first phase of vaccination in the district free of cost," Hiremath said.
Hiremath said the vaccine will soon be sent from Belagavi to the districts of Vijayapura, Bagalkote, Koppal, Gadag, Haveri, Uttara Kannada, Haveri and Dharwad, as per the instructions of the government.
"Each centre will vaccinate 100 people per day and staff have been well trained for the vaccination, said Hiremath.