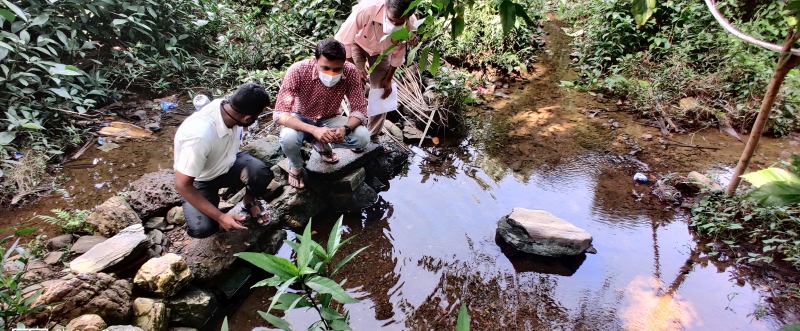 Photo Credits: Uday Sawant
VALPOI
About 30 persons have taken ill at Brahmakarmali village in Nagargao-Sattari since the last few days and a health team has collected samples for further tests.
According to reports, several people began complaining of diarrhoea and vomiting in the village and they sought treatment at a private medical dispensary in Valpoi town and at the Valpoi Community Health Centre (CHC).
Expressing concern in the matter, Health Minister Vishwajit Rane directed health officials to trace the cause for the illness.
On Wednesday, a Valpoi CHC team led by Dr Abhijit Wadkar along with the officers Aqib Sheikh and Santosh Gawas visited the village and interacted with the residents, besides collecting different samples for analysis. The results are expected to be made available by Thursday evening.
Local panch Parag Khadilkar is also in touch with health officials and villagers in order to bring the situation under control.
After finding out that many people consume water from natural springs, the health team advised the residents to boil the water before consumption.
Later speaking to reporters, Valpoi CHC Health Officer Dr Shyam Kankonkar said over 20 patients had been treated in the CHC in the last four days.
"Many had symptoms of diarrhoea and vomiting, while some had fever. We have appealed to people to take care of their health and to drink boiled water. The exact cause of the illness is uncertain and we are awaiting results of the samples sent for analysis," said Dr Kankonkar.
When contacted, the State Health Minister said he had already directed the health department to closely monitor the situation.
Meanwhile, some have expressed doubts that the illnesses had been caused due to contaminated water.
"A large number of people consume water from natural springs and if the water had been contaminated, a large number of people would have taken ill. The illness could also have been due to food poisoning," said a source.