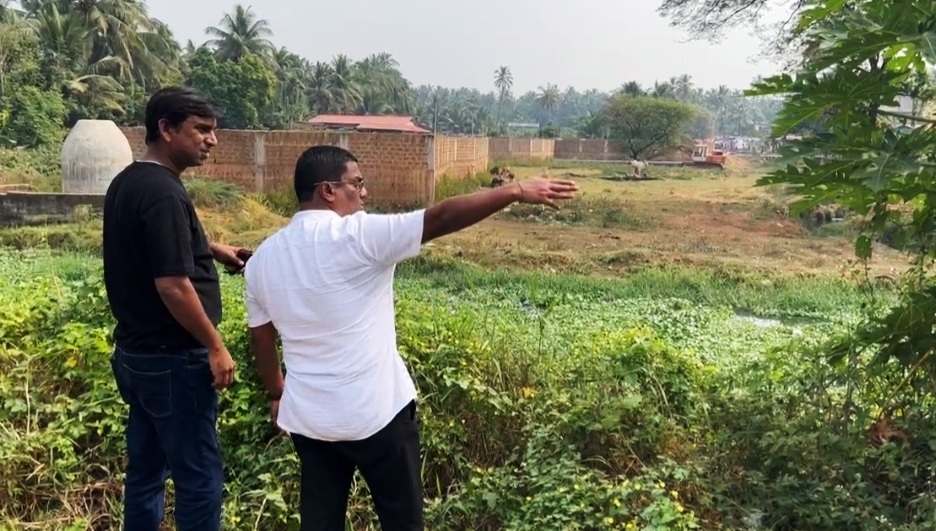 Photo Credits: Santosh Mirajkar
MARGAO
Roping in a Delhi Jal Board consultant to assess the contaminated of river Sal by raw sewage, Aam Admi Party Benaulim MLA Venzy Viegas on Wednesday threw a gauntlet at bete noire, PWD Minister Nilesh Cabral to undertake Sal rejuvenation immediately or threatened to take up the work to save the river from destruction.
In fact, the AAP MLA has mulled Delhi model of rejuvenation of rivers and water bodies to stop further contamination of Sal river, saying if the Goa government is not ready to rejuvenate the river, the entire nation will extend its help and assistance to save the river.
He, however, demanded that the Chief Minister Pramod Sawant should sack Cabral from his Cabinet. He further demanded shunting out of the pollution Control Board Chairperson Dr Shamila Monteiro and the Managing Director of Sewerage Infrastructure Development Corporation of Goa Lt (SIDCGL) Amar Vazirani.
Wednesday saw the Benaulim MLA descending on the banks of river Sal near the Khareband bridge with Delhi Jal Board consultant for hydraulics and water bodies Ankit Srivastava for an inspection.
After an inspection, Ankit said the river Sal contamination is not a big issue compared to the lakes and water bodies in Delhi, saying the river can be rejuvenated within 80-90 days by deploying the right technology without the government spending money on the work.
"I think the flow in the river can be treated within 80-90 days. There are right technologies which we have employed in Delhi treating polluted water as per the NGT parameters," Ankit said.
He added: "There is no rocket science involved here. We can replicate the Delhi model to clean up Sal within 80-90 days because Goa is a eco sensitive area."
Ankit said Goa can choose from the various finance models to clean up the river, including PPP and the HAM model.
The Benaulim MLA said he has roped in the Delhi consultant after the SIDCGL Managing Director was not keen in getting a consultant to take up the Sal rejuvenation. "The Delhi consultant says it will not even take 80-90 days to clear up the river. What is important is the intent to execute the work, which is sadly lacking in the PWD Minister, the SIDCGL MD and the Pollution control Board member Secretary", he said, while demanding sacking of the PWD Minister.
He slammed Cabral for trying to mix the issues of river Sal pollution, Western bypass and the Colva STP discharge point dropping. "I have inherited all these three issues, but I am determined to resolve them one by one", he said.
Venzy said he can get the river Sal cleaned up within 80-90 days if the government gives him the full authority and responsibility to do so.
He demanded a penalty on the SIDCGL head and the pollution control board Member secretary for rampant pollution of the river Sal.