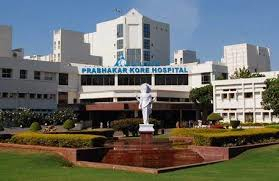 BELAGAVI
Stating that the KLES Dr Prabhakar Kore Hospital and Medical Research Centre, Belagavi is fully functional, hospital authorities have appealed to Goans to avail all medical services and facilities.
"We are fully functional since the last couple of months. All doctors, senior consultants of higher speciality services like Heart, Kidney, Urology, Eye, ENT, Diabetes, Endocrinology, Maternity and Child Care, Cardiac Surgery, Neurology, and Nephrology, including all laboratory, radiology service are available. I request the Goans to avail benefit of our services," Medical Director Dr M V Jali said.
He also appealed to visitors to shrug away the fear of Covid, stating that the hospital is fully equipped and takes all prevention system for patients' safety and their attendees visiting the hospital.
"Covid cases in Belagavi are declining and the city has come back to normalcy. There are a very few active cases in the hospital that have been isolated in the newly designed separate hospital building, which is out of the purview of the main KLES hospital," Dr Jali said.
The hospital administration has appealed to patients and relatives to call the trauma-care, emergency-care services which is operational 24x7 days on the KLES helpline 831-2473777.