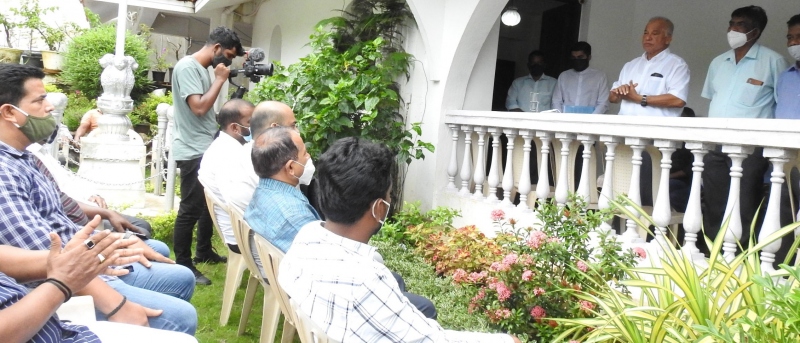 Photo Credits: Santosh Mirajkar
MARGAO
Before leaving the party, former Congress veteran Luizinho Faleiro dropped enough hints that senior Congress leaders will not be allowed to go scot free in the run up to the polls on the contentious issues of fish laced with formalin, mining recovery and the three linear projects.
While addressing his supporters at his residence before headed to Porvorim to tender his resignation from the membership of the Assembly, Faleiro dwelt at length on how the fish coming into Goa was laced with formalin, even terming the fish mafia as merchants of horror and deaths.
Faleiro's stress on formalin in fish assumes significance and comes against the backdrop of his complaint that a fish mafia, at the instance of a senior Congress leader, was moving around in Navelim to defeat him in the 2022 Assembly election. "Goa produces millions of fish, but only a small percentage comes into the market. Nearly 95 per cent of the fish comes from outside the state and allegedly laced with formalin. The fish mafia, the merchants of horror and deaths, their trucks were seized, but no case or FIR has been filed against them and neither has the laboratory to test fish has come up. People run the risk of getting cancer, but no one is making noise. There is no action. People of Goa are suffering", he added.
Even as he made a mention of the three linear projects, sources said the former Chief Minister has raked up the issue apparently to expose the Congress leaders involved in granting permission for enhanced coal handling at the MPT.
By raising the issue of mining recovery, observers say the former Chief Minister has only tried to refresh their memory on the mining front when the state was under the Congress regime. "We could clearly see how Faleiro will go about in attacking the Congress leaders on the contentious issues", remarked an observer.