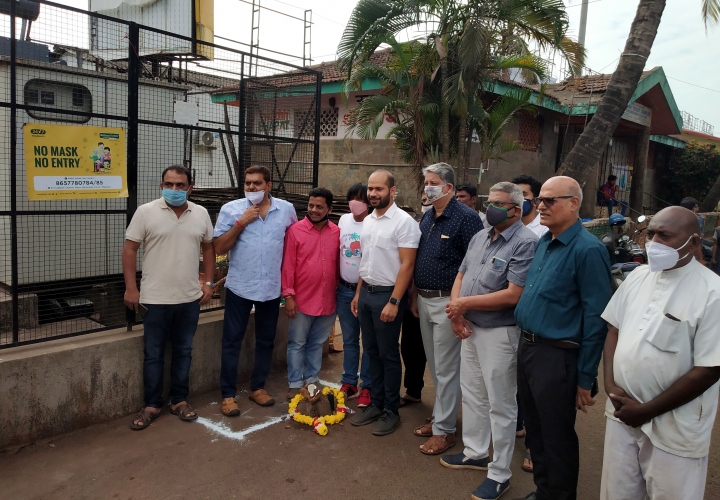 Photo Credits: Agnelo Pereira
MAPUSA
Mapusa MLA Joshua D'Souza dodged the election code by laying the foundation stone early Monday morning for the Rs 1 crore underground cabling and beautification works in Mapusa.
The MLA said it was just a coincidence that the work on the project was being taken up just before the civic election as most works were held up on account of the Covid-19 lockdown.
"This entire Covid lockdown has held up quite a few jobs. We started initiating things as soon as the government lifted the ban on works in December 2020. So, this is the follow up of all the works that were pending over the last one year. We are trying to process whatever is possible," said D'Souza, while trying to defend the timing of the works taken up.
The Mapusa MLA laid the foundation stone for the project at around 10 am just when the State Election Commission announced the programme for the municipal election in a press conference in Panaji.
Former Mapusa Municipal Council (MMC) chairpersons Sandip Falari, Ryan Braganza, ex-councillor Sushant Harmalkar and others were present for the function.
Continuing, D'Souza said he was focusing on works that could be completed within a year and before his term could end.
"These are the works we have taken on priority rather than laying foundation stone for projects that are going to take three to four years. My primary focus is to ensure that we are able to complete the projects within six months to one year," he said.
The Goa State Urban Development Agency (GSUDA) will take up the work estimated to cost Rs 1 crore.
The work entails overhauling and giving a smart look to the crucial road stretch from Sirsat building to the Mapusa Urban Coop Bank (Nandadeep).
As part of the plan, the overhead wires along the road will be removed and placed underground. The road will also have a median with two-arm fancy light poles placed at regular intervals along the stretch.
The work is expected to be completed by April end.
The MLA has further disclosed plans to take up beautification works of entry and exit point of Mapusa market under the tourism department.
D'Souza also said that a bigger project of shifting 11KV high tension lines of entire Mapsua underground at a cost of Rs 131 crore is pending with the power department.
"It's an important project for Mapusa. The power minister is trying to push the project but due to financial constraint it's held up," he said.