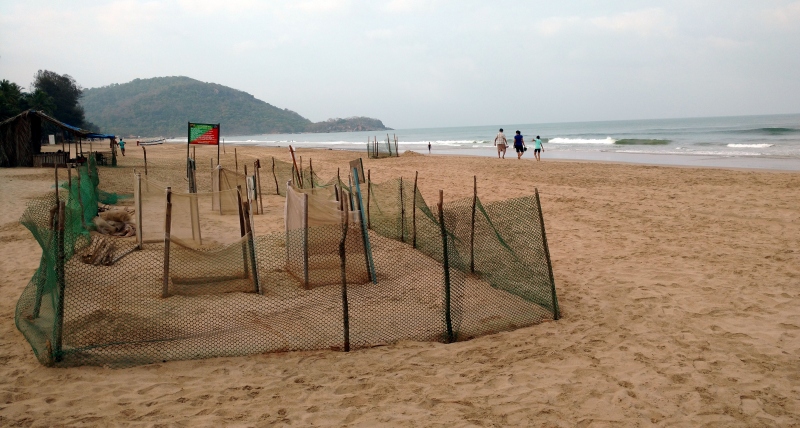 CANACONA
The National Green Tribunal's (NGT) ruling to uphold the Goa Coastal Zone Management Authority's order to demolish tourism structures along the turtle nesting beaches has cast an uncertain future on tourism at the Agonda and Galgibaga beaches in Canacona.
Agonda, which has been consistently rated as one of top beaches in the world, and the pristine shore of Galgibaga-Talpona, are the two turtle nesting beaches in Canacona, besides Mandrem and Morjim beaches in Pernem.
The government had acquired about 1.52 lakh sq. mtrs of land for turtle conservation in Galgibaga-Talpona and despite fencing some of the coast, tourism structures have mushroomed in the area. Similarly, much of Agonda's coast is filled with tourism structures along the 3-km coastline.
Incidentally, the forest department (wildlife) erects a temporary shed during every turtle nesting season, which functions as the Turtle Rehabilitation Centre, to protect turtle nests.
"On account of the prevailing rains, erection of turtle rehabilitation centres have been delayed at Agonda and Galgibaga," said RFO (Turtle Nesting) Anant Velip, recently appointed to look after the turtle nesting sites at Agonda and Galgibaga. Velip presently operates from the office of the DCF (wildlife) at Margao.
Asked to clarify about the recent NGT order, Velip said, "there is no particular area which is demarcated as turtle nesting, but the entire beach is a turtle nesting beach as far as Agonda and Galgibaga-Talpona beaches are concerned."
"However, necessary action required will be taken by the department once the NGT order is officially received."
"The forest department presently ensures that no sun beds, lighting, litter, etc. are allowed within an area of the turtle nesting sites. There are no tourism structures on the sands of these beaches, but there are tourism activities like shacks and huts in private properties nearby," Velip added.
Environment activist Kishore Poinguinkar insisted that according to the NGT order, no tourism activities can be permitted on these beaches.
"If there are any illegal shacks, huts and other tourism related structures on these beaches, they should be demolished. The NGT has directed authorities to take action against all such temporary or permanent structures found erected after February 19, 1991 in the No Development Zone (NDZ) area along the beaches of Morjim, Mandrem, Agonda and Galgibaga that did not have specific permission from GCZMA," said Poinguinkar.
Poinguinkar added that turtle nesting beaches should not have tourism activities within the 200 metres of NDZ.
In previous Gram Sabhas, people at Agonda had demanded a specific demarcation of area only for turtle nesting sites and not the entire beach coast. They claimed that unlike other turtle nesting sites in the State, Agonda has residential houses along 70% of its 3-km coastline.