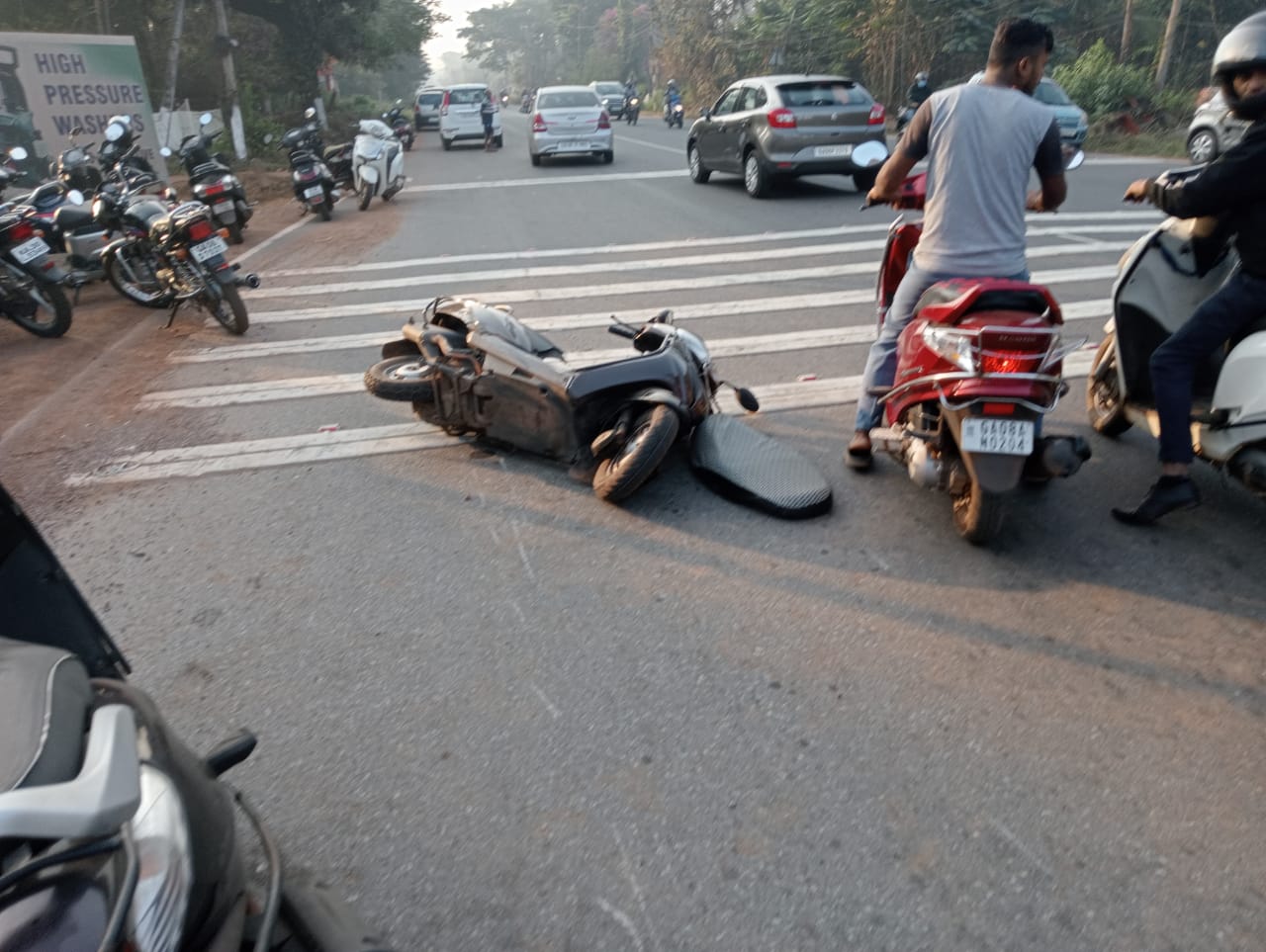 MARGAO
Nuvem witnessed an uproar on Tuesday morning after an accident on the old highway near the Holy Rosary Convent, involving a car and a two-wheeler, left two persons injured, including a 13-year old student riding pillion.
The accident went viral on the social media showing how the father-son duo travelling on a two-wheeler met with the accident while trying to cross the main road to drop the son to the school. The 13-year old boy has sustained leg fracture. He and his 62-year old father are both convalescing at the South Goa district hospital.
Incidentally, the Maina-Curtorim police has registered a case against the two-wheeler rider Socorro Sequeira (62) for riding his Activa scooter in a rash and negligent manner while crossing the road near Holy Rosary Convent at Old Highway at Nuvem. The car was proceeding towards Margao from Verna.
The Police said the accident caused serious injuries to the 13-year old pillion rider, who is the son of rider Socorro.
To a question, Maina-Curtorim police station in-charge, PI Ravi Desai informed the police has registered the case against the Activa rider since he was allegedly found crossing the road at the zebra crossing meant for pedestrians.
As the accident brought to the fore questions relating to the safety of the students crossing the road to go to the Holy Rosary Convent School, school Headmistress Sister Sharon and PTA members have called for a solution to the problem.
Sister Sharon expressed her disappointment that the accident has occurred despite the fact that the rumblers and zebra crossing have been put up at the site through the good office of the local MLA Aleixo Sequeira. "We are really disappointed over the accident and also sad since our student has sustained leg fracture in the accident. The motorists should notice the rumblers and the zebra crossing," she said, adding that the PTA members and the staff members will discuss the situation how to go about the matter.
"I have requested the traffic police to depute an personnel, or at least a Home Guard to help us out, but we have been told the traffic cell is facing manpower shortage," she added.
PTA member Shanti said the PTA members will discuss the situation after the accident since it has occurred after the rumblers and zebra crossing was put in place.