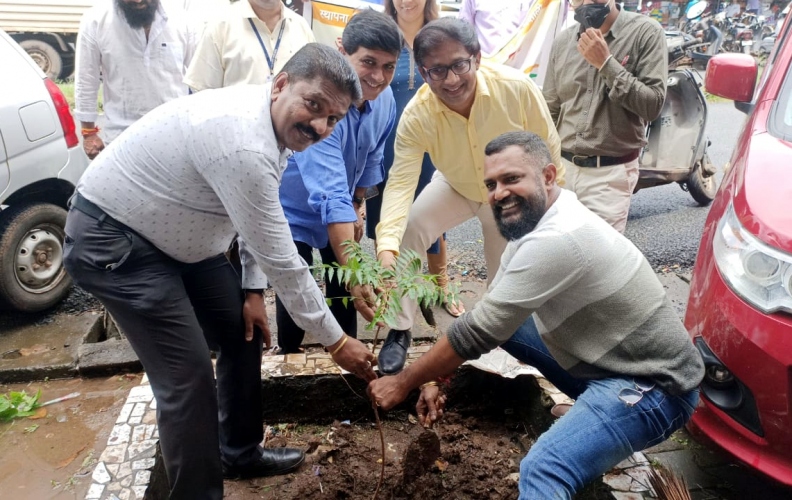 Photo Credits: Vikram Nayak
VASCO
Amid public spats between former MPDA chairman Krishna (Daji) Salkar and the BJP over the BJP's candidature for Vasco constituency, the presence of local BJP leaders and Salkar at a tree plantation drive became a hot topic for discussion in the port town on Wednesday.
Salkar along with his archrival, Vasco BJP Mandal President Deepak Naik, and BJP Mormugao Taluka Election Observer Jayant Jadhav were seen closely interacting at the event organised by Oriental Insurance Company in Vasco.
Photos of them went viral on social media, prompting many to speculate if Salkar was planting not just saplings, but his entry into the BJP as well, to contest from Vasco on the BJP ticket in the upcoming assembly elections.
Sources said Salkar was also spotted engrossed in a lengthy interaction with Jadhav near the MPT Hall on Tuesday.
When contacted, Salkar neither confirmed not denied the speculations and said whatever happening was in the best interest of Vasco.
"It is too early for me to comment as of now and I don't want to reveal too much as of now, but I can safely say it was the need of the hour that all leaders unite for the better future of Vasco," said Salkar.
During the event, Neem saplings were also planted by Councillors Shami Salkar, Oriental Insurance Ltd Senior Divisional Manager Rajendra Chavan and Councillor Girish Borkar Councillor.