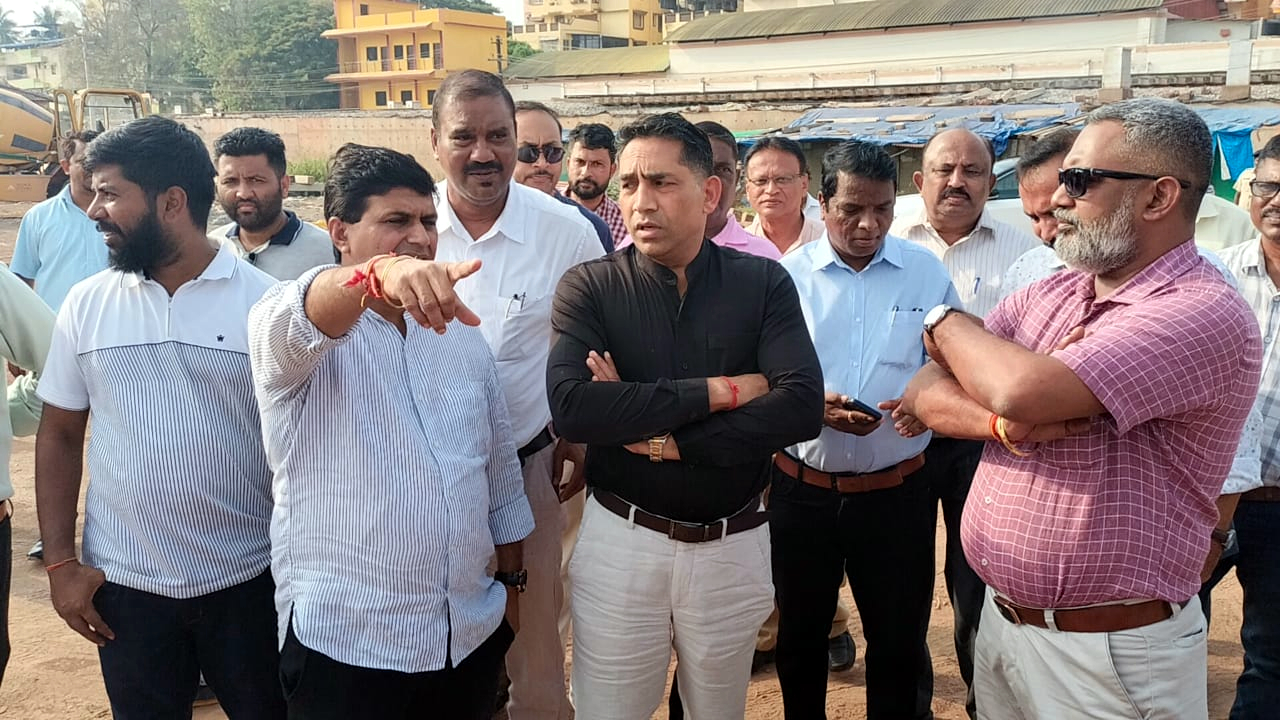 The open space near Tanya Hotel in Vasco may soon be utilised for a full-fledged sports complex with space for indoor games along with a walking track.
Sports Minister Govind Gaude, Vasco MLA Krishna Salkar, Mormugao Municipal Council (MMC) Chairperson Leo Rodrigues, MMC Vice Chairperson Amay Chopdekar, Ward Councillor Girish Borker, Vasco BJP Mandal President Deepak Naik and other sports officials carried a joint inspection at the open space on Thursday afternoon.
Speaking to media after the inspection, Gaude said the Sports Department is in possession of around 13,000 sq mtrs of land.
"Salkar has placed a demand to set up a full-fledged sports complex and we are here to carry out a joint inspection of this land to see how many different games and courts can be fitted in this area after discussing with the consultant."
"He has sought a Futsal ground and a multi-purpose indoor games court for badminton and table tennis court on top priority, surrounded by a walking track. We want to develop new sports infrastructure and we are trying to set up infrastructure for sports in demand," said Gaude.
The sports minister said he was unsure why a world-class swimming pool proposed could not be taken up at the site.
"While the basic reason could be technical grounds, I will speak with my staff and ascertain the exact reason for this issue."
"We already have a swimming pool in Sada and we have a proposal for another swimming pool in Mormugao Taluka, provided there is feasibility of land available. We have already taken the initiative to upgrade all government gyms and equipments across Goa, which would have good equipment and ACs in these gyms," Gaude added.
Reclaimed land is with SAG, but not put to use: Salkar
Vasco MLA Krishna Salkar said the open space near Tanya Hotel in Vasco was reclaimed land in possession of the SAG, but was not put to proper use.
"The land is being used for parking and sometimes dumping and there is no proper use of this land. We don't have proper sports facilities in Vasco and we proposed that the Vascokars get good facilities on land that is already available," said Salkar, while speaking to reporters in the presence of Sports Minister Govind Gaude.
"We can have an indoor cricket pitch, Futsal ground, table tennis and other indoor games. We also have another adjoining area of around 8,000 sq mtrs, which if considered, can make the area of 22,000 sq mtrs for the sports complex."
Salkar said Gaude has assured to appoint a consultant to see how these sporting facilities can be set up in the available space.
"We also have initiative like Khelo India and Fit India and we can also get support from the centre for setting up good sports facilities for Vascokars. We also see a lot of people going for a walk on the roads which is dangerous and hence, we decided to have a walking track along the periphery of the area," said Salkar.