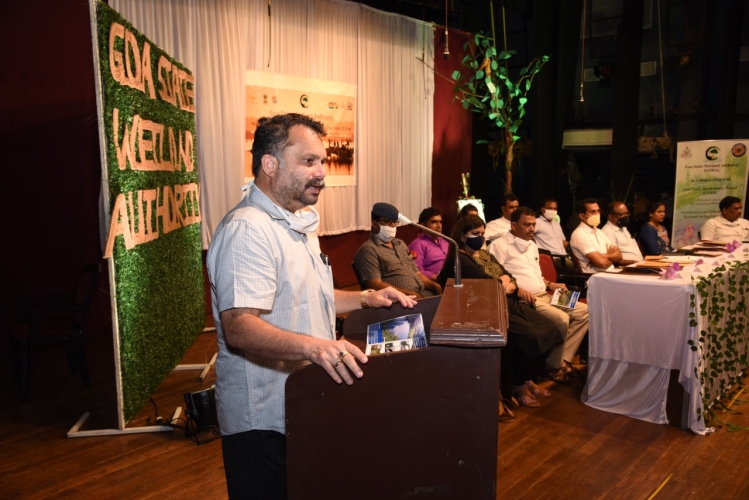 Panaji
An awareness programme on the notification and future scope of wetlands in the State was held on Wednesday at Ravindra Bhavan, Curchorem.
Power, Environment and Law Minister Nilesh Cabral inaugurated the programme which was organised by Goa State Wetland Authority in association with Goa State Biodiversity Board, stated a press release.
Speaking on the occasion, Cabral said that it is the responsibility of every individual to preserve the water bodies on the earth for the future generation.
"Water conservation is the need of the hour. Waterlands should be preserved keeping in mind the need for the future generation. Goa is a happy state and there is not much water scarcity, but we should plan for the future by preserving biodiversity," the minister said.
"For a better future, if we don't come forward to preserve nature then who will," he questioned and appealed to act responsibly.
He said the National Institute of Oceanography has prepared a detailed report about Goa's wetlands and will be made available on the website of the wetland authority soon.
"We should not lose what is given to us by mother earth. All together 49 wetlands in the State will be notified," Cabral said.
Wetland board at Nanda Lake, Kakoda was unveiled on the occasion.
Curti Khandepar, Chodan Marcel and Korgao bio-diversity management committees and Anjuna Organic Farmers Society were felicitated on the occasion for restoration of water bodies. Eight Wetland Mitras were also recognized on the occasion.
Dr Mandar Nanajkar, Scientist, CSIR - NIO did a presentation on the Identification of Wetlands in the State of Goa, and Scientific Officer, GSWA made a presentation on Notification of Wetlands and Future scope in Goa.
Minal Dessai, assistant professor, Department of Zoology, Goa University was the keynote speaker. Dr Pradip Sarmokadam, Member Secretary, Goa State Biodiversity Board welcomed while Shri Vishwas Dessai proposed a vote of thanks.
The six notified wetlands is a significant step to conserve, manage and maintain the ecological character of the wetlands without curtailing and restricting the legitimate and wise use of these ecosystems. Nanda lake is in process of being considered as a wetland of international importance under Ramsar conservation. It also became the first lake to be notified in the State, informed Dr Pradip Sarmokadam.
Chairperson, Curchorem Cacora Municipal Council, Vishwas Dessai; Zilla Panchayat Member, Siddharth Gauns Dessai; Sarpanch, Caitano Lima; Vice Chairperson, Rucha Vast; councillors and panchas were present on the occasion.