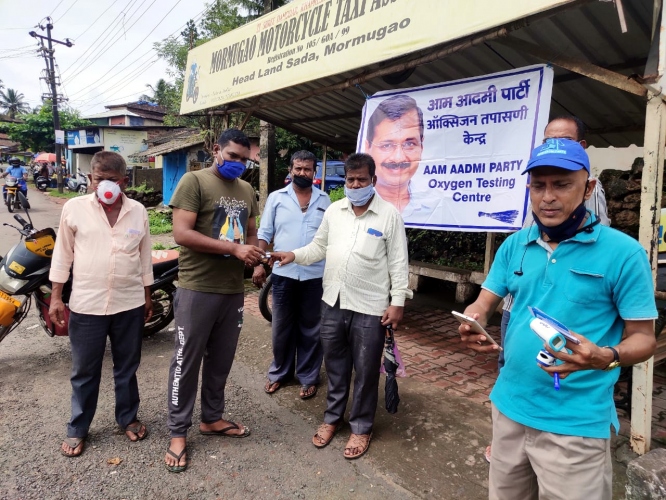 Photo Credits: Photo by Vikram Nayak
VASCO
The Mormugao Block Aam Admi Party (AAP) reminded the health minister about his assurance to supply oximeters, thermometers and vitamins vitals to patients in home isolation across the State.
Mormugao Block AAP Convenor Parshuram Sonurlekar was speaking to reporters during a programme to conduct Free Voluntary Testing of Oxygen Saturation Levels and Pulse Rate at Baina Beach.
"This AAP programme was conducted at various locations in the taluka and it received great response. We are carrying out free oxygen saturation level tests and also explaining to people that if the level goes below a certain reading, they have to seek medical attention from the nearest health centre."
"We have also assured people that if they contact any of our karyakartas, we can provide people under home isolation with an oximeter within 24 hours, which is also being distributed to people across Goa," said Sonurlekar.
"The health minister had committed to the people that the government would supply oximeters, thermometers and vitamins vitals to patients under home isolation in Goa, but this has not happened."
"We want to remind him to take note of his own assurance and supply these items to the people," said Sonurlekar.
Sonurlekar said the programme had been conducted at various locations in Vasco and Mormugao during the last few days.
Mormugao Taluka AAP Incharge Ernest Moraes said hundreds of Goans have succumbed to the virus and the death toll is now around 350.
"The AAP has taken the initiative to run a campaign for Covid testing and we appeal to people to contact us for any issues. We have begun testing oxygen levels, which is the first step to the Covid-19 and if the oxygen levels are low, people develop other symptoms like cold and fever."
"The AAP wants to reassure people not to be scared of Covid, as we have now taken steps across Goa to fight the Covid virus," said Moraes.