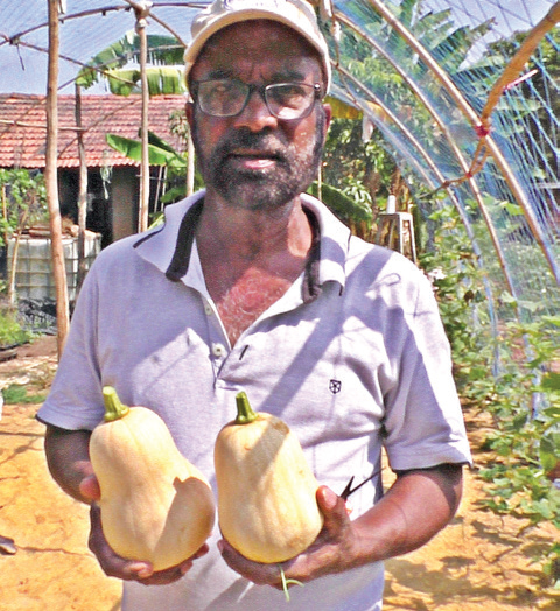 the goan I network
MARGAO
At a time when the supply of vegetables from Belagavi may discontinue as a result of the curfew and coronavirus threat, farms and kitchen gardens are much sought-after and these could tide over the shortage for a while, if not to a great extent.
Welcome to Benaulim, the land of sea, sun and sand. In the interior of the village, lies a vegetable farm developed over the years by former sarpanch Agnelo Fernandes. What started as a pure hobby and passion for agriculture around 18 years ago, has today evolved into a sprawling farm, churning out vegetables such as ladyfingers, bottle gourd, chillies, etc. That's not all. Agnelo and daughter Royla have now introduced Butternut Squash in the farm and both claim happily that the yield has been encouraging.
Says Agnelo: "Since I had a passion for agriculture, I got our land developed for vegetable cultivation. This was 18 years ago, and today my efforts have started paying dividends as the farm has started churning out a variety of vegetables. We use the produce for self-consumption, and also share with our friends and well-wishers and supply the surplus to the Horticulture Corporation".
While ladyfingers, bottle gourds and locally available vegetables are not new in the state as they are grown by many a Goan in their backyards, Agnelo says the Butternut Squash has started giving good results. "Butternut Squash, sometimes known in Australia and New Zealand as butternut pumpkin or gramma, is a type of winter squash that grows on a vine. It has a sweet, nutty taste similar to that of a pumpkin. It has a tan-yellow skin and orange fleshy pulp with a compartment of seeds in the blossom end," he said, adding that the family had bought the Butternut Squash from Dublin.
Agnelo says the vegetable produce in his farm is organic in nature as he uses only local manure for cultivation.
Royla said her father had ventured into vegetable cultivation in a small way 18 years ago basically for self-consumption. "Since agriculture always topped his mind, he constructed a well and a storeroom in the field. As his hobby and passion grew, he introduced chilies and different varieties of vegetables and introduced drip irrigation which helped to save water and manpower costs as well," she said.
Agnelo and Royla pointed out that vegetable growing or kitchen gardening in one's backyard will not only sustain one's family in times of trouble such as the ongoing lockdowns and curfews, but offers an avenue to return back to nature and environment.
While Agnelo sells his surplus vegetables to the Horticulture Corporation, he believes that the government should come up with schemes to make vegetable production remunerative.