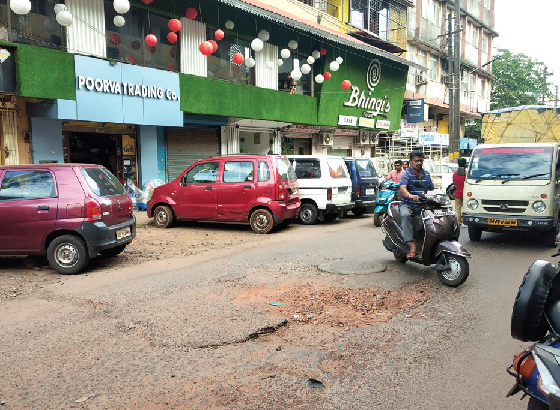 the goan I network
MAPUSA
Around two years back, a picture of the road pug marked with craters opposite the Mapusa government complex went viral as a location on the moon, as the city of Mapusa was lampooned for its bad roads.
This time around, the situation is much better but civic authorities seem to have not learnt much from the past incidents.
If broken/unrepaired roads in various parts of the city are anything to go by, residents of Mapusa will have to bear the pain for the next four
months until the monsoon season ends.
The civic body has failed to patch up a busy road in Angod-Mapusa that was dug up a little before the last
monsoon.
It's a stretch which is near to the bustling market and therefore mostly used by locals to move around the city business centre.
Surprisingly, the road is in Ward 9 and represented by MMC Chairperson Ryan Braganza.
Locals from the area informed that it was but natural that the municipality took up the repair of the road after excavating it.
"When I took up the matter with our councillor around a month back, he said that it wasn't possible to do the road due to the election code. I think the municipality should have repaired the road much earlier as it was excavated more than a year back," said Harichandra Gawas of Angod, who runs a business enterprise near his house.
Similarly, a large depression around a sewerage chamber on another busy road in the market area, opposite the Vithu Pharmacy, has been giving motorists a hard time.
Perhaps, locals of Khorlim-Mapusa will face the most difficult times during the entire wet season, as the PWD which had dug up the road to lay a new water pipeline in February, has failed to repair the road.
At many places, the accumulated mud has been dumped in open drains posing a real threat of flooding in the area.
"If only the city-fathers had shown as much enthusiasm, of attending to public demands, as they had shown while campaigning for the recent by-elections, the city would have been a better place to live," said Adv Mahesh Rane of Khorlim.
Although local councillor, Rajsingh Rane, had written to the PWD about the incomplete road work, it came a little late in the day.
The councillor had written to the PWD chief engineer on May 16 urging him to repair the road and lift the accumulated mud but the wheels of administration haven't moved an inch since then.
At several key roads the depressions around sewerage chambers also pose problems to motorists particularly to two-wheeler riders.