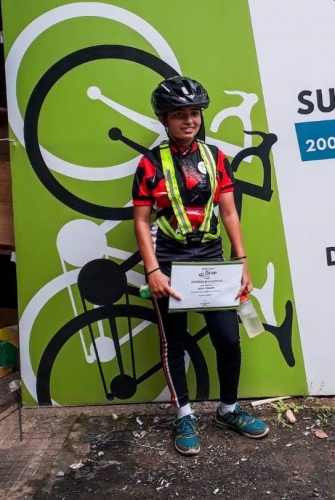 Photo Credits: TriGoa Foundation
MARGAO
A total of 52 cyclists successfully completed the 200km Brevets Randonneur Mondiaux (BRM) cycle ride organised by the TriGoa Foundation in Goa on Sunday, October 18.
A media release issued by TriGoa stated that the cyclists had been allotted a total of 13 and half hours to complete the 200km distance, which started at Panaji at 0600 hrs and went via Porvorim-Tivim-Honda-Usgao-Mollem-Quepem-Margao-Old Goa and back to Panaji.
The ride included 29 first-time cyclists including three women. Eighteen-year-old Megan Fernandes, a young woman cyclist from Saligao, completed the ride in 11hrs 45 mins. Megan, who is a student of St Xavier's College, said that she used to cycle to college every day. "This was my first 200km cycle ride and hence I was nervous. The ride was tough after the first 100kms, but I am happy to have completed it," Megan said.
Prince Colaco from Velim, South Goa completed the ride in 8hrs 29 mins and Govind Prabhu Moni completed his Super Randonneur Series comprising one set of 200, 300, 400 & 600km cycle rides in one calendar year.
Rajesh Malhotra, founder, TriGoa Foundation, an affiliate of Audax India Randonneurs (AIR), said he was happy with the turnout and thanked all the participants for their support and cooperation in following all safety precautions.
"We hope to see more new cyclists participating in the next 200km ride scheduled for November 22, 2020, registrations for which are already open," Malhotra said.
According to Malhotra, all successful BRM cyclists were eligible for a special medal from the sport's governing body, the Audax Club Parisien (ACP) in France. "All riders who complete these endurance rides are called randonneurs, a title that has worldwide recognition. Randonneuring (long-distance cycling) is a 100-year-old tradition having its roots in France & Italy.
For more details, contact Rajesh Malhotra on +91 7447724744 or email support@trigoa.org.