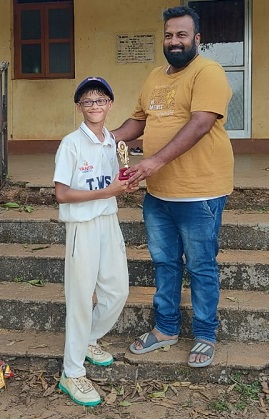 PANAJI
Mashem CC defeated Cyclone CA by six wickets on third day of the All India Bhikoo Pai Angle Memorial U-15 cricket tournament, at KRC ground, Margao, on Monday.
Mashem CC won the toss and opted to bowl. They managed to bundle out Cyclone CA for 206 runs in 45 overs. Aryan Parthani was the top scorer of the innings with 60 runs followed by Kartik Sai Reddy (31) and Tanush (36). Sairaj Naik scalped 3 wickets while Deepraj Raik and Afaridsab Rajekkanavar picked up 2 wickets each.
In reply, Mashem CC chased down the target in 32.3 overs thanks to an unbeaten 140 runs scored by Afaridsab Rajekkanavar. 140. Meraj managed picked three wickets for the losing side.
At Dharbandora ground, Cardina won by 135 runs against Narmada CA.
After winning the toss, Cardinal Gracious opted to bat but were skittled out for 209 runs in 40 overs. Rudra Tawde scored 60 runs while Atharva Mohite (40) and Ayush Mestry (30) were the other run getters. For Narmada CA, Mayank Unavane and Vijaykumar Gawda scalped three wickets while Rudrash Tiwari picked two.
In reply, Narmada were bundled out for 74 runs in 28.4 overs. Neel Patel was the top scorer of the innings with just 12 runs. Ojas Jadhav was the talisman for Cardinal Gracious with his four wickets.
Elsewhere, at Agonda ground, Union Gymkhana prevailed with a nine wicket win over Green Nest, Coimbatore after skittling the oppositon out for just 51 runs. Mohammad Abbas (3/21), Gaurav Patil (2/11) and Meer M (2/5) were the performers with their bowling spells for the winners.