Coffee table book of paintings cantered around football to be released before Qatar showpiece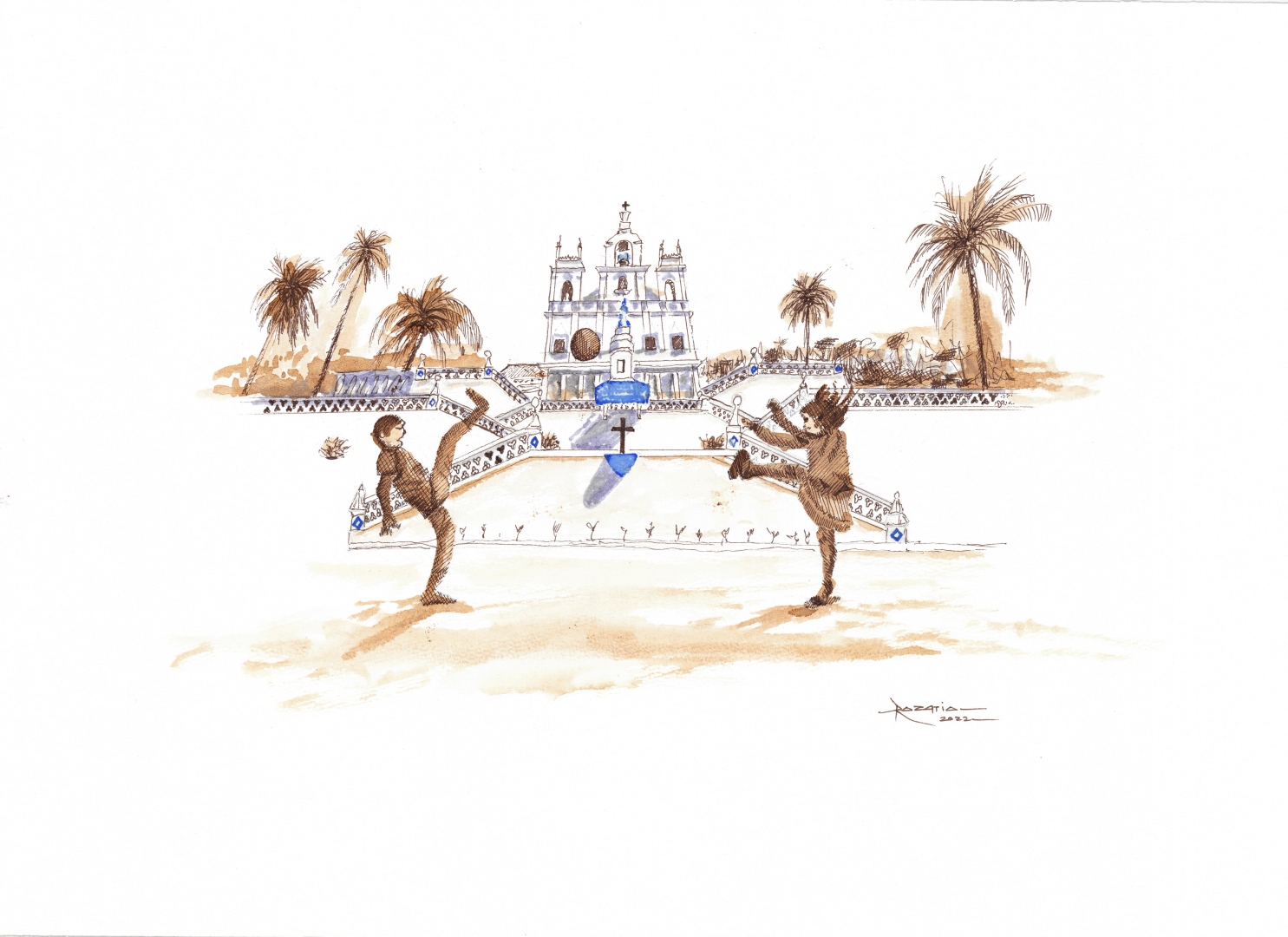 Photo Credits: The Goan
DOHA, QATAR
"A picture is worth a thousand words" is an adage in multiple languages meaning that complex and sometimes multiple ideas can be conveyed by a single still image. Taking the picture concept, a step further is Malaysian-born Qatar-based artist Patric Rozario.
For him art is a means of telling stories and his upcoming coffee table book of 100 coffee and watercolour paintings cantered around football tells the tales cantered around the beautiful game. The paintings are based on photographs captured from around the globe of children, monks, nuns, farmers and ordinary people indulging and enjoying 'The Beautiful Game' not from a stadium or an organized game of football but from an altogether different arena far away from the madding crowds at the stadium.
His painting's scene and location are from the countryside, the villages, the streets, the paddy field, the alleyways, on oil rigs, mall rooftop, on an iceberg, and other unexpected places. That is 'grassroots football' for Rozario and an obsession for him since November last year and a project the first phase which will be complete with the 100 painting.
"All the 100 paintings will be framed. Before framing they will be scanned. I plan to create a coffee table book. Each painting will be accompanied with its narrative, in English and translations into Arabic, Spanish, Mandarin, French and German," said Rozario, a full-time artist for the last 10 years and who comes from a marketing field and has also been a Radio Officer during his sailing career.
His 100 football-related paintings, of which 98 have been completed, shows how the game thrives in various forms in different parts of the world. Time and again the passion of the game played barefooted by people of various professions, ages and sex has been caught on camera and those pictures have been converted into paintings by him.
Rozario's shipping career took him to some 75 countries, which he says was a learning experience while his painting journey has taken him to almost all the continents of the world. Among the paintings to be featured in the book and which he has painted so far, five are from India, including one from Goa.
His Goa painting 'Go Goa, Go Go Go.' centres around Our Lady of Immaculate Conception church in Panaji and its unique architecture. "A very old gem in the list of churches in Goa. This church has a distinctive appearance owing to the double flights of steps zig-zagging across the hillside on which the church is situated. The church is famed for an ancient bell that is believed to be the second-largest of its kind in Goa," says Rosario in his description of the Goa paintings.
"Goa is one of the leading states in India when it comes to sports. The Goan People enjoy sports as much as their food and music. Football is the leader among the popular sports in Goa. Goa is the only other state except West Bengal and Kerala where football has a strong following.
"The history of Goan football goes back to 1883, when the game was introduced to the state by an English priest. The simplicity of the game and Portuguese cultural influence probably accounted for the game gaining fast popularity," he adds.
The other India centric paintings are from Malappuram, Rishikesh, Haridwar and West Bengal. Malappuram painting done with coffee, turmeric and watercolour focus on 'district deemed as the soccer hotspot of Kerala. so much so that the football freaks of the place have invented a shorter version of the game called Sevens. The rules are different and so are the playing time and ground.'
Rosario's painting 'Holy Play' from Haridwar, painted with Nescafe and watercolor is of 'two Hindu holy men take time to have some football fun'.
While 'Saree not an issue', painted with coffee and watercolor from Rishikesh, India "is a great way of challenging gender stereotypes and patriarchal norms. A mother and son playing football was joined by another passerby lady, who is also clad in an Indian attire."
The fifth one is 'Football is Liberating' is about a 16-year-old boy from the slum of Kolkata's red light area. Barefoot and hungry, he honed his skills on the squalid streets of a red light district in India. Talent scouts were impressed with his skill and determination. Rozario has also written a song on grassroots football and he said work of composition of music and a music video production is on.