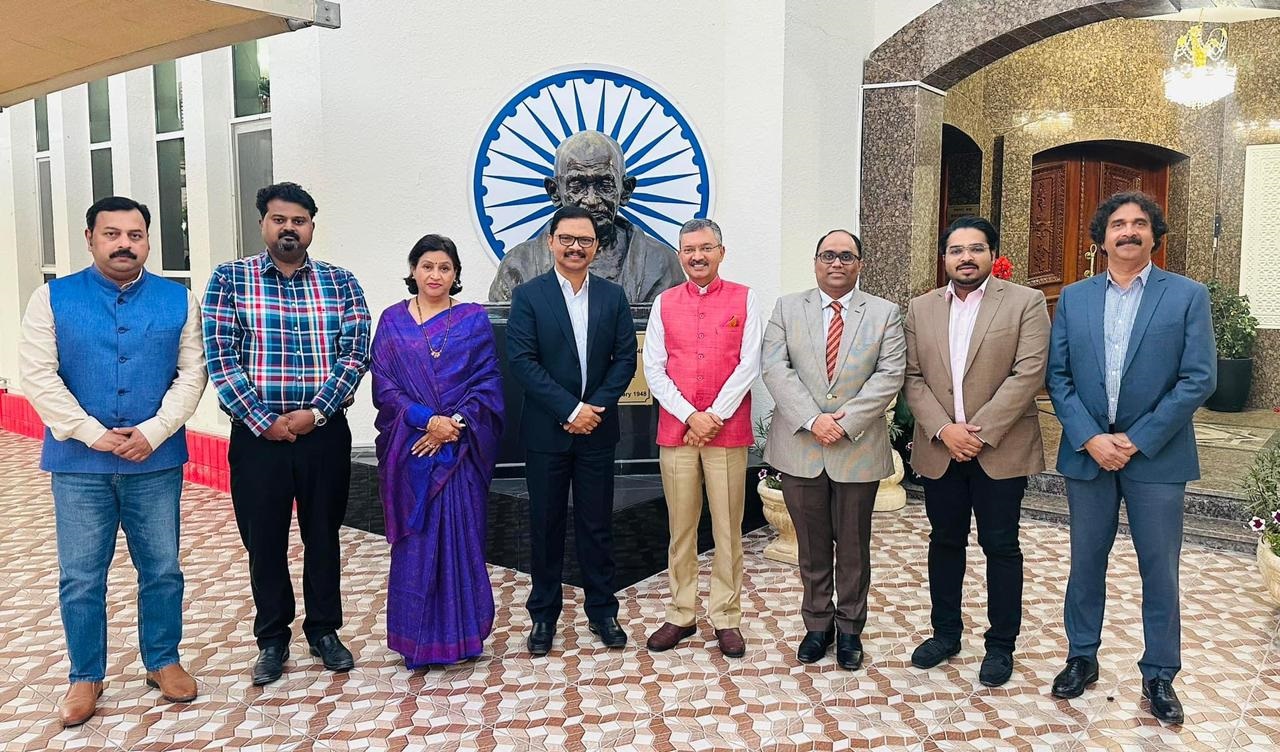 Photo Credits: The Goan
DOHA, QATAR
The newly elected Managing Committee of Indian Sports Centre (ISC), an apex body functioning under the aegis of the Indian Embassy in Qatar, took charge of the sporting affairs of the Indian community affairs in Qatar with the handing over ceremony which took place recently at the Indian Cultural Centre.
The new committee with Abdurrahman EP as President was installed in office in the presence of Sachin Dinkar Shankpal, First Secretary at the Indian Embassy in Qatar and in the presence of Dr Mohan Thomas, the outgoing president of ISC.
Besides Abdulrahman, the other elected members of the Managing Committee voted into office in the election held last month is Goa's John De Sa, a longtime resident of Qatar. Hailing from Cortalim, John has been involved in the promotion activities of sports, culture and doing social work for over three decades.
He has been a past president of Goan Sports Club and Convener of Goan Social Workers Qatar (GSWQ), the organization which was instrumental in organizing a chartered flight from Doha to Goa to evacuate the people who were in distress during the Covid-19 Pandemic.
Due to his long and commendable work, John was made the Sports Secretary for football and hockey at Indian Sports Centre in last term for two years and also appointed the manager of the Qatar Indian Expatriate Football Team. Under his leadership, the football team won the Asian Communities Football Tournament in 2022.
The other elected members are Nihad Mohamed Ali, Predeep Pillai, Deepesh Govindan Kutty and Shalini Tiwari, while five more members will be nominated by the Indian Embassy in Qatar to give representation to different groups and states not represented.
On Wednesday evening the newly elected Managing Committee met Deepak Mittal, Ambassador of India in Qatar, Patron of ISC, in the presence of Shankpal, First Secretary at Indian Embassy in Qatar and who is the coordinating officer ISC.
Also present for the handing-over ceremony were the two past presidents of ISC Hassan Chougule and Nilanshu Dey. Presidents of two other apex bodies functioning under the aegis of the Indian Embassy in Qatar, Indian Cultural Centre President A P Manikanthan and Indian Community Benevolent Forum president Shanavas Bava, were also present.